Are you using social media to connect with your existing customers and potential new guests? We are in the midst of a social marketing revolution, and there are huge new opportunities for growth.
There are continual updates to existing platforms, and dozens of new and emerging platforms. Your customers have changed and are now more digitally aware and involved in the research and booking process. They are engaged in every step of the process, and this puts them in the driving seat more than ever before.
We need to understand new ways to connect with potential guests, with the kind of depth and color they're now used to.
This article will give you a crash course in social selling and will help you understand the key principles of social media that will enable you to turn social media into sales. Not every channel or tool is right for every hotel! It's important to test and choose the ones that suit and work best for your property. Figure out where your target audience is spending their time online and ensure you have an engaged presence there.
Social networking sites have revolutionised the way we use the we today: if you don't have an active social media presence, you simply don't exist. You are missing out on huge opportunities to engage and sell to your existing and potential guests. According to Adweek.com, the average user logs about 1.78 hours per day on social platforms, accounting for 28% of all their online activity.
So why not take just a little slice of that online activity and use it to your benefit? You can take advantage of social to drive direct bookings for your hotel.
Why are direct bookings so important? With the increase in the number of Online Travel Agents (OTA's) like Booking.com and Expedia, the landscape for hotels to sell their inventory is more competitive than ever. We're here to guide you in driving more direct bookings through your own hotel site and avoiding the OTA commissions.
With so many social networking sites out there, how do you choose which is best for you? In this article—the first in a two-part series on social—we'll take a look at Facebook as a channel to drive direct bookings.
Optimising your Facebook Presence
Facebook often update their algorithms to ensure that its users are getting the best possible experience each time that they log in. It's getting increasingly harder for your hotel's business page to stand out in all the noise.
In order to be on top of your game, let's look at a few optimisation tips.
1. Profile and Cover Photos
Ensure that your profile pictures and cover photos represent your brand and are reflective of your hotel's website. You don't want to have a cartoonish profile picture or an outdated logo on your page; make sure your pictures on Facebook are as polished as your site and match it in tone.
Take a look at this handy cheat sheet to ensure that all of your images are optimized for every possible outcome.
2. Fill out the About Us
Your About Us section should be as full as possible. Make sure that you have a link directly back to your hotel website. Information like how guests can get in touch with you and where you are located are vital.
3. Create a Vanity URL
A custom Facebook url, e.g. https://www.facebook.com/CastleknockHotel, like that gives you the opportunity to enhance your brand recognition. It also holds high value in search rankings, making it easier for guests to find when they do a search.
4. Optimise your hotel's Facebook page for SEO
Facebook social signals can have a lot of potential for SEO value – use it as a channel to build traffic and links back to your hotel website.
Harness the power of the graph search: use keywords in your content and page updates. Graph search is a semantic search engine that was introduced to the Facebook platform in 2013. It searches content across the platform, and serves up keyword results based on the user's network. Here's a guide on how to get the most out of it.
Take advantage of the customized meta titles and images when you share links in your posts. Facebook will automatically pull in images and titles from your website to display in a carousel like post – however, you can choose which images you wish to upload and edit the text as shown below: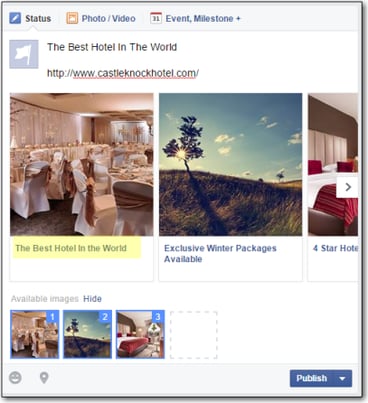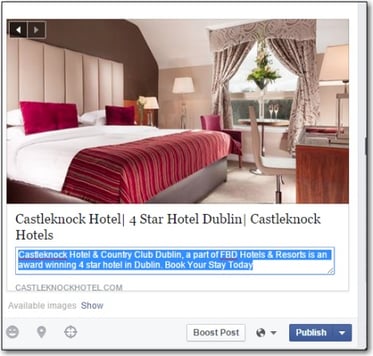 Share high-quality content that will generate engagement such as likes, comments & shares.
If you find that you're stuck for time to generate good content, you might want to consider scheduling your posts. Scheduling your posts will save you time as you can batch your work. Posts can be scheduled anywhere from 10 minutes before to 6 months ahead, so you've got a lot of flexibility.
You can schedule your posts directly from your Facebook timeline by clicking on the dropdown arrow under your post.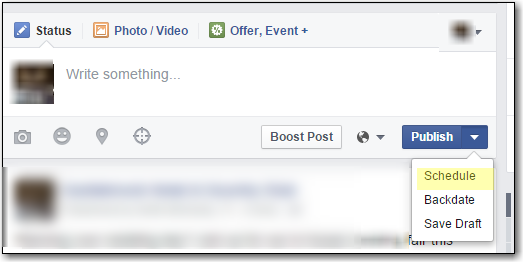 Alternatively, you can create your schedule posts in bulk from the publishing tools section:

You can use a content calendar like the one we've provided below to help you to plan out your Facebook activity to help you to save time. This will also give you the opportunity to see where you may have gaps in your content, and let you to look back at posts that perform well for you.

Make sure to download the content calendar to get all the information!

[embeddoc url="https://blog.netaffinity.com/wp-content/uploads/2015/10/Facebook-Content-Calendar-Template.11.xlsx" height="300px" download="all" viewer="microsoft"]
5. Use Interest Targeting
Use your fans' interests to target specific parts of your audience. to reach specific fans and narrow your audience – base your content on your key personas to include demographic, location and interests targeting for your organic posts.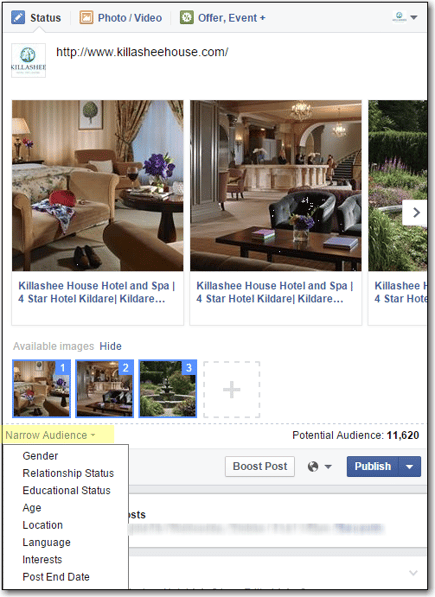 6. Use of the Call To Action Button
Below are samples of hotels that are using their calls to action for direct bookings and email newsletter sign ups. Other uses might include Shop Now, Watch Video & Contact Us.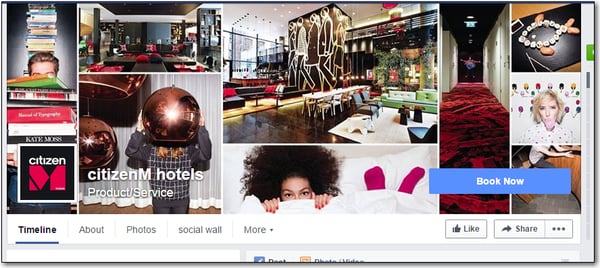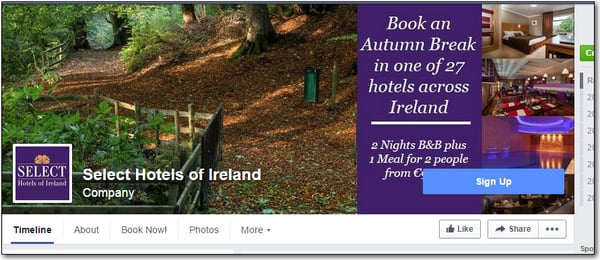 7. Enable Ratings and Reviews
To activate reviews on your Facebook page, you must have a local business listing and have your full business address featured in the about us section.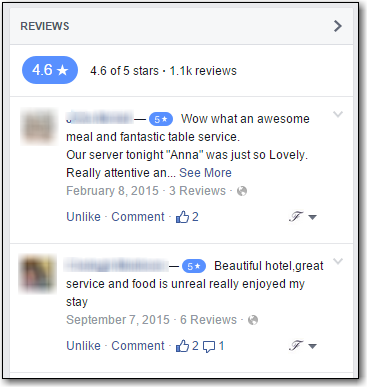 8. Use Rich Media in the Newsfeed
Create an experience that potential guests want to engage with.
Move away from sharing simple text links with thumbnails. It's time to get creative! Jazz up your posts with bright imagery and video clips uploaded directly to the Facebook platform.
9. Use Apps to Customise
Facebook apps allow you to customize your page in many ways. Take a step back from your Facebook page, and ask yourself: What are you doing that's engaging and keeping your hotel's fans on your Facebook page?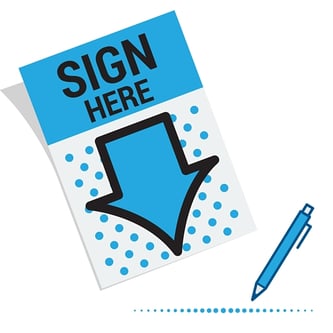 Competition apps: using competition apps allows for tons of flexibility in the information that you can collect from fans, and it keeps them engaged and prevents them from leaving the platform.
Email captures: Add a sign-up form tab. Offer an incentive for guests to sign up to your newsletter. Once you've collected your list, use it to retarget potential guests with special offers and packages to book direct on your hotel site.
10. Make shareable, fresh content
Make sure you have a steady stream of shareable content on your website – keep your content up to date. Not only is fresh content helpful from a social media perspective, but it will also benefit you from a search engine optimization point of view and engage guests that find their way to your site. Fresh content is a win-win-win.
11. Add social sharing icons
Ensure that your content is easily shareable to Facebook and other platforms– add social sharing icons to your website with easy tools like ShareThis, AddThis or SumoMe.
12. Look at who your audience is
Learn more about the customers that matter to you before you invest in paid advertising with Facebook Audience Insights. Audience Insights give you information about your fans like demographic, location, interests, connections and more — think of it as a mini-Google Analytics for your Facebook page.
Yes, you can customize your target audience with adverts manager or power editor before setting your campaigns live. What if you could learn more about your specific audience before putting budget behind it, though?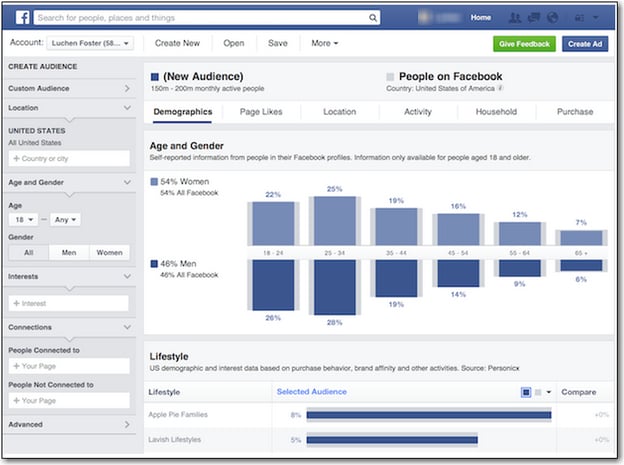 Audience Insights were developed to help you learn more about your target markets by looking at trends about your current and potential customers based on real time data. It will allow you to view information about three groups of people:
People on Facebook
People connected to your page or event
People in custom audiences which you may have already created, e.g. an e-zine database or a custom audience collected from your website.
Let's say you want to target male and females between the ages of 35-44 in the USA who are interested in hotels and travel. In the example below, you will notice that you are now targeting 70% of women and 30% of men, 67% of whom are married and 64% of which are educated to college level. Looking at this further, we can see that 32% of this audience have an associated management job title.
You don't have access to this type of information outside of this tool. This will help you to tailor your ad copy based on analysis. For example, this particular audience may be more affluent and would be more inclined to spend on a break away, and with the majority of the audience being married, you might want to target them with couples' packages.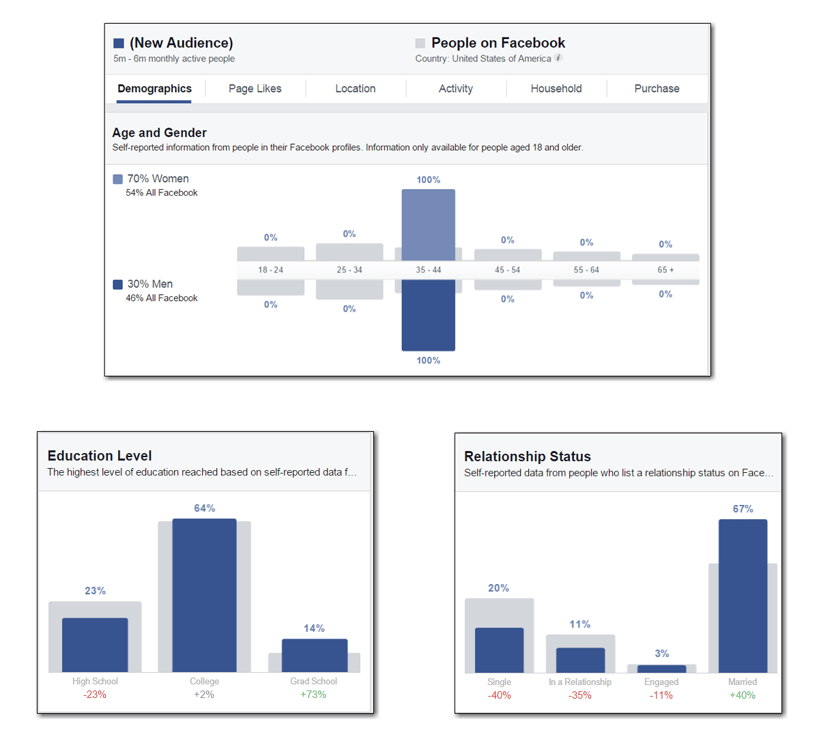 Once you have analyzed specific information about your customers you can then save this specific audience and use it as a target audience at a later stage.
So what are you waiting for? Tap into all that data goodness here.
13. Use Paid Advertising
Facebook advertising should be an essential part of your hotels digital marketing strategy to drive direct bookings back to your own brand site. Facebook often update their algorithms to ensure users receive the best-personalized experience each time they log in.
The news feed is at the center of Facebook success – Facebook serves up posts to user that they are more likely to engage with. This is great news for users, but more of a challenge for us marketers to compete for real estate in this ever-more competitive environment.
Lately, you may have noticed a drop in your posts' organic reach. This is because of Facebook's algorithm update in January 2015, making it near-impossible to rely on organic reach alone without the backup of paid advertising. Organic reach refers to the number of people that you can reach on Facebook for free by posting on your page. In order to gain as much exposure as possible, let's take a quick look at the paid options that are available to you and will best help to drive direct bookings.
Boosted Posts
Boosting your posts is an extremely effective and inexpensive way to get as much exposure as possible for your content. It's a simple way to get more relevant people to see your posts allowing you to choose a specific audience to target for a set budget over a set period of time. Boosted posts appear higher in the newsfeed, so there is a much better chance that your audience will see and engage with them.
Remember, you can only boost posts with images that have 20% text or less: here's a handy tool to decipher exactly what that is.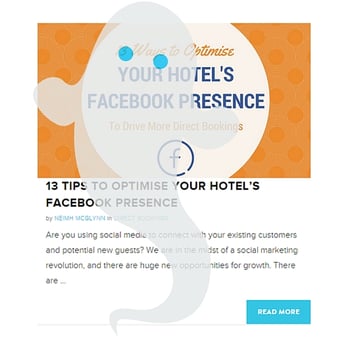 Unpublished Page Posts or "Ghost Posts"
Unpublished page posts are used solely for the purpose of advertising and don't appear on your hotel's Facebook page or in news feeds. They are an effective way to show your content to a tailored audience and allow you to display a call to action button. Learn how to set up an unpublished page post here.
Custom Audiences
Facebook's custom audiences allow you to reach customers you already have an established relationship with. These types of campaigns are super-effective, and avoid the wasted clicks you'd get from a more generic audience.
Website custom audience
Collect a list of people who have visited specific pages on your website. You can start collating this list as soon as you add the Facebook custom audience pixel across your website. For example, you may want to target people who have checked availability on your website but who haven't proceeded to the booking stage. These people are the low-hanging fruit, and worth retargeting through Facebook to entice them to come back to book directly on your website.
Email / Phone number Retargeting
You can upload a list of at least 20 email addresses or phone numbers directly to Facebook, and it will automatically match these up with the relevant Facebook IDs if they are on Facebook.
This targeting is very useful when you use it alongside an existing campaign. For example, you may want to retarget people whom you have sent an e-zine to in the past couple of days. It is important here to exclude the people who have actually booked as a result of receiving your e-zine.
Lookalike Audiences
Lookalike audiences allow you to target and reach new people who are similar to one of your custom audiences. For example, a powerful lookalike audience would be people similar to those who've already made a booking on your website. Facebook will then match up the top % of users to display your ads to.
Advanced Targeting
There are numerous advanced targeting options that can be layered on top on one another, gradually making your audience smaller and more relevant, driving down costs and raising ROI. You can use single factors or combinations of interests, behaviours & geo location.
Here's a social checklist for you to take away and use to make sure you've got your Facebook page working as hard as it can for you: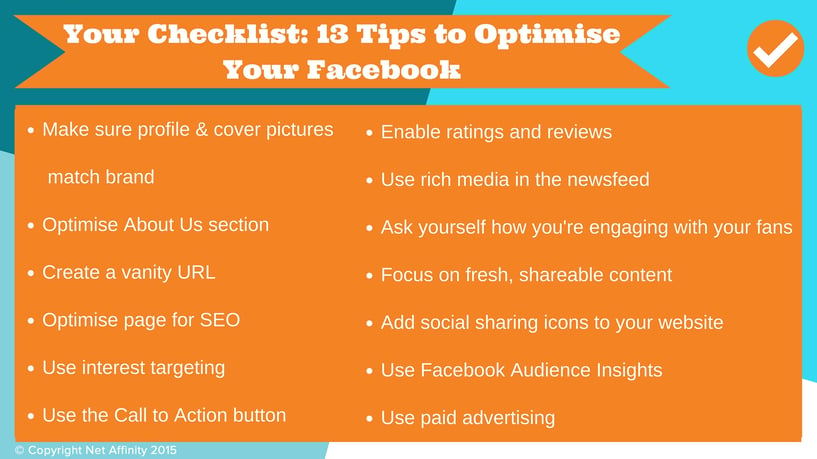 There are always new ways for you to reach out to potential guests, and Facebook is just one of the platforms that you can use to develop long-lasting relationships. You need to make an effort to engage with your fans, listen to what they have to say and get ahead of your competition.
Remember not to oversell on every Facebook post! Keep the 80/20 rule in mind: only 20% of your content should be about your brand, and the other 80% should be dedicated to sharing content that really matters to your audience and engages with them in conversations.
Will you be implementing any new changes to your Facebook strategy? Get in touch and let us know how you get on.
Author Credit: Neimh McGlynn, digital marketing expert