Where do most travelers begin planning their trips? Is it on Booking.com, Expedia or TripAdvisor? Not likely. Think about your own web activity. Most of us start our initial research for everything on Google.
Google has an unrivalled advantage when it comes to traffic: an estimated 4.5 billion searches are made per day on Google, accounting for 77% of the world's total search traffic. Now while only a small percentage of these searches are for travel and accommodation, that's still a lot of traffic for their current metasearch offering, Hotel Ads.
So what are Hotel Ads?
Google Hotel Ads is a meta-search platform originally called Google Hotel Finder that was launched in 2011. The platform displays your hotel rates in direct comparison to the OTAs, enabling you to showcase your hotels on Google, across desktops, tablets, and mobile devices.
By providing Google with up-to-date information on pricing, availability and room types, it can show relevant hotel ads to future guests who are actively searching for accommodation either on Google Search or Google Maps.
For example if a user performs a generic search for "hotel in London" they will initially see a search results page similar to this one with some paid and organic results.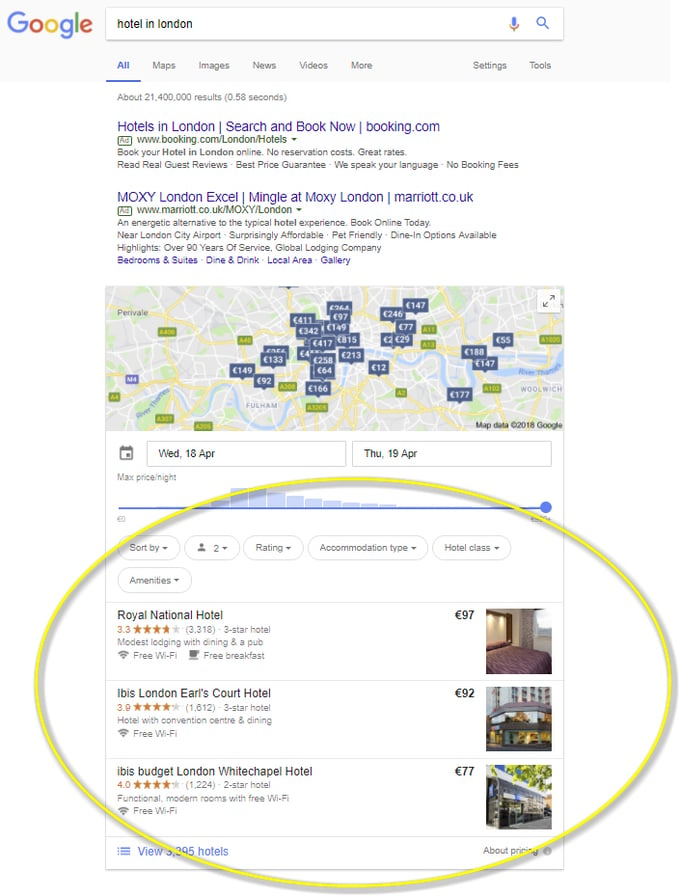 What stands out on this page is the hotel section which shows organic search results and allows the user to refine with filters like dates of stay, number of guests, price range and hotel star rating among others.
Once the filters are engaged the user will be brought to a page like this which shows the available hotels in list format and within a map.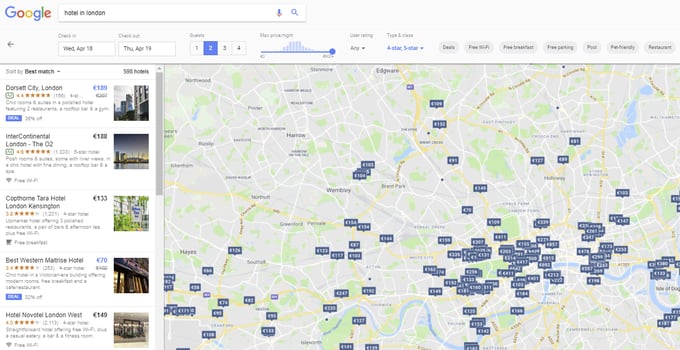 The user can then click on a hotel that grabs their attention. This will bring them to the Hotel Details Card which provides information about that specific hotel like their hotel description, image gallery and guest reviews. All this information pulls from the hotels Google My Business page but more about that later.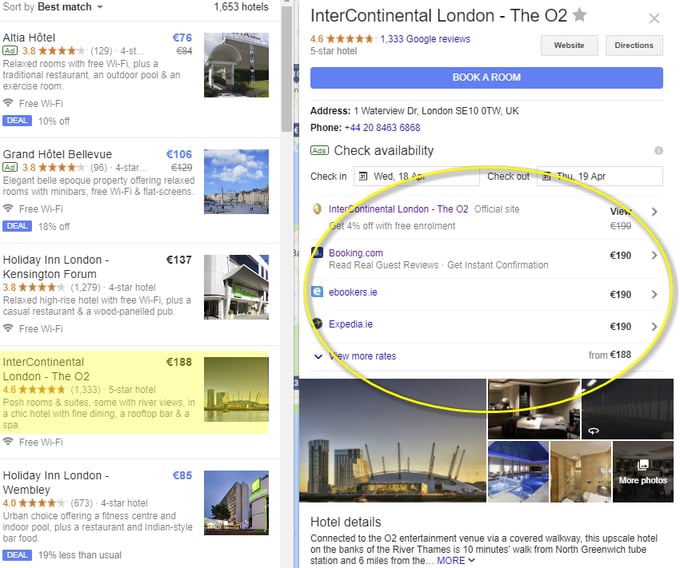 The Hotel Details Card will also show a price comparison using Google Hotel Ads which give the user all their available booking options in one place and show the best value to be had across the web. The user can click on their preferred advertiser and will be brought directly through to that website to complete their booking.
Google is expected to gradually shift more and more traffic to Hotel Ads, possibly at the expense of AdWords and organic search, and with roughly two thirds of travel searches originating from Google, hotel marketers should ignore this trend at their peril.
Mobile Hotel Ads
With the rising traffic on mobile devices, Google are constantly trying to maximise the mobile user experience for Hotel Ads. See the latest tested version here.
Updated Hotel Listing Page
The new look ad has a larger focus on hotel images and a larger font for the hotel description meaning that fewer hotels load on the screen. A potential implication of this is that hotels that appear towards the top of the search query will get all the traffic. This is because these hotels will take up all the real estate on the screen and many mobile users don't want to scroll through multiple pages.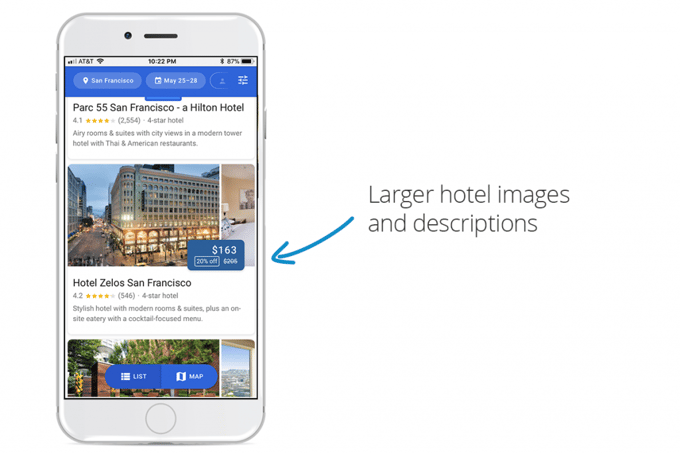 Pricing Call To Action
The new pricing layout is larger than before, giving more significance to the price of the hotel. It also displays strikethrough pricing on the main hotel listing screen before getting to the meta auction.
Any hotels that can show a rate advantage will reap the benefits of this change. If you're having any issues with rate parity however this may cause you some issues. More on rate parity later.
Minimised Search Toolbar and Map Toggle
Thanks to a new minimised version of the toolbar, which remains in the top of the screen even after scrolling, a user can search and filter at any point on the hotel listing page. This update not only improves user experience, but your mobile visitor should be more qualified assuming they use the filters provided. You can also switch between map and list view by using the floating toggle switch at the bottom of the screen.
Other Updates
The user interface also includes a new color scheme and round buttons and search fields. The new blue color on the price overlay really stands out from the photos and the pricing is easier to read than before, making it more user friendly. Hopefully this version will be rolled out soon.
So How Can Your Hotel Benefit from Hotel Ads?
On average, for Net Affinity hotels, 10% of their bookings were generated through Hotel Ads this year with some clients seeing up to 24% of their bookings coming through the platform.
Here are some of the key hotelier benefits;
Increase in Direct Traffic
According to Google, 60% of leisure travelers and 55% of business travelers use its search engine to plan their trips. That's a lot of traffic, right? Once a user clicks on your Hotel Ad, they're taken directly to your hotel's booking page. Considering that Hotel Ads are cross-device compatible, and that they appear for both generic and specific searches, this significantly increases the stream of direct qualified traffic to your website.
Own the Guest Data & Future Relationship
Due to the increased chance of direct traffic and bookings, there is no middleman between you and your guests. This means that you own your guest data and have the opportunity to nurture the relationship long after your guests have checked out. Once you have their contact details from a direct booking you can engage them with future marketing activity and loyalty programs. All the while having full control over their brand experience.
Increase in Revenue
By the time a user clicks on your Hotel Ad and is redirected to your site, they have most likely already filtered according to specific details like price range, availability, location, services, rating, etc. This means that they are a highly qualified lead before they even get to your booking page. The net revenue made through this booker vs an OTA booker is also going to be higher.
See an example below from one of our hotels last month. After taking into account the cost of running the Hotel Ads campaign, and other associated costs, the net revenue was still significantly higher than if the same revenue had been generated through Booking.com with commission of 15%. In fact they hotel potentially saved €1207.43. Plus they now own the guest data as we outlined above.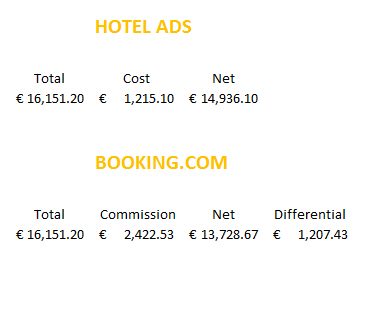 How Does the Hotel Ads Bidding Work?
Google uses an auction model similar to the AdWords auction model:
When the user selects a hotel property, the list of partners who have provided prices and bids for that property are selected
From the initial list, partners who can best serve the user (in terms of language, support for currency, device, etc.) are retained.
From the filtered list, partners with similar prices are grouped into buckets and are ranked in ascending order of price
Within each price bucket, the partners are then ranked based on bid value. The top four to six partners (depending on sites) based on this ranking are shown in order
If a partner is bidding lower than the reserve bid, he will not show, regardless of its price bucket.
A base bid is either a fixed fee per room night, or a percentage of room rate total. But on top of base bid, you can specify a bid multiplier for a variety of factors. You can adjust the multipliers to increase or decrease your bids for a specific Google site, user country, device (mobile or desktop/tablet) and length of stay.
So as you can see, this can get quite complex, but is very targeted and optimised.
What Can You Do to Help Conversion?
Google My Business Profile
So as mentioned earlier all the information in your Hotel Details Card pulls from your Google My Business page. This is a free listing that optimises all your hotel's information into the right fields and makes it easier for travellers to get the details they want. This includes your hotel's address and phone number, Google maps geo-marker, hotel photos, guest reviews, and other relevant information such as amenities.
Providing you complete your listing properly, with the features listed above, Google My Business makes your hotel website more likely to be found first on Google so keeping this up to date has never been more important.
Make sure you're using your best imagery here and that all your contact information is correct. If you aren't using the correct filters for your property for example you are missing out on numerous qualified leads.
Google Reviews
Put yourself in your customer's shoes. Why would they click on you over a competitor hotel when searching in Google? One thing that might help you stand out is your reviews. Google Reviews provide star-ratings and reviews for your business which increase your opportunity to attract visitors to your website. These reviews are curated from various sources across the internet and are surfaced within your Google My Business listing. With the importance people place on peer recommendations nowadays, we'd encourage all hotels to work on a strategy to increase the number of reviews they're getting online and of course increasing the quality of these reviews through great service.
Rate Parity
Rate parity issues can unfortunately be a common problem and can hinder your campaign success. Properties with high impressions can see very low conversion rates when the rates are not in line with competition. Unsurprisingly, users tend to choose the lowest price.
In order to ensure that a campaign is not negatively impacted by rate issues, it is important to regularly monitor rate parity and make sure wholesalers are not unbundling rates designed to be sold as part of tours or packages on OTAs.
Conclusion
Price-comparison sites are extremely popular today with travellers. Couple this with the level of global traffic Google has, and their continuous investment in the platform and its user experience, and you can be sure Hotel Ads will go from strength to strength. The cost is minimal, but the rewards can be great.
Speak to one of our Marketing Specialists today about what Google Hotel Ads can do for your hotel. Email hello@netaffinity.com today.