It's official. Most of us are spending a third of our waking lives on our phones.
A recent report on mobile phone usage concluded that across the top ten markets analysed, the average user spent four hours and 48 minutes using their mobile phones every day... which is a 30% increase from the figures reported in 2019. Pretty substantial, although perhaps not altogether surprising after the Covid era!
The report also found that the US led the way in relation to consumer spending on mobile ($43bn in 2021 - $10bn more than the previous year). 93% of consumers use internet resources to find local businesses (predominantly via mobile), so it's really so important that your website is optimised for the platform. This includes making sure the tools in your entire hotel stack are optimised, like your booking engine for example.
Of all the shopping channels available to customers, mobile commerce is taking the lead. It is predicted that some 187.5 million people will shop via their smartphone by 2024 and global consumer mobile spending is expected to reach $728 billion by 2025.
We partnered with The Hotels Network on a webinar recently along with Deirdre Featherstone, Group Digital Marketing Manager for McGettigan Hotels. Collectively, we wanted to use this webinar as an opportunity to demonstrate the benefits of creating a truly robust mobile strategy which could actually boost your hotel's website conversions. Once you embrace the importance and relevance of mobile as a revenue channel, it's time then to invest in a strong strategy that will make a difference. We have compiled and condensed the key takeaways from our joint webinar below - take a look and get strategising!
1. Mobile is dominating transaction, traffic and revenue volume
Did you know mobile is currently dominating online traffic to hotel websites? It's share of the pie is only getting bigger. 78% of our clients' traffic and 62% of their transactions come from mobile.
When we look at revenue, we can see that back in 2014, mobile only represented 12% of hotel direct revenue. Growth has been steadily creeping upwards - and mobile started to overtake desktop revenue during the pandemic in 2020 (a year where we saw exponential mobile growth overall). Mobile traffic hit 80% for the first time ever in December 2021 - with desktop coming in at an all-time low of 17%.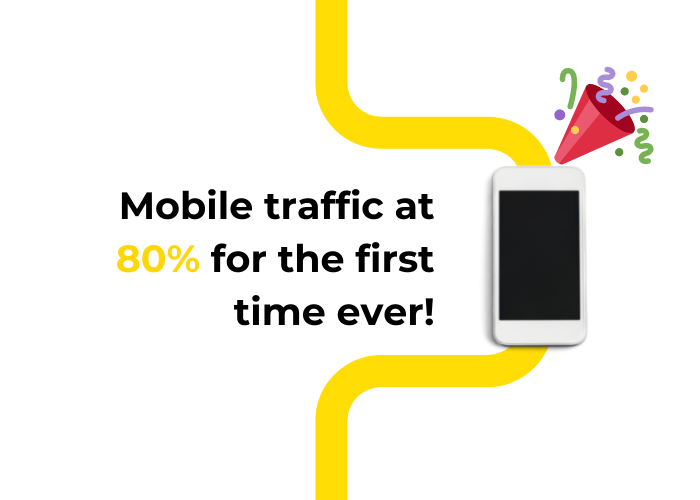 Our clients are just as aware of the huge part mobile has to play when it comes to their guests' booking habits. As well as seeing its huge presence now, they know it will only continue to grow - which means they need to keep optimising.
"At McGettigan Hotels, 65% of our website traffic comes mobile. This represents a huge part, so we're always making sure that when mobile visitors land on the mobile homepage they know exactly where they're going." Deirdre Featherstone, Group Digital Marketing Manager at McGettigan Hotels
2. Mobile cannot be a second thought
As a hotelier, if you haven't already, you will need to shift your mindset towards mobile. 'Mobile-first', 'mobile-optimised' - make these phrases a part of your every-day vocab! You do need to adopt a mobile-first approach across everything you do, and the first step on this journey is to address hotel's brand marketing activity. Delve in deep. Find out where your guests are spending their time online and use this information to create and deliver engaging communications that will compel and attract people to book.
No matter where you're delivering content or where your guests land - their experience should follow these three golden mobile rules:
Less is best
Clear and consistent messaging
Effectiveness
3. Boost your mobile marketing efforts
It's not just about optimising the user experience for mobile browsers - it starts much earlier in the online booking journey. Everything you do - whether it's traffic generation or any other kind of marketing campaign - it needs to be seen from a mobile perspective.
77% of Google search impressions or display ads are on mobile and 98% of Facebook and Instagram ad traffic is on mobile. This is yet another glaring reason why it's so crucial to optimise your marketing campaigns for the device (and to check how everything looks).
4. Provide an ultra-smooth mobile experience
A bump-free mobile experience must be treated as a given - don't get caught out! Check out all of the following: are your images loading quickly enough? Is your 'book now' button super easy to access? Are your guests able to find what they're looking for? It's no harm to do this exercise semi-regularly so you can ensure nothing slips past.
"Everything is mobile friendly on our hotel website and we make sure it's all responsive to get those smooth 3-click bookings." Deirdre Featherstone, Group Digital Marketing Manager at McGettigan Hotels
5. Create mobile-exclusive offers
Showcasing personalised offers on mobile is a handy way of grabbing people's attention and encourage them to confirm that direct bookings right then and there.
THN client data showed a 144% increase in booking engine to booking conversion rate when displaying a discount targeted towards mobile users with the message clearly indicating its mobile exclusivity. Pushing time-limited offers is another smart way of converting mobile browsers into bookers.
"At McGettigan Hotels, we push little offers on the mobile platform like free parking or 10% off food and beverage to get people to book direct." Deirdre Featherstone, Group Digital Marketing Manager at McGettigan Hotels
6. Keep it short, keep it simple
With barely any time to even count down, it's been proven that as online marketers, we have only 7 seconds to capture the attention of mobile browsers. With this in mind, keep your messaging short, simple and eye-catching if possible. Adapt your content marketing to fit easily onto a mobile screen. Optimise your images and don't go overboard with too many - there's no need to create a situation where people are scrolling more than they will want to. These are small but smart things to do that will prove effective.
Sign up to our blog for weekly trends, insights and the latest goings on in the hospitality industry.