Did you know you, with Google Hotel Ads, you only pay when a guest actually books a room?
There's a reason why we won't shut up about Google Hotel Ads. Meta search has long been a necessity when it comes to your digital strategy. With an an estimated 5.6 billion searches made per day, Google has 90.46% of the search engine market share worldwide.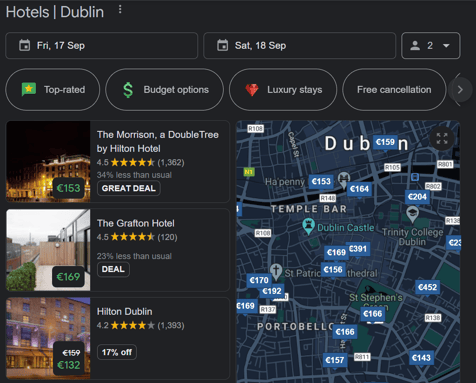 Google Hotel Ads allow you to be right up there (with your best rate!) beside the OTAs when someone initially Google searches for your hotel. The increase in customer visibility from this exposure cannot be underestimated. As well as benefiting from more direct bookings for low acquisition costs (the dream), you can also use customer data gleaned from Google Hotel Ads to better understand your customers and develop personalised remarketing strategies.
On average, you will pay the likes of Booking.com between 15-18% commission on a booking. Due to much lower commission rates with Google Hotel Ads, you can compete directly with OTAs by placing your best rate in front of your guests.
Using Google Hotel Ads will also help you gain a significant increase in direct qualified traffic to your website. As well as this, using the platform will help to sustain a direct and more loyal relationship with your guest. Allowing you to own your guest data and giving you the opportunity to nurture relationships long after your guests have checked out means you have the opportunity to entice them to come back again and again.
Performance just keeps getting better and better
Throughout the entire summer, we have noticed client performance in relation to Google Hotel Ads continue to be significantly positive and results have risen month on month.
In May of 2021, we noted the strongest performance we have ever seen on the platform, and the lowest CPA in years. Compared to May 2019, revenue increased by 42% and CPA improved by 63%.
In July, we saw another incredible performance from Google Hotel Ads for the third month in a row.
Since May, revenue has increased by 56%.
Revenue delivered by Google Hotel Ads as part of our overall Google Ads revenue sat at 5.6% in May – it's increased to 9.4% in August. With our direct connection to Google Hotel Ads, we're delighted to be facilitating more and more clients on the platform.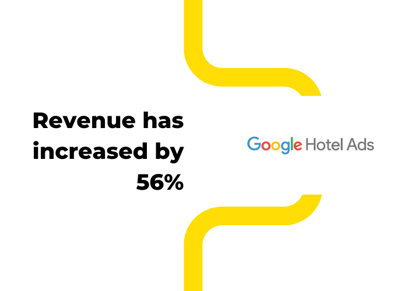 How do you get set up on Google Hotel Ads?
You need to create an account for your hotel on your Google My Business page. Make sure you list all the information guests need to know including:
Your hotel name
Room and hotel images
Amenities
Address and phone number
Link to your site
Don't neglect your Google reviews.
Listen to our podcast on the importance of customer reviews.
Customer reviews have the power to influence your guest and their decision!
93% of customers read online reviews before buying a product.
It's just as important to reply to them as it is to read/filter through them, so consider these as much a part of your profile as your hotel's name and details.
Next up is pricing. Your guest will be faced with a selection of prices for your hotel's available date/room, and they will obviously go with the best price. This is where your rate and website strategy comes in – are you keeping your best rate for your direct channel? Don't lose out on a booking by allowing an OTA to display a better rate for your room.
What else do you need to support your Google Hotel Ads strategy?
In order to use Google Hotel Ads properly, a team like ours can help because we are a certified Google partner, and we have direct access to the channel. Our team of marketers have been in the game a long time, and they know that it's best to give your budget freedom – the bidding is commission based, and given you only pay for generated bookings (not clicks) it really does make perfect sense to keep your Google Hotel Ads campaign running, meaning your property will always see demand via the platform. You don't lose out, it's a win-win.
Listen to our podcast detailing a recent update on Google products
Your booking engine and website matter, too
If you are going to be smart about your Google Hotel Ads, you may as well be smart about the rest of your activity surrounding them. Make sure your website and booking engine are mobile-optimised for starters – a huge number of your guests will be booking via mobile. Your booking journey should be seamless, only possible with a booking engine that has all the right capabilities.
When it comes to your website, not only does the customer journey need to be easy, it needs to represent your brand, market your offers and facilities, and do the job of communicating who you are to guests. We can help with this.
We have affordable meta bundles available for all types of properties, with which we would only take a small service fee, and as we said earlier, you only pay for each booking made via Google. Get in touch with us.