"People don't take trips, trips take people." – John Steinbeck
The guest's path to purchase and the sites they visit along the way has created a unique opportunity for independent hoteliers. Today, people are researching hotels and destinations in more depth and complexity than ever before. Make your hotel a can't-miss experience, and you'll give yourself an advantage over OTAs and other third-party sites.
This article will teach you:
How guests are researching their journeys
What they're looking for
How your hotel can give them exactly what they need
By tapping into your guests' online journey at key points, you'll be able to give them insight into local experiences and hidden gems they won't be able to get on an OTA.
OTAs are trying to sell you a hotel; you're trying to sell them yours.
This gives you an advantage. You are able to give travelers the insights into local areas that they want, and put your hotel at the center of the guest journey.
How do we book today, and what's changed?
When we make the decision to book a trip away, most of us are looking to find a trip that gives us a break from the everyday.
Travelling connects us with the explorer in ourselves. Unlike our busy lives in the place we've lived for months or years, we have days of free time to explore and experience those places we don't normally seek out.
Once you've decided to travel, the planning process begins: where do you want to go? Is there something new you want to experience? What about checking out the place your friend went last year?
A recent study commissioned by Expedia Media Solutions revealed that the average British traveller spends 2.4 billion minutes engaging with online travel content, which represents a 45% increase year over year. The study also states that nearly one billion of those minutes are spent on travel content from a mobile device.
All of that online content is what's changed the booking process. Dedicated travellers can now virtually explore destinations before they go, digging up hidden gems and local experiences.
Once the decision is made about where you want to go, the next question is: where do you want to stay?
Guests are Going Local
The pattern of where people want to stay seems to have changed – it's gotten more focused on the local. We're looking at neighbourhoods in cities, instead of cities. According to a study from Airbnb, 75% of guests travelling to Ireland are looking to explore a specific neighbourhood.
Airbnb also reports that of the 300,000 tourists visiting San Francisco who stayed in local homes, a surprising 72% of these guests stays occurred outside of the main areas and in neighbourhoods not typically included on tourist maps.
These statistics show that people using the Airbnb platform are more interested in staying out of the typical areas. Importantly, this information gives hotels a huge opportunity.
Hotels should not focus solely on showing off their amenities and facilities. Instead, they should put more time into highlighting and promoting the surrounding areas, putting together suggestions places people can eat, drink and activities they can take part in.
In other words, they should market their hotel as an experience, and a part of a vibrant local community.
Making your hotel a cultural escape can however be quiet a challenge, how can a small hotel in the rural countryside or a city hotel with tough competition market like this effectively?
How to Make Your Hotel a Cultural Escape
When you're marketing your hotel as a local escape, it is important to have colourful engaging images and an effective layout. This will help to capture the customer's attention. However, it is the killer writing that lets customers start to begin picturing their trip.
The content shouldn't be too text heavy, though – there should be just enough to keep the guest engaged throughout. Here are 9 tips for making great content for your hotel website.
Rather than making your guest go to Google and other sites to find out what they can do near your hotel, why not make sure your site has all the relevant information about the area?
Tell your potential guests a story about a family owned restaurant, where you can drink the best Guinness or a hidden gem which only locals usually know about. Give your customers interesting information about the area and the local cuisine, local history, events which are taking place, big or small, and even add your claim to fame if the area features in a film.
This new method of selling an experience along with rooms will benefit direct bookings and show your hotel's more personal side.
Why is Getting Personal So Important?
The fight for increasing direct bookings is both more important and more difficult than it has been in the past. This means marketing your hotel effectively is more important than ever. It is estimated that 2016 will be the first year that OTA revenue in the US will bypass brand.com revenues in hospitality (PhoCusWright). Hospitality is the only travel sector in which OTA shares are overtaking brand.com shares.
However, an OTA's site does not have the potential to give the customer the personalised journey of the local area which your hotel can. This gives your hotel a fighting edge.
OTAs have a high marketing budgets, top-level technology and international staff, but at the end of the day their goal is to sell rooms for millions of hotels worldwide.
The main element they lack is the local knowledge and the personal touch which you can give your possible guests. For the large segment of travelers that value local experiences, this will help drive those guests to book direct.
Here are two examples of hotels who have hopped on this trend with enthusiasm and success: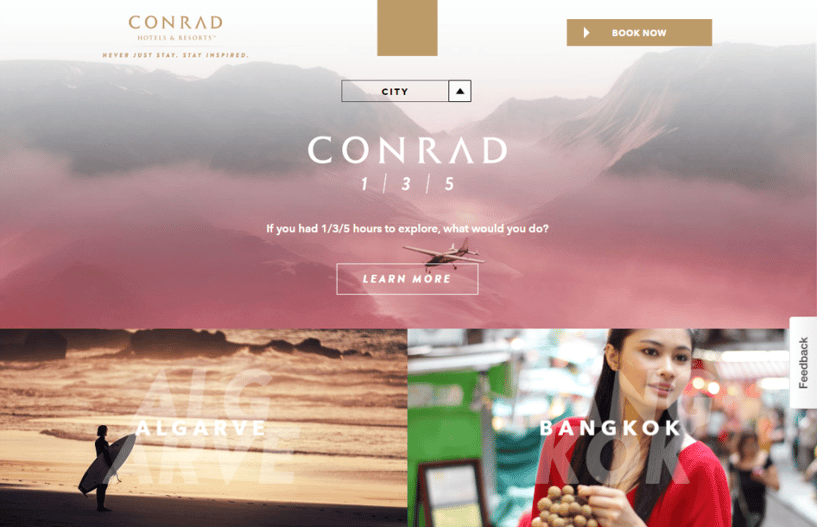 The Conrad Hotels & Resorts are taking advantage of their local information with a campaign and a microsite.
Their tagline is "Never just Stay. Stay Inspired," and the goal is to give customers a list of activities in various cities based on how much time visitors have: one hour, three hours or five hours. This campaign is operating from the group's "Stay Inspired" microsite. This campaign is a fantastic example of how hotels can differentiate their marketing, bringing marketing and operations together.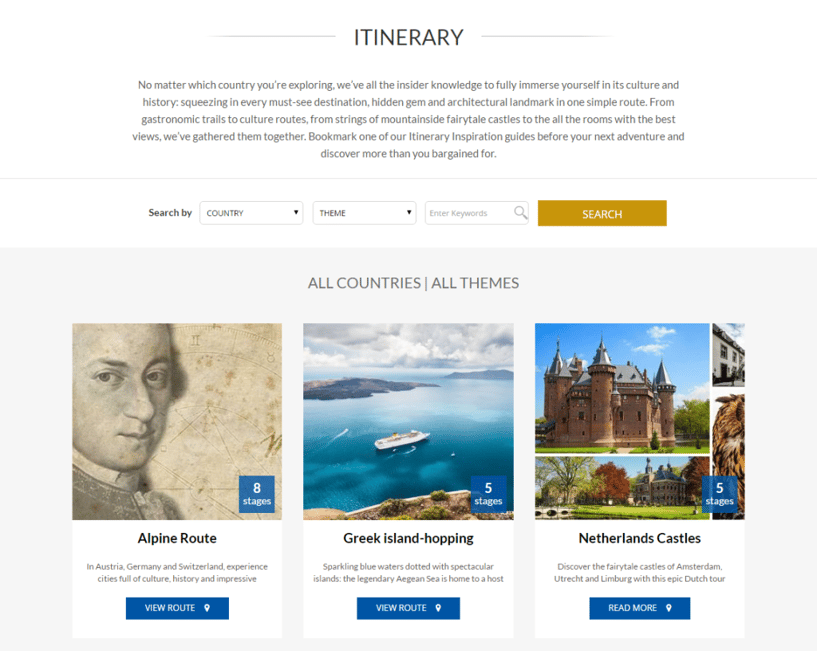 The Historic Hotels of Europe are giving guests useful, insightful information and tips in planning trips around Europe. Whether it's for a Greek island-hopping holiday, exploring Ireland's historic coast or visiting Germany's fairy tale castle hotels, HHE has crafted a guide that leads guests from one of their properties to the next.
This recently launched section on their site called "itinerary" gives guests different routes they can take and different hotels from their collection which they can stay in on each part of their trip.
It also gives information on the areas where the hotels are based, showcasing beautiful European beaches and vineyards. The guest also gets a taste of the history surrounding the properties, alongside the many tourist attractions they recommended you visit.
Who Should Your New Content Target?
The content on your site should include information for all the different types of travelers from families to couples and those in their golden years. There has been a trend, however, towards to younger travelers. Look at your own analytics – who are your guests? Which of your guests are doing the most on-site research?
Younger travelers today have also shown a shift in booking preferences. From the data, we can see that this new generation of travelers have a strong influence in bookings.
Our data here at Net Affinity shows us how strong the younger millennial age group are. In Q1 2016, those 25-34 years old were responsible for the most visits on our site and performed the most transactions. The traffic in this age group increased 237% from Q1 2015.
A study conducted by Topdeck Travel backs up these statistics. It revealed that those between 18 and 30 are no longer primarily seeking a party-animal environment when travelling – if they ever were. 86% of the group Topdeck interviewed agreed that experiencing a new culture was a strong factor, while 69% of the group outlined the importance of eating local cuisine.
This information shows us again how important it is to:
Know who your guests are and what they want
Give the right material to the researching customer
CitizenM is hotel group that markets itself as a new kind of hotel, dedicated to "drowning hotel clichés." They're targeting this young modern traveller on a budget, by giving them a basic small room that they can afford and focusing on the wonders of the areas in which they are located.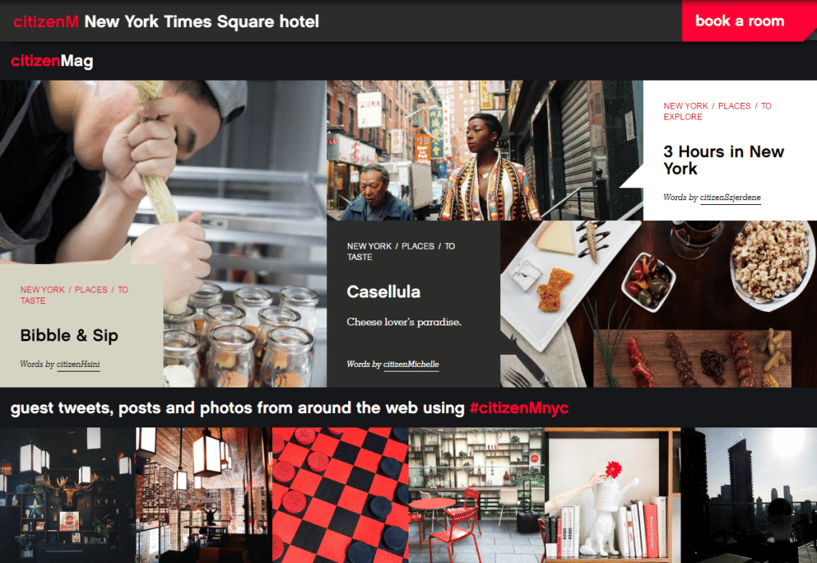 The blog part of their site focuses on "The city's best bits, explored by us." In the guide for their New York property, the magazine gives details on places to eat and drink, avoiding the commercial tourist traps but explaining things like the best place to get an authentic craft beer in Brooklyn.
Conclusion
This new way of marketing is proof that listing your hotel's amenities and features isn't the only way to gain bookings. By showing guests what's beyond your front doors, you can connect with travelers looking for a new adventure and a cultural escape.
With the tips outlined and some inspiration from larger scale hotels, you can make your hotel an information portal. Make your hotel the go-to source for people to plan their trip from arrival to departure, and you'll have accomplished something no OTA can match.
This article was written by Cheryl Cox