Today we're taking a peek at one of the minds behind the Net Affinity marketing team, head of department Hollie Faulkner.
Hollie's years of experience in digital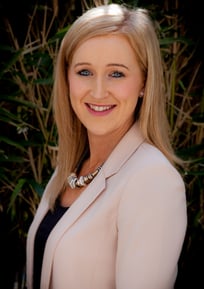 marketing specifically for hotels has helped her to rise through the department here at Net Affinity, and led to accomplishments like landing on the Phocuswright 35 Under 35 list at their Young Leaders Summit earlier in 2015. Her passion for digital marketing and creativity in the field lets her excel in her work, and ensures that she never runs out of innovative ideas for our marketing department to implement.
Today, Hollie takes us through what digital marketing for hotels looks like today, getting clients online, and how to superpower your digital strategy to make sure every euro counts.
About Hollie
Originally hailing from Manchester in the UK, Hollie moved to Dublin 10 years ago and has been here ever since. She studied Tourism Marketing at the Dublin Institute of Technology, which involved an exciting six-month placement at Failte Ireland.
Asked how she became interested in hotel marketing, Hollie explains that she is "a creative person; I've always had a passion for detail, and as I went through school and college this evolved into a passion for marketing." Combining this passion with her love of tourism led Hollie through her degree and eventually to a sales and marketing role in a Dublin hotel.
She moved to Net Affinity in 2010 as a Digital Marketing Executive, and has since risen to Head of Marketing. Her creative skills, along with a love of "bashing out a discussion on a topic and having a eureka moment" allows her to excel at managing, motivating and developing a growing team of digital marketing specialists.
Working with Clients: Welcome to the New Age
Hollie's years of experience with hotels – working both in them and for them—gives her a huge amount of insider knowledge when it comes to dealing with Net Affinity's hotelier clients.
For instance, Hollie says, some hotels have been in the business a long time, and their idea of marketing might not extend past the local newspaper. Understandably, that isn't a recommended strategy for attracting international guests! One of Hollie and the marketing team's jobs is transitioning these clients to digital methods, and making sure they can see the return on investment for every cent they spend.
Net Affinity is "at the top of the game in digital marketing for hotels," Hollie explains, "so understandably some of our clients are not as up to date as we are – that's as it should be!" However, Hollie firmly believes that every hotel can have a strong online strategy.
One issue that arises with hotels transitioning from traditional to digital marketing is the concept of an "unlimited" budget. Because the way of monitoring ROI is so exact online, Hollie says, hotels can track every euro.
If hotels can generate business on one channel at a lower cost per acquisition (CPA) than they can on other channels – and it can be proven – then there's no reason to have a budget cut off point. At that point, Hollie says, the cut-off point is "like turning off the tap."
Some hotels are further ahead in the digital game than others, but there's no reason those behind can't catch up. There's a few strong tools Hollie says each hotel should have in their digital kit in today's world to help them connect with guests in the online sphere – read on to see what they are.
Digital Marketing for Hotels: Efficiency is the Name of the Game
Strategy
We asked Hollie about the most effective digital marketing techniques top hotels are using today. For Hollie, it's ultimately all about knowing your audience and connecting to them in meaningful ways.
How do you do that, though? It's all too easy to get your message lost in the shuffle if your marketing efforts aren't targeted and efficient.
According to her, "[Customer] Persona driven marketing can work incredibly well when used well."
Customer personas have become the new way to get to know your customers, in a world where online bookings and automated processes can make it more difficult to get that personal touch. A good rule of thumb to use when building your personas is 90% data – from your analytics and booking engine – and 10% knowledge from first-hand experience. If you're stuck for how to get started digging into all that data, here's a guide to help out.
Once you have your personas, you know exactly who you're targeting, Hollie says. This makes you more efficient, so you don't waste ad spend on people that will never book. Hoteliers should develop solid content strategies to match these personas. Hollie explains that content strategies are "significantly valuable to hotels" and "can be a strong driver of traffic when managed correctly."
Digital marketing today is going through the 'rebirth of the blog', with in-your-face advertising becoming less effective. Instead, you want your guests to come to you.
To do that, Hollie believes, you must know who they are through customer personas, and have a great content strategy in place to reach them with.
Channels
After talking about the new wave of content marketing and how hotels can use it to jazz up their online presence, Hollie discussed the importance of a holistic approach to digital marketing.
When hotels are deciding which channels to be on, the possibilities can look endless – Is advertising on meta search sites worth it? How does social media factor in? Hollie's expertise lets her shed some light.
She cautions that hotels "must know" their customer personas, and know what channels work best for those guests. Hollie would always advise that hoteliers have a clear strategy on paid search and display advertisements, "as well as an active email marketing and content strategy."
For social media, Hollie advises that Facebook can be a significant boost to hotels' revenue, and, "Contrary to popular belief, social media can drive huge volumes of bookings when used creatively." That means running exciting competitions, showing off your hotel's personality, and finding innovative ways to attract the kind of fans you want – the kind that want to book.
These few sentences encompass a lot of work, but hotels cannot afford to ignore their digital presence in a world where huge, growing numbers of bookings are made on mobile, and most guests' first impression comes through a screen.
The Takeaway
Digital marketing is an area no hotel can afford to ignore in today's world
Efficiency is key to success in the online world, and solid customer personas and content strategies help you achieve that
Channels must be evaluated holistically by individual hotels: find out what works for you and focus your efforts
Social media channels can drive huge booking volumes when used creatively
Does your hotel have a digital strategy? If not, it's time to get into gear and bring those direct bookings to your site!
Words By Taylor Smariga