The year is winding down, and countdowns to the New Year have begun. We're counting days left on the calendar, the minutes of music we listened to this year, and days left until we have to decide on yet another New Year's Resolution.
Here's another kind of number that matters – the kind that matters for your hotel: here are the statistics that will help you make business decisions in 2016.
We've picked out 5 of the most relevant and game-changing statistics for hoteliers in 2016, and broken them down. Here's the numbers, the meaning behind them, and how they can drive your strategy come January.
Check it out.
1. 65% of Same Day Reservations are made from a Smartphone (Statisticbrain)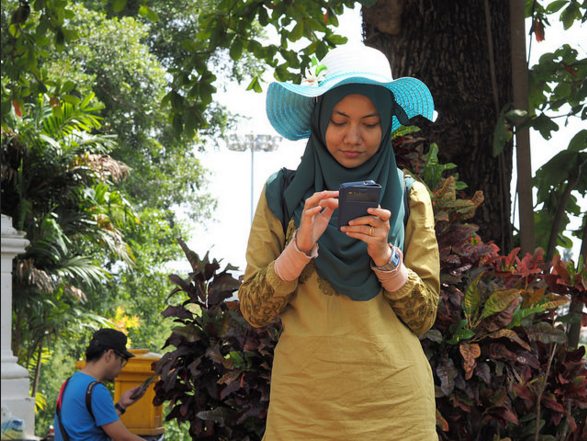 It's easy to think that travelers take weeks, days, or months to book. But as research from Statisticbrain shows, people are embracing rapid same-day reservations – and statistics show that over half of them are doing so via their smartphones. Net Affinity's own data shows that 1/5 of all bookings this year were completed on mobile – 20.7%.
In an article by Lisa Gevelber, Google's VP of marketing, she said:
"In a 15-minute walk with a smartphone, I did what used to take hours of research in front of a desktop computer. And the reason I was able to do this so seamlessly was because when I searched, brands were there to meet me in my moment of need."
Hoteliers can capitalize on this by preparing to meet travelers at their moment of need and making last minute bookings easier.
There are a few different ways for hoteliers to optimise for last-minute bookings on mobile. Firstly, does your hotel have an up to date website that incorporates either responsive or adaptive design? If your mobile site isn't up to scratch, it's probably seriously damaging your conversion rate on mobile – look into improving it.
When you're looking at your mobile site, ask how much information you're giving potential guests. Is it enough to make a decision, but not to overload them? That's the sweet spot you should be aiming for.
You also need to get your web design team to make sure your mobile site is speedy enough when they build it – if you try and cram too much information in there, phones might struggle to download it all in a timely fashion. If you're not sure if you're putting too much information or not enough on your mobile site, consult with your designer or design team.
Lastly, take a look at your booking engine. It should be intuitive to use: try getting someone not associated with your hotel to check it for you. A first-time visitor to your site and, if possible, someone not very tech-savvy should be able to tell you exactly where they're having problems.
On a side note, don't overload your offers on mobile. Show those that would be popular with a last-minute booker or your most popular overall packages, and leave it at that.
2. Mobile Queries within the Travel Category Have Increased More Than 50% (Google)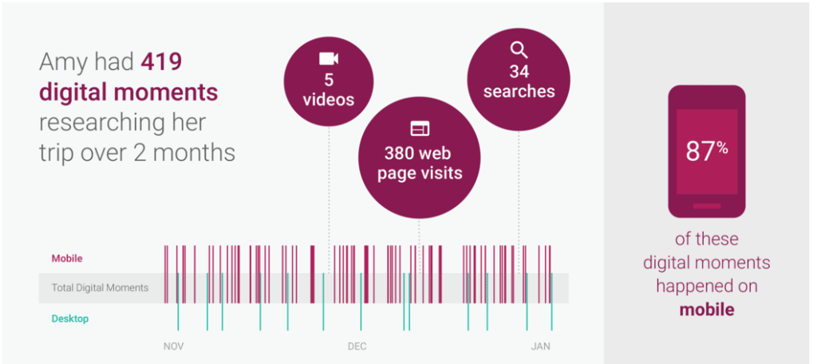 The graphic above shows the consumer journey of a traveler named Amy. During her extensive 2 month research phase, Amy had 419 digital moments. 380 of them were web page visits, 34 were searches, and 5 were videos. And guess what?
87% of these moments happened on mobile.
The statistics reveal that more people are using smartphones to plan their travels and bookings. It also shows how they're planning in shorter bursts, across multiple sessions, often on their phones.
So how can you make the most of the new journey for those making bookings? Hoteliers should shape their marketing around different stages in the guest journey. Consider planning for stages such as:
Dreaming: Have a section on your website or links to other websites about local attractions, popular annual events and ideas about things to do nearby.
Research and Planning: Make sure your hotel is placed on the correct channels, both OTAs and social. You can work with your revenue manager and marketing team to make sure your channels are optimised, and your potential guests are finding you easily.
Once you're sure you're on all the right channels, make sure your profiles are optimised. Can people clearly see your rates, amenities, packages and pictures of your hotel? Do you have reviews placed prominently on your own site? These are a few questions to consider.
Booking: Your hotel's booking engine should be easy to navigate, intuitive and prominently placed on your website. Make sure you have appealing packages for your demographics and make sure that your booking engine has a strong call-to-action on your site.
Experiencing: This is similar to optimizing your site and channel presence for 'Dreaming'. Make sure you've got concrete ideas available for guest activities, both within your hotel and in the local area.
Try making your hotel a unique, wonderful experience with unusual touches to décor or service.
3. 46% of Travelers Who do Mobile Travel Research Make Their Final Booking Decision on Mobile, but Moved to Another Device to Make the Booking (Google)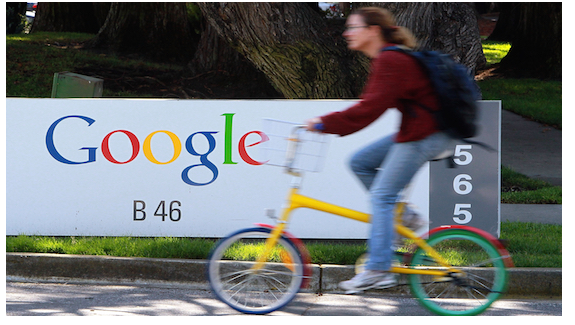 When it comes to informing travel decisions, the statistics overwhelmingly show that mobile has become a powerful influencer.
Hoteliers must remember this when shaping their marketing around the consumer journey. Any unnecessary information or steps must go. The mobile checkout process should be quick, simple and clean.
"Book On Google," currently only active in the US, is great for this. It lets visitors book hotels or flights without hopping between pages. It also adapts to all screen sizes and uses the stored credit card in a Google user's account, making the checkout process even easier. According to Google, "Book On Google" has doubled hotel conversion rates.
Strive for a similar simplicity, while still making sure visitors have the necessary information and clear direction on where to go if they want more.
4. Among Travelers who Watched Travel-Related Videos, 64% Watched When Thinking About Taking a Trip (Google)
Google estimates that 106 million of Youtube's unique monthly visitors are travellers. 64% of those travellers watch travel related videos when thinking about going on holiday; 37% watch while choosing a web site to book on.
Video marketing carries huge potential. It goes beyond the dreaming up phase of a holiday, and applies during research too. Video can be used on your hotel site or on YouTube and other platforms to show off your hotel at its best, highlight popular local activities, or show events like weddings that happened on your property.
Video is rising in popularity:
Visual content is classed as one of the top five most effective B2B marketing tactics
Two-thirds of marketers believe that original digital video will become as important as TV programming within the next three years
Views of travel-related content have gone up 118% year on year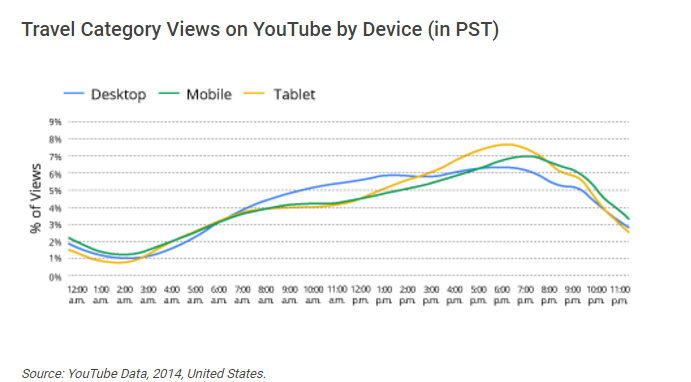 (88% of YouTube travel searches focus on destinations, attractions/points of interest or general travel ideas)
Further research even shows that "eighty-eight percent of YouTube travel searches focus on destinations, attractions/points of interest or general travel ideas." which gives hoteliers a good idea of what type of video content to create.
5. 48% of Travel Video Subscribers Follow Travel Vlogs (Google)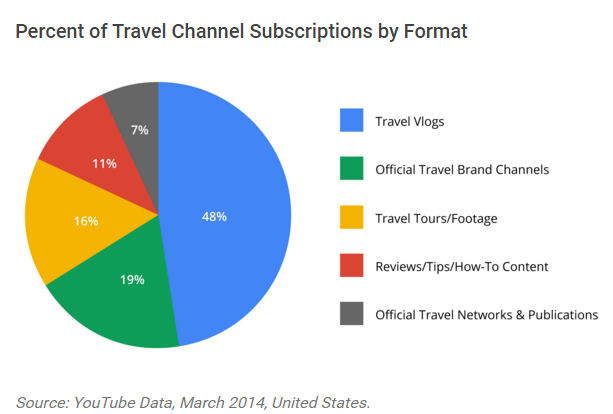 We know that video is powerful, but what type of content is most effective?
According to Google's statistics, 48% of travel video subscribers follow travel vlogs that tell personal stories. Travel vlogs also receive 4x more social media engagement than other Youtube travel content.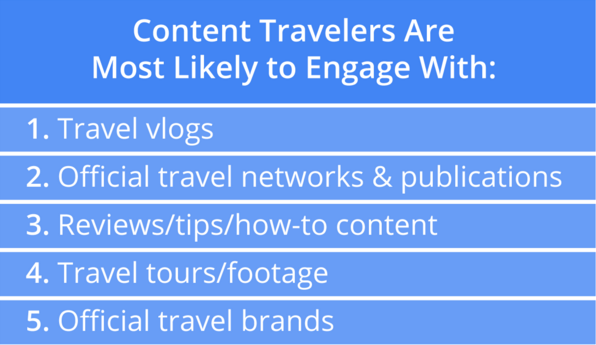 People aren't just looking to idly browse videos for the sake of it. They want to connect with the unique characteristics of a place, and with travel brands too.
This statistic also stresses another important point: video content may be on the rise, but regardless of the medium – when connecting with guests – storytelling still reigns supreme. People are people, no matter which point of technology you're connecting with them through: show them your hotel's personal, genuine side, and they will respond.
Conclusion
Mobile is on the rise, and it is bringing more business to the travel and hospitality industry. Potential guests are becoming increasingly comfortable with researching and purchasing via mobile devices, with new technology making the payment process more intuitive than it has ever been.
Hoteliers need to adapt to this. They need to be ready to meet guests at different stages of their journey. 2016 is the year video is set to come into its own – hotels should consider grabbing more bookings by cranking up their video content.
How will you use statistics to strengthen your hotel brand and boost bookings in 2016?