As the world grows smaller and communications of all kinds soar in frequency and volume, peer-to-peer platforms like Airbnb are rising. Suddenly, every home with an empty room is a potential vacancy.
Airbnb and similar platforms are seeing huge growth. Remarkably, Airbnb is in large part generating a whole new kind of demand. They're creating access to the previously almost-inaccessible market of spare bedrooms, empty flats and even the occasional treehouse that people are looking to fill.
However, has this demand started to overlap with hotels'? Lately, Airbnb has been targeting business travellers, traditionally the province of hotels. In the last four months, Airbnb has gone from disclaiming any moves towards "going after" business travellers to launching Airbnb for Business.
A recent study has shown that hotels' profits are also being impacted by the sharing platform. This isn't all hotels, nor is it everywhere, but the figures found are significant enough to be concerning to some hoteliers.
As for hotels, how are they reacting? Are they unconcerned, fighting back, or embracing Airbnb and similar platforms as a new opportunity?
We've looked at studies, trends and reactions. Here's what we've found: Airbnb isn't seriously cutting into hotel demand just yet, especially with the travel industry booming as a whole.
But they will, and it will be probably be sooner than many think. Hotels should be prepared to innovate.
Let's take a look:
The Story: Rise of a Community
Founded in August 2008 in San Francisco, California, Airbnb fulfilled the most basic requirement of any great innovation: it saw a need, one most weren't even aware of, and filled it splendidly.
The need was twofold. People had spare bedrooms or extra properties and wanted to make money, and people wanted cheap and unique accommodation. The way Airbnb filled it? They created a peer-to-peer community for hosts and guests to connect with one another. The renters earn extra money, the guests travel in a unique and inexpensive way, and they both get a new experience and a new connection.
Airbnb is a sharing platform. It's an online marketplace, in a sense. People go there to list and discover properties to rent – these range from the lowly spare bedroom in your apartment to legitimate castles, and the price points have a correspondingly huge range.
The world has reacted dramatically: Airbnb is now thriving in more than 34,000 cities and 190 countries. The company held a $25 billion valuation – yes, you read that right – in July of this year. With bookings happening an average of once every two seconds, they're set to double their number of nights booked in 2015. This has been called a "testament to the rise of the sharing community," and it is, but it's also a testament to what technology and communications now allow us to do.
Airbnb was in the right place at the right time, and they worked hard to get there. They created their company just as the new 'sharing economy' really took off as a trend spurred by tech. While Airbnb is something that naturally appeals to millennials, the company draws in people of all ages. In 2012, they had more people on the site over 55 than in the 18-25 group, in fact.
Here's what we know so far: Airbnb is a peer-to-peer platform dedicated to providing unique and safe (renters are insured against damages) experiences. It extends across all price points and is often more affordable, if more uncertain, than hotels. Most importantly, at least in the eyes of its founders, it creates connections all over the world.
So, does this explosion of the sharing economy threaten hotels, does it create opportunities, or does it do a little of both? Let's find out.
Is Airbnb Cutting Into the Hotel Market?
According to a Boston University study, Airbnb is cutting into the hotel market. Only for specific kinds of properties, though, and not by huge amounts.
The study looks at Austin, Texas, the area with the most Airbnb properties in Texas. In Austin, every 10% increase in Airbnb leads to a 0.35% drop in monthly hotel revenue. Over the last 5 years, this has amounted to nearly 10% of hotels' monthly revenue.
Here's a map from Inside Airbnb that gives you an idea of the density of Airbnb properties in Austin. Compare that to places like Manhattan and Brooklyn, also pictured, and the potential impact is obvious: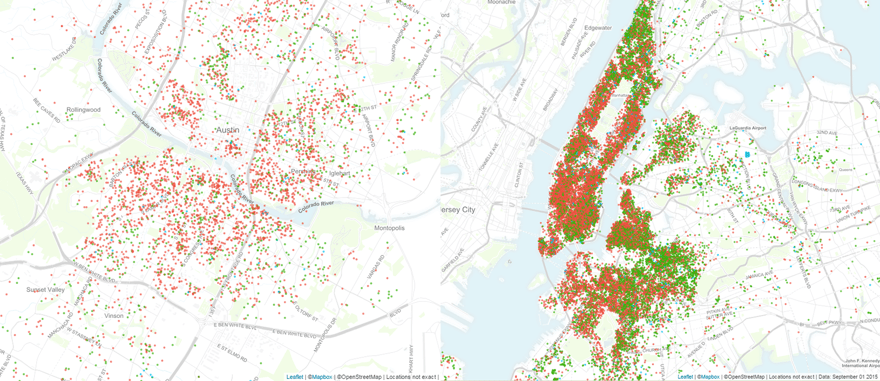 The good news is this isn't all hotels. In places like Austin, only some hotels are seeing small drops as Airbnb grows. Furthermore, Chip Conley, head of global hospitality and strategy at Airbnb, claims that in their strongest markets—New York included—there hasn't been a shift downwards in occupancy, although there has been some effect on rates.
Which hotels are being impacted? The ones feeling the pinch are lower-priced hotels and those that don't cater to business travelers.
These hotels have responded by lowering rates to accommodate, signalling that platforms like Airbnb are genuinely making inroads into the traditional hotel market.
Here are the general effects the study found:
Hotels with conference and meeting room space for business travelers are less affected by Airbnb
Chain hotels are more resistant to Airbnb growth than independent hotels, which compete more directly with the sharing platform
The hotels most affected by Airbnb's growth experienced decreases in both occupancy rates and room prices, by statistically significant margins
While this information might not be shocking, given Airbnb's draws for leisure travelers and those looking for deals, it provides evidence that hoteliers should be studying closely.
Airbnb Expanding Rapidly
Since their founding, Airbnb has hosted over 40 million guests in over a million rooms. This summer alone, 17 million used the service, and projections from key investors indicate that Airbnb is on track to have 80 million nights booked this year in total.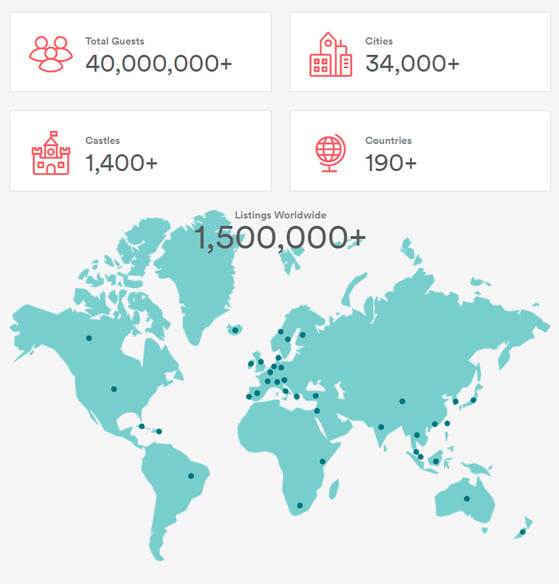 It's understandable that some might see this as a threat. Henry Harteveldt, founder of the travel research firm Atmosphere Research Group, seems to be declaring it a zero-sum game when he says, "That is 80 million room nights that the global hotel industry is not getting."
However, that's only one perspective on the phenomenon. True, some of those guests would undoubtedly have chosen to stay in a hotel if Airbnb didn't exist. Judging from the small size of the revenue loss the Boston University study found, though, many more might not have travelled at all.
Those kinds of numbers and growth don't suggest a mere trend, or at least not a short term one. Many hoteliers consider Airbnb a kind of 'shadow inventory,' mostly either offering cheap lodging, a 'quirky' experience, or doing things like providing extra rooms when a concert has booked out all the nearby hotels.
It goes beyond that, though—a major draw of Airbnb is their purported unique experiences. Staying with a host or host family in a foreign city can be exciting, and add some mystery that traditional hotels might find hard to replicate.
Hotels focus on their unique selling points and what makes them different, and Airbnb has an undeniable edge in this area.
Airbnb combines software, a great user experience and unique lodging options at a range of prices—these are things with huge appeal for millennials, who are an up and coming market for the travel industry.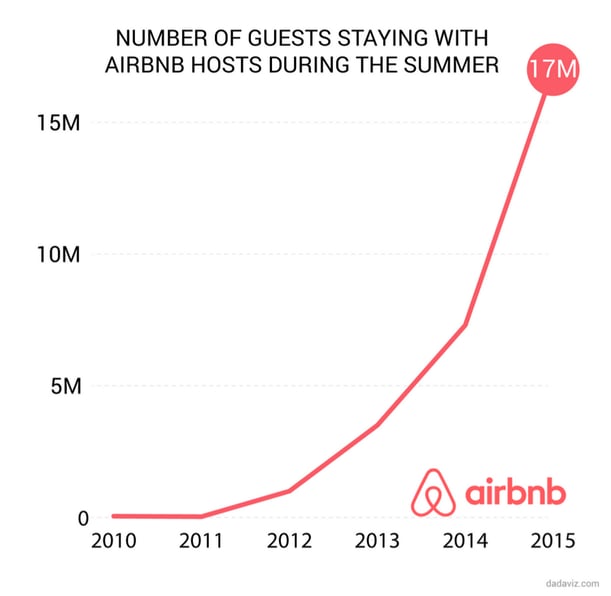 Additionally, Airbnb has been developing an ever-more sophisticated pricing algorithm to help renters determine what their rooms are worth. So, they're meeting market demand more reliably than ever before.
Their growth is going beyond just tweaks to their system, though. Also, they are actively growing their appeal beyond the millennial market. People of all ages and demographics are experimenting with or committing to Airbnb
Airbnb has just launched Airbnb for Business, with over 500 companies signing up in less than 24 hours. It's drawn in clients like Google and other Fortune 1000 companies, which should make hotels a little nervous. Business travelers were previously nearly untouched by Airbnb and similar sites, but that could begin to shift with this new addition.
In light of this and their recent app for the Apple Watch, which facilitates instantaneous communications between guests and hosts, hotels should make sure they're shoring up defenses or, where appropriate, seeing where they can learn from Airbnb.
The Reactions: What Are Hoteliers Saying?
Given these facts, are hoteliers worried? The answer, in many cases, seems to be 'not really.'
In some cases, this is because they see nothing to worry about – and in some, it's because they're already adapting.
Despite small drops in certain segments of the market, spend on hotels this year is projected to be even higher than last year (Douglas Quinby, Phocuswright).
Along with industry growth, travelers have habits, and those aren't going to be changed overnight. Older folks and those travelling on expense accounts tend to be especially habit-driven, so hotels shouldn't worry about losing those segments in a hurry.
Hotels also have loyalty programs, like points and membership benefits, which draw guests back, and they specifically cater to connecting guests to others with conferences and similar programs.
Kerry Ranson, chairman of the InterContinental Hotels Group Owners Association, sees Airbnb as "a short-term online rental," rather than a competitor or a threat.
Ian Carter of Hilton believes Airbnb is growing the pie, saying it is "stimulating demand, rather than displacing existing demand." (source: New York Times)
This attitude is echoed down the line in many places, at least for high-end hotels and those that cater to business travelers. According the Boston study above, "hotel executives have publicly issued largely dismissive statements regarding competitors like Airbnb, arguing that these peer-to-peer platforms are either a small niche market or that they target complementary market segments from that targeted by hotel chains."
However, the study above shows that Airbnb is cutting into hotel profits, at least in certain areas of the market. And it doesn't look likely to stop soon.
Some hoteliers and others in the travel industry, who we'll discuss shortly, are thinking up creative ways to place Airbnb into their picture of the landscape.
Hotels Innovating
Airbnb is not a phase, and while the effects it has had on the hotel market so far are small, they are set to expand in a big way.
One innovative way some small hotels are dealing with Airbnb is using them as they would an OTA. The Box House Hotel in Brooklyn is listing its least expensive rooms on Airbnb alongside OTAs. This is a strong approach for boutique hotels in cities like the Box House and for unusual hotels in out-of-the-way places.
Rural hotels or hotels that pride themselves or their unique attributes should consider placing a few rooms on Airbnb, especially at times of low occupancy. This approach also allows the hotels to grow closer relationships and build loyalty with guests: after all, Airbnb is all about building connections.
Some hotel representatives have met casually with Airbnb officials, and Airbnb CEO Brian Chesky says that he enjoyed talking with these hotel executives because they were interested in talking about vision and innovation, and ways to create a new brand for the millennial generation.
Other hotels are calling for Airbnb to be regulated – subject to the kind of safety laws and taxes that all hotels are. This, they say, would start to level the playing field. That's a complicated proposition though, and laws would need to be innovative. As the San Francisco example linked above shows, these kinds of laws are difficult to enforce, and the ones that do exist are in early stages in terms of thorough regulation.
For now, Airbnb is mostly separate from the hotel market. The travel industry as a whole is exploding in growth, with both the sharing economy and traditional hotels seeing numbers soar. The overlap is increasing as Airbnb makes moves towards business customers, though, and hotels should make sure to ready themselves for the challenge.
How can your hotel use Airbnb to grow? Airbnb can be a powerful tool for some hotels and a source of inspiration for others—how does your hotel fit into the picture?
Words By Taylor Smariga