When trying to boost direct bookings, one of the best things you can do is create a strong reputation for your hotel. This can be achieved very effectively by creating a strong, branded search and social media presence and designing a clean, beautiful website.
However, there's an additional way to build your brand that's hugely effective and has the added benefit of enhancing your reputation. Best of all, it helps drive conversions up to fill your hotel.
This is User Generated Content (UGC). The classic advice is still true: nothing beats word of mouth advertising.
User generated content is your digital word of mouth.
Which of the following do you find more persuasive?
An ad by your hotel telling the viewer that your hotel is great
A series of (user generated) reviews and photographs of guests having an awesome time at your hotel
The second one, right? It shows and proves why your hotel is fantastic, rather than you just telling people you're great.
When it's done right, UGC acts as a powerful form of social proof that can skyrocket your exposure. It's also a proven conversion booster – if they can trust you, they're more likely to buy from you.
Of course, the big question is, "How do you do it right?"
That's what we'll discuss in today's post. You'll learn how to boost conversions and attract bookings by using user generated content to get your guests to do the hard work for you.
Let's get started.
Encourage Guests to Create User Generated Content

Your guests are probably already creating UGC. The more you have and the better you leverage it, the better.
Start by directly asking guests for more content, or by integrating UGC into the hotel experience. Try to make creating content fun, engaging, and natural.
For example, if you leave in-room extras like cookies or treats, why not leave a note asking guests to tweet a picture of their treats? You could even create photo contests based on specific spots or views near your hotel. Another clever option is to set up a "selfie station" in your hotel with a fun backdrop.
4 Contest Types That Will Rocket Guest Engagement

Contests are a great way to reel in user generated content and snag more bookings. They expand your reach and strengthen your relationship with existing and previous. But what type of contests yield a good return?
Below are 4 easy-to-do contests types that will give your hotel healthy results.
1. Photo Contests
Photo contests are a classic.
Not only do they supply your hotel with plenty of material for later use, they are a vivid form of social proof. They also open an opportunity for you to create a conversation between you and your fans on social media. You can do things like comment on your guests' photos, asks fans to vote, ask for feedback, or feature those images on your site.
When using photo contests, be sure to have a specific theme for each contest to make things more exciting.
2. Photo Caption Contests
Photo caption contests are easy for you and your guests. You just upload an interesting picture related to your hotel, and allow guests to enter by commenting with a possible caption for the image.
3. Instagram Hashtag Contests
Hashtag contests allow followers to upload pictures to their accounts while using your hotel signature hashtag to enter.
4. Video Contests
Video contests are powerful.
They give potential guests a sneak peek into how fun staying with you can be. Again, a compelling theme is important here. You can ask guests for a vacation video diary, or a video showcasing something that "wowed" them during their stay.
Leverage On-Site Reviews and Testimonials
Yes, you might be getting reviews on sites like Tripadvisor or Expedia, but what about your hotel website?
If you haven't already, start integrating reviews and testimonials into your own website.
This may sound simple, and it is – but it can lead to significant increases conversion.
Our upcoming piece on reputation management will show you exactly how and why these can affect your booking rate so significantly. In the meantime, check out this case study from Smartinsights, where integrating on-site reviews boosted conversions by 17.8%.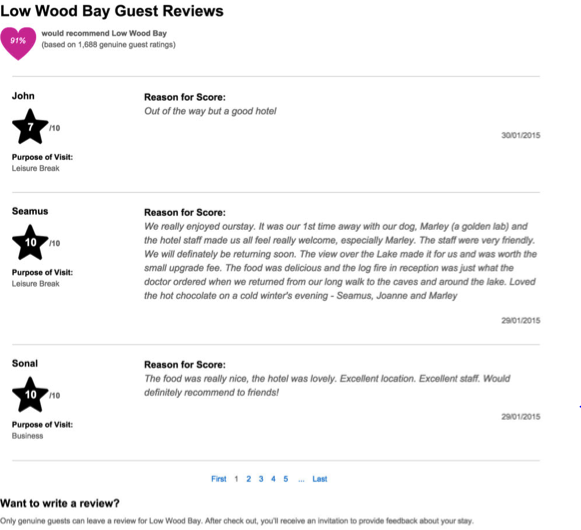 Have Prizes That Make Guests Want To Participate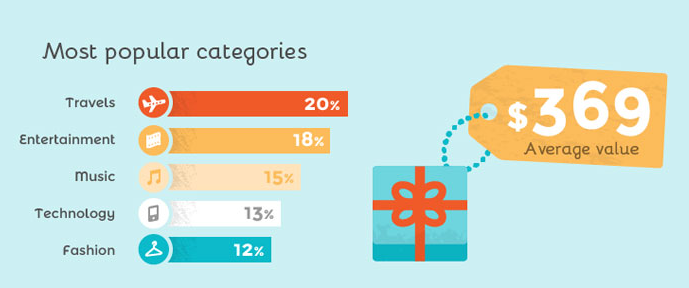 Guess what industry has the most popular prizes?
Yep! The travel and hospitality industry, which means it's easier to create enticing incentives that motivate contributions.
When choosing the prize, avoid something generic that participants can get elsewhere. Instead, think about how the prize fits into the sales funnel. The key is to choose a prize that encourages future bookings at your hotel.
Some examples are:
A full trip including flights, food, and transportation
A 3 night couple's getaway
Free tickets and trips to popular local events and attractions
One final thing: be sure to match the value of the prize with the level of effort needed from participants. Use a higher value prize for a video contest, and a lower value prize for something easier, like a hashtag contest.
Package Your Contests Enticingly
So you've nailed down a contest type, and you've found an interesting theme. Time to launch your contest, right?
Not really.
Before launching, you need to package your contest in way that resonates with your guests. You need have a gripping headline, powerful images and compelling copy. Basically, you have to promote and market your contests.
Below are a few examples of what a stellar contest can look like: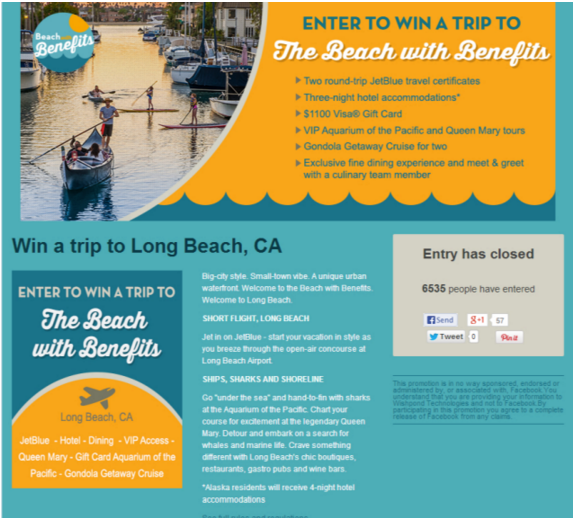 This contest page has sparkling copy that ignites the reader's imagination. It paints an exciting picture of what you stand to gain from winning, and clearly conveys value. The headline is also direct and catchy. To tie it all together, they have a fun, relaxed colour scheme.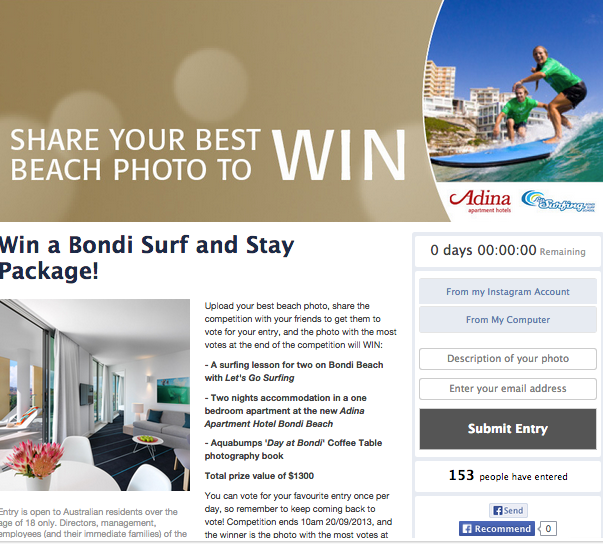 Your headline will be the first thing that hits your guest's eye. That means it has to be strong enough to motivate him to read further. This contest page above from Adina has a decent headline, but it could be improved by being more specific. Some alternatives are:
Get a free surf and stay package worth $1300 (highlights the value of the prize)
Want to go holiday surfing for free? Enter our competition! (a clear question-and-answer format)
How you can win $1300 surfing trip for free (presents it as a helpful guide to a big prize)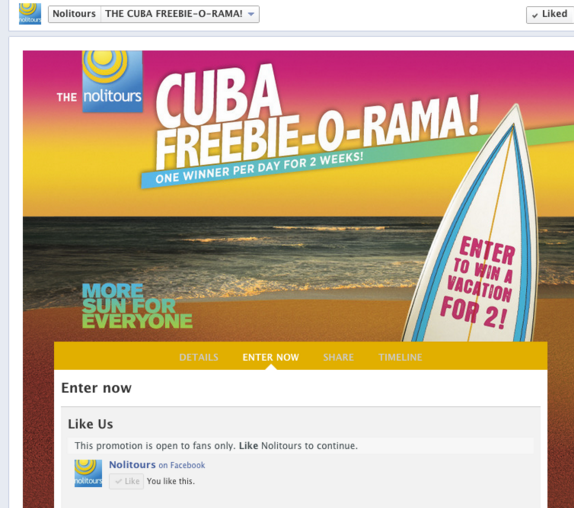 Nolitours' two-week contest propelled their Facebook fan base from 29,080 to 103,984, and gave them an 85% conversion rate on site visits to entries.
Nolitours knows how to strongly package their contests. Take a look at the headline above: when reading, guests will immediately grasp what is up for grabs. They'll also feel more confident in winning, because there's "one winner per day for 2 weeks".
The page also features a bold design that aligns with their brand, and uses visuals that trigger the imagination.
Conclusion
To summarize, proactively encourage guests to contribute content. Then, integrate user generated content into your hotel experience. Select contests and UGC that resonates with your hotel brand and your guests, and remember to promote and market your contests.
What's your favourite way to leverage user generated content? Let us know in the comments below.