Did you know: 75% of travellers use metasearch engines to find hotels?
Recently, we noted the phenomenal performance of Google Hotel Ads for the third month in a row – currently, they're delivering anywhere from 10-30% of the overall Google Ads revenue for hotels using the platform.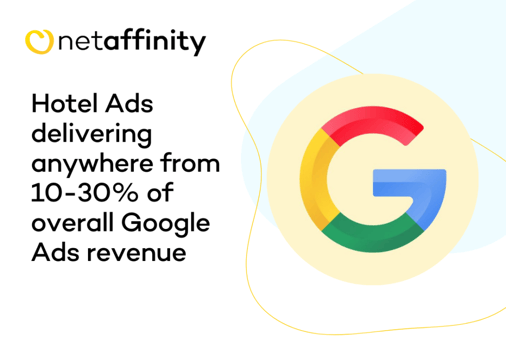 What are Google Hotel Ads?
As an advertiser, you'll pay only if your ad generates a click or a booking, and your ad will appear only when travellers are searching for a property matching your description.
Google Hotel Ads is the fastest growing metasearch engine. Incredibly cost effective, it powers the live rates pulling into your Google My Business Profile in the knowledge panel and in maps searches.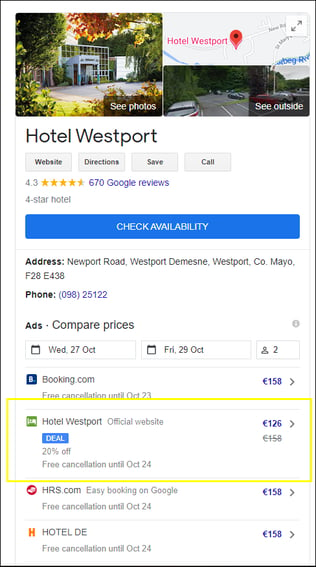 Knowledge panel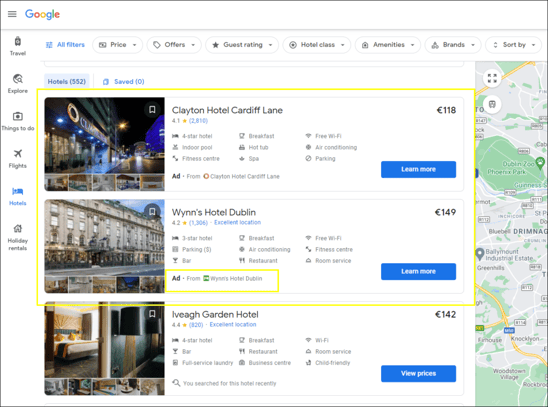 Map searches
Google Hotel Ads is an open marketplace and competitive advantage can be gained through technology and strategy.
Earlier this year, Google announced that they were going to eliminate fees for hotel booking links in order to make the booking process easier and more comprehensive for consumers ahead of the expected return of travel post-pandemic.
The point of free booking links was to extend the reach of hotels' existing Hotel Ads campaigns.
Google also decided to remove the reserve bid (the minimum bid required for your ads to become eligible to show). The minimum bid had previously been set at 10%, making Google Hotel Ads not the most cost effective channel.
By removing the reserve bid, Hotel Ads are now delivered at costs anywhere between 1 – 5% of the booking value.
As book direct advocates, we are very confident in Google Hotel Ads as an effective, shiny tool to include as part of your book direct success plan. By winning back clicks that would have potentially been given to OTAs, Google Hotel Ads helps you to build that sense of loyalty you need to create between yourself and your customers.
Google Hotel Ads also help to increase your brand's visibility which will enhance your website's performance (so make sure your website is fully mobile optimised…)
What can you do to improve your performance on Google Hotel Ads?
Feature the most cost-effective rate
Google's primary focus is an easy, seamless user experience and in relation to Hotel Ads, this is focused around competitive pricing. In practice, this means they will penalise properties that allow OTAs to consistently show lower prices than their official site, so remember that rate parity/cheaper direct rates are a must. If your rate is not the best one, customers will have no incentive to book through your site.
Keep your hotel ads running
We know it's a busy time, which may incite a knee-jerk reaction to turn off campaigns – don't. Your hotel ads will only promote available dates, and with the commission bidding model, there is no risk. If a customer clicks through to your site but does not book, no costs are incurred. It's a win win!
Give your budget some freedom
In 58% of cases on average, Google hotel prices were the booker's first and only touchpoint on their path to purchase.
Don't restrict your budget. As we mentioned, the bidding is commission based, so you only pay for generated bookings – not clicks. An open budget means your hotel ads will always show when your property is seeing demand, and you'll never lose out on bookings because your budget has run out.
Interested?
At Net Affinity, we can provide seamless and free connectivity between Google Hotel Ads and your booking engine, which will automatically feed your property rates and availability to the platform.
Our digital advertising team can oversee your marketing campaign on the platform to ensure optimum return on your investment.
We have affordable meta bundles available for all types of properties, with which we would only take a small service fee, and you would only pay for each booking made via Google. Get in touch with us today!