Google made some big announcements over the last week. They're stepping up their Hotel Ads program, rolling out new features and pricing systems, and expanding their own booking feature.
Here's the quick take away: firstly, Google is introducing commission-based pricing structures for listings on Google, rather than cost-per-click, which could lead to big savings for independent hotels. Secondly, Google is updating their hotel ad search display in Google with more features and putting an end to Hotel Finder. Lastly, and perhaps most excitingly, Book on Google's availability is being expanded, although so far it only works for US users.
Commission-Based Booking
Google is bringing the Google Hotel Ads Commission Program from beta testing out into the broader world. They're set to expand their offerings to more hotels worldwide, rather than the small set of independent hotels involved before the roll out.
The Commission Program is a change from Hotel Ad's previous cost-per-click model that will make it easier for smaller, independent hotels to make use of the Hotel Ads service. They'll pay a flat commission rate, without having to manage CPC budgets and bids.
Google has been experimenting with this over the summer with a select series of hotel technology solution providers as partners. Now that they're ready to launch the program, they're also talking to other providers as their scope expands.
The program has seen success so far in driving direct bookings. Google quotes Scott Koehler, Senior VP of Product and Operations at TravelClick, as saying hotels partnered with Google Hotel Ads Commission Program through them are seeing "on average, a 56 percent year-over-year increase in revenue driven by Google Hotel Ads."
It remains to be seen whether these effects will be replicated for the majority of independent hotels, but it's a strong start and a big, interesting change for Google.
Updated Search Display
Google has gotten rid of their Hotel Finder, launched in 2011, and is now focusing solely on displaying hotel ads in Google search. The process hasn't changed dramatically – reviews and rates are in the ad, and after clicking, the user is able to see location, maps and more. Links are available to take the user directly to the hotel's site or to an OTA to book for specified dates.
Offering bookings directly through their search engine instead of separately in Hotel Finder lets Google do what it does best: give you everything you need in one place, with a sleek interface and easy accessibility.
The new display involves bringing more hotel information to search results: along with availability, prices and reviews visible directly in search, there will now be information about hotel amenities. Information about perks like free breakfast, free WiFi and pools will now be more accessible and easy to compare for potential guests. This is so far available for locations in the US, with the information set to be added to 24 more countries over the coming year.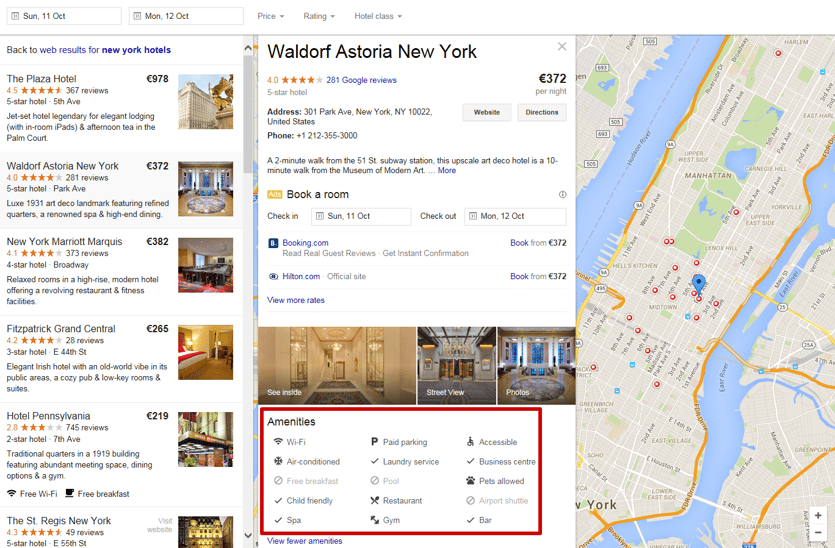 Book on Google
Book on Google is one of the most exciting tools to come from Google in the last few years for hotels. Launched in 2013 to let users book rooms directly from their phone, it's being expanded to desktops and tablet devices. Book on Google has Google manage the payments, while the hotel partner owns the guest relationship, from confirmation emails to questions to cancellations.
Once Book on Google has been fully rolled out, Google will have seriously evolved its various hotel-related enterprises, and the whole picture will, with any luck, be an integrated, intuitive system that benefits hotels.
All in all, this week has seen exciting changes to the Hotel Ads program, with Google stepping up the pace in its hotel search and booking business.
What is your experience to date with Google Hotel Ads?
Words By Taylor Smariga