Homepage copy: it's easy to do, but it's hard to do right.
Finding language that is interesting and reflects your hotel's unique features is difficult enough. When you add in the challenge of writing about your hotel in a compelling way, without overusing adjectives or underusing punctuation, it can feel like a job more suited to a Pulitzer winner than a hotelier.
The challenge can be overcome, though. With a few basic guidelines to follow and an added twist of your own hotel's personality, you can create homepage copy that draws in guests and makes them want more.
We've created a guide to great copy that resonates with your guests, creates vivid mental pictures and draws on their emotions.
Let's go.
Create Mental Movies With Vivid Language
Your copy should create a 'mental movie' in your guest's brain. Something that draws them in, and makes them consider what it would be like to stay at your hotel. To do this, it can't be boring, cliched, or overwritten. It has to use power verbs and rich adjectives.
Power verbs and sensory rich adjectives act as positive triggers. Once your guest reads them, an explosion of emotion, action and meaning is instantly conveyed. Use them, but use them sparingly—too many adjectives and your potential guest will begin to feel a little overpowered.
Take a look at the description from the Powerscourt Hotel's homepage: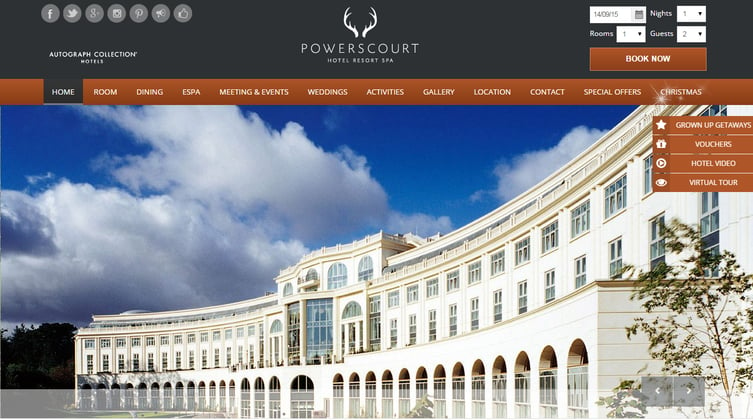 "The Great Sugar Loaf Mountain is visible across the valley, between the tall elegant beech trees. The avenue slopes down, through woodland, before revealing the Palladian elegance of Powerscourt Hotel Resort & Spa, with its breath-taking views. Located on the famous Powerscourt Estate, one of Ireland's finest estates, with its historic house, beautifully manicured garden and its waterfall, the highest in Ireland, you may be just half an hour from Dublin but it could be a million miles away."
It does a great job of setting a tranquil, historic, elegant scene in your mind. The language paints a natural picture without being too dramatic or overblown.
It makes use of the hotel's unique selling points to describe things in a way that makes excellent use of adjectives and descriptive language to get that mental movie moving in your head.
Keep Sentences Short and Sweet
"Write to the Chimpanzee Brain. Simply. Directly." -Eugene Schwartz
In the book The Art of Plain Talk, Dr.Rudolph Flesch analyzes what makes for easy or difficult writing. He recommends that 70-80% of your writing should consist of snappy, one or two syllable words that can be mentally digested with ease. Now, speaking of mental digestion…
Longer sentences mean longer thoughts. Longer thoughts require more mental effort to process information.
This is why, in most cases, it's best to keep your sentences short.
The Telluride website makes great use of short, punchy sentences. It keeps their copy fun, fast-paced and digestible: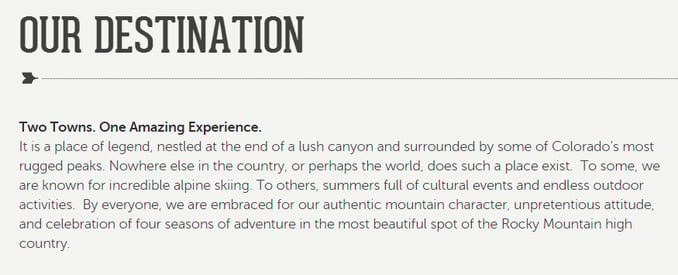 Shorter sentences and paragraphs feel easy, and people take the path of least resistance. They also build momentum. This makes it easier for your guests to continue reading.
Light Up Your Guest's Brain With Powerful Adjectives
Clichéd adjectives sabotage your copy. They "cut the wrong coloured wires, and push the wrong buttons."
They've struck your guest's eardrums thousands of times, and they fail to add to your persuasiveness. On the other hand, well-placed, vivid adjectives have been proven to beef up your copy.
Here's an example from littlepalmisland.com: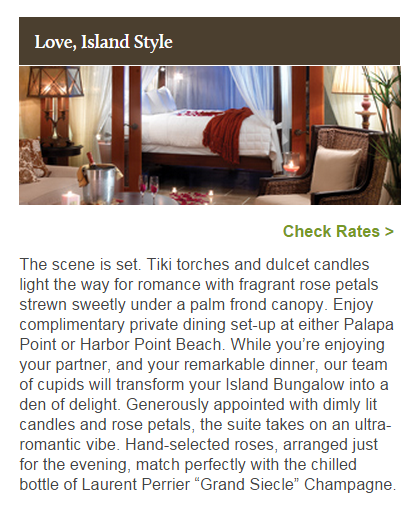 It seamlessly mixes accurate adjectives and visual verbs to create an emotional experience. The romantic scene they create with the copy and the visual let you picture yourself there—your guests should get the same experience from your site.
Adjectives can be great copywriting tools, but use them with caution. Overusing them can bloat your sentences and make your descriptions look overdramatic.
Show off Your Benefits to Guests
When selling your hotel (or anything, for that matter), simply listing features is not enough.
You need to tell your guests why those features matter: how they'll benefit them. In essence, your features need to transform into benefits.
So what's the difference between a feature and a benefit?
A feature is just a plain vanilla description of what you offer.
On the other hand, benefits tell your guest what the feature does for her, and how it will impact her life. And they are proven to boost conversions.
In a case study by contentverve.com, benefit driven bullet points skyrocketed conversions by 83.75%.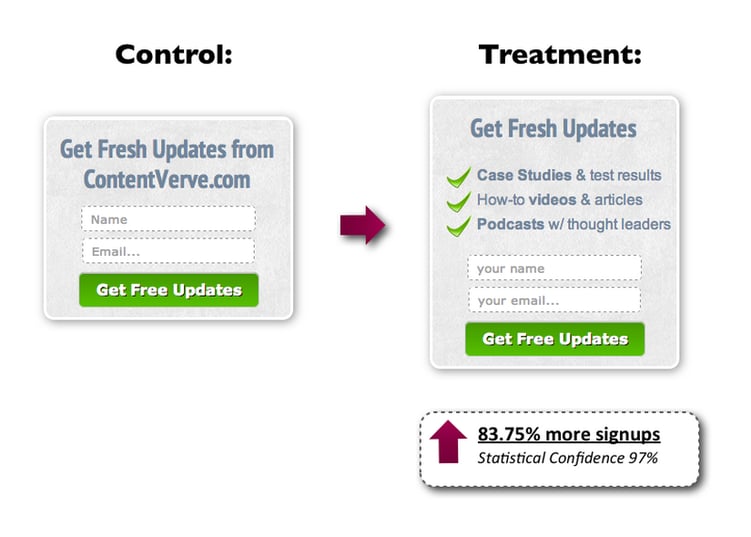 One copywriting hack that spins features into benefits is the "so what?" test.
It's a simple approach to what can be a daunting task—all you do is read through your copy and ask: "So what?"
Let's say this is your hotel homepage copy:
Has a great spa and gym
A kids play area
A restaurant
A spacious conference room
It's plain and doesn't consider the needs of the guest.
By asking "so what?", your copy transforms into:
We have a health spa and gym. After a busy day, you can let your hair down, unwind, and improve your health.
We have a kids' play area, so you can indulge in quality time with your significant other or relish time with yourself.
Want something to tickle your taste buds but feel a little tired? We've got you covered! Just visit our hotel restaurant.
The features just tell the guest about your hotel. The benefits explain how and why your hotel will be a great place to stay.
Here is an example of beautifully written, benefit-driven copy by Intrepid Travel: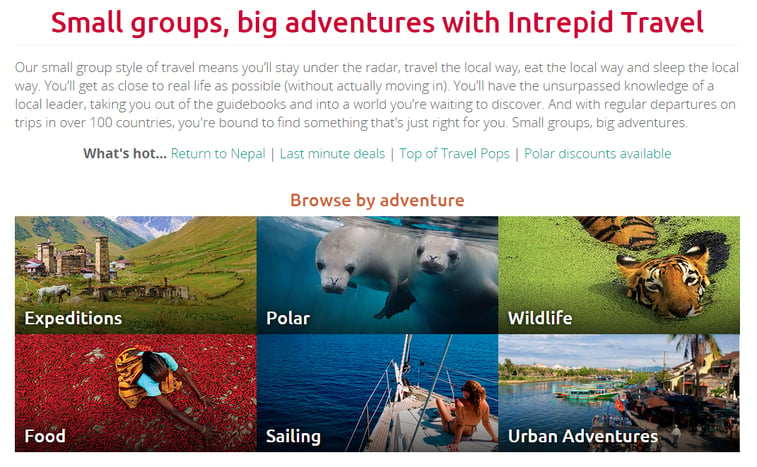 It is effective because it doesn't just state what they offer. Instead, it paints a benefit-driven picture of how they will enhance your travel experience.
It answers the "so what?" question.
The right copy is critical. By following the steps above, you can create homepage copy that packs a powerful punch, engages your potential guests, and boosts conversions.
What challenges do you face when writing copy for your hotel?