Designed with the intention of creating Europe's first sustainable hotel at the heart of Dublin City, the McGill family has achieved just that with the Iveagh Garden Hotel. Needless to say, since opening its doors in February 2018, the hotel has received a fantastic response. Most notably, its mention in TIME Magazine's 2018 World's Greatest Places. So where did this 'Go Green' initiative stem from and what kind of approach does it require? We had a chat with Tristan Jacob, director of sales at the Iveagh Garden Hotel to get an insight into the strategies taken by the hotel to result in their flourish.
Talk me through where the initiative came from to have the lowest carbon footprint when compared to any hotel in Europe.
In designing the hotel, the McGill family felt strongly that the property should deliver an exceptional guest experience, while limiting the hotel's carbon footprint. Partnering with renewable energy company Eurotech and Glenn Nunan Consulting Engineers, the hotel embarked on a significant investment during its construction to realise this vision.
We are delighted with the results thus far and with a global movement towards the adaptation of Green technology in business, the reaction from both our corporate customers and hotel guests has been overwhelmingly positive.
Can you explain this 'Green technology?'
On-site power is generated via a Combined Heat & Power (CHP) Plant. This Power is utilised by the Heat Pumps and generated throughout the Hotel. The by-products of the Power Generation in the CHP give a total of 150kW of High Temperature Water (75°C) which is stored and utilised for the Hotel's Hot Water and electrical requirements.
The installation of this custom built renewable energy system has resulted in an increase in the Building Energy Rating from E1 to A3, a decrease in energy usage of 78.03% and a decrease in CO2 emissions of 81.86%, all within its first 6 months of operation.

The millennial generation has been described as the most 'sustainability conscious' generation. Have you noticed a particular interest being shown in the hotel by Millennials?
Our sustainability status has definitely engaged the millennial generation from an interest point of view. Ecologically focused bloggers, social influencers and media have offered overwhelming support and endorsements of the hotel.
Our greatest success has been incorporating this next generation technology into an existing structure at the heart of the city. In designing the hotel, the McGill family's vision was to maintain the hotel's traditional façade, while delivering a contemporary and modern interior ideally suited to today's visitor to Ireland.
However, Millennials are also renowned for being substandard when it comes to consumer loyalty. How do you entice a Millennial guest to return, especially one who has booked through an OTA?
At the heart of our activity is a commitment to delivering an exceptional customer experience. This really starts from the moment our guests first book the hotel on our website with a wide variety of pricing and room type options available. This ranges from our luxurious Presidential Suite to our funky City Pods with a discount to guests booking directly on our own website.
Our mission is to deliver something different and memorable in the Dublin hotel market to encourage our guests to choose us time and time again. A key activity is this strategy is the knowledge and insight we gain from our guests, allowing us to deliver a personalised experience adapted to each individual.
Would this strategy differ from one to entice an older guest to return?
For older generations, our strategy remains widely unchanged. As a new hotel, we are incredibly conscious of our reputation within the market. The team at the hotel are the key to our success. Guest experience has never been more important within such a competitive space and this is something we pride ourselves in exceeding with every visitor.
We have had a wonderful reaction from both national and international media, which has definitely catapulted the hotel in these markets. However, digital marketing and engagement remains at the core. We work closely with Net Affinity at all times to constantly push the boundaries in designing engaging, relevant campaigns that excite our audiences.
It has been mentioned in TheTaste.ie that this property was designed for the professional sector. What kind of strategies were put into place in order to ensure this was the sector that the hotel attracts?
Within the first 6 months of operation, the hotel has welcomed internationally recognised clients from the financial, technological, pharmaceutical and legal sectors. In designing the concept for the hotel, the McGill family spoke with many local corporate clients to see what kind of hotel was required in the area. With two additional properties; The Harcourt Hotel and Harrington Hall, also located on Harcourt Street, the family understood the market and had long forged the relationships needed to deliver a custom product.
Primarily attracting the business traveler with in-room integrations including; smart LED TVs, USB charging and low energy LED lighting, the Iveagh Garden Hotel is establishing a strong reputation amongst professional travelers in Europe, Asia and North America.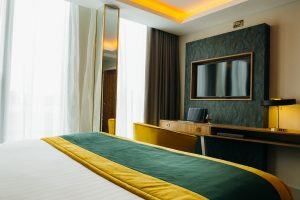 In promoting the hotel, the sales strategy has been to build strong professional relationships with our customers. Clients are invited to experience the hotel first had to ensure they are fully satisfied with the quality and service offered prior to us welcoming their guests. This, coupled with class leading in-room technology and fast, reliable communication with our team, has been the key to our success.
According to a recent study from Google, 65% of business travelers belong to a hotel loyalty program. Is this something that you are considering to introduce in the future?
A loyalty program is definitely on the agenda for the Iveagh Garden Hotel in 2019. This is something we are designing very carefully to really engage with our guests. The days of a simple discount have passed and we know that now, more than ever, our guests seek added value and that little something extra.
With the launch of our loyalty program, we will once again look to our customers and corporate bookers in designing a unique program that engages with our audiences.
Interested in learning more about any of our products or services? Get in touch!