What's the one device that is as embedded into our lives as our family or friends? For better or worse, it's our smartphones. 5.22 billion people (66.6% of the global population) currently use a mobile, and to give you an idea as to how often we're glued to those little screens, the average American uses their phone for 5.4 hours each day.
When we say mobile usage is growing globally, we mean across the board. Usage is growing in relation to internet browsing, streaming and also purchasing.
80% of B2B buyers are using a mobile device to make purchases
In a global context, mobile data traffic is expected to increase 25% from current levels by 2025.
At Net Affinity, we have noted mobile performance growing steadily over the last few years, reaching peak levels in 2021. There was a significant increase in mobile bookings – in June, mobile traffic came in at 77% and in July, mobile revenue contributed 60% of revenue.
When you consider that 93% of consumers use internet resources to find local businesses (predominantly via mobile), it's clear to see why you need to take mobile seriously – from every angle. This includes ensuring your website is mobile-optimised. It means making sure the tools in your entire hotel stack are mobile-optimised, for example – your booking engine. Your guests will not even consciously expect a seamless booking experience on their smartphones and if anything is awry, you've lost a potential customer in the blink of an eye.
61% of users will never return to a website that is not mobile-friendly
Mobile is also important to consider when you're looking to invest in technologies that will make the entire guest experience a lovelier one! We spoke about the rise in smart hotels last week. Becoming more of a smart hotel can be achieved by giving guests the power to control more via their mobiles – things like contactless check in/check out, enabling smart-keys via mobile (like Yotel in Shoreditch, London) the lighting and temperature in their rooms, allowing them to cast/stream Netflix etc from their phones.
Mobile traffic has hit 80% for the first time ever
Our latest device trends report collating data from Q4 2021 shows that mobile traffic hit 80% for the first time ever in December 2021! Desktop was at an all time low the same month (17%).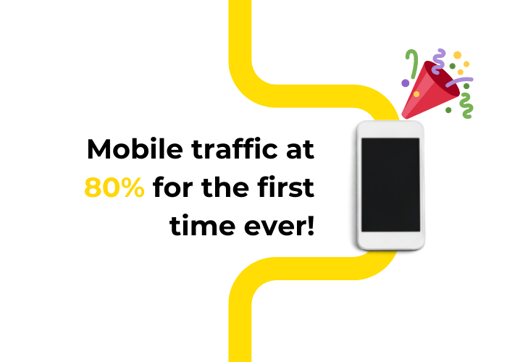 Desktop traffic dropped from 20% to 19%, which brings it below the 20% mark for the first time ever.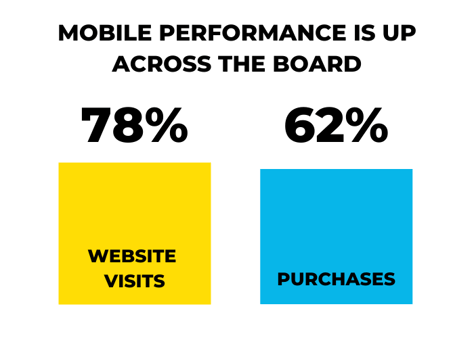 Mobile transactions are slightly up too, increasing to 62%. Mobile's average transaction values have stayed strong, with a 13% difference in rate to desktop bookings. This variance is the highest we have seen in a while, and it's something we'll continue to keep an eye on.
How can you optimise your website content for mobile?
As well as having a perfectly mobile-optimised booking engine, it's crucial you optimise your website content for mobile so you don't lose any potential guests as they land on your page.
Creating an emotive picture of your hotel and what it can offer will immediately engage guests and create a connection between them and the property.
Use images to sell the experiences of your hotel. Choose each image carefully and limit the number of images to no more than 4 per page.
Keep your rate plans short and sweet.Rate plans should show information about the offer and highlight its top features. It isn't about selling the whole hotel—that's what the rest of the site is for!
Utilise your USPs! As people browse the web, they'll be looking for somewhere that grabs their attention, values safety and flexibility, and meets their specific needs in relation to what they want to experience during their stay.
Lay out your content properly. The structure of your webpages is crucial for customer engagement.
Invest in video content – video can help to create and tell an emotive story and give your guests a better idea of your hotel and the overall experience they could have there.
Know your customers! Before beginning to write or edit your website's content, research your hotel's guests and target the demographic or demographics who most regularly engage with your website. This will empower you with a better idea of the kind of content to focus on and develop, whether it's for families, retirees, couples etc.
Sign up to our blog for weekly trends, insights and the latest goings on in the hospitality industry.