The turbulent situation surrounding the coronavirus and its ups and downs over the last few months has not by any means ended, in fact we're still turning on the news in the morning to be met with new updates, revised regulations and new sets of industry-specific fears as the pandemic continues its rampage.
It's as important as ever that we keep up to date with the latest booking trends so we can identify patterns that will help you maximise your bookings over the coming months. In June, we did an extensive deep dive into the key booking trends seen across the month.
We've put together the latest trends and insights from bookings made in the month of July 2020 compared with bookings made in July 2019.
What are the main insights we've taken from our latest data?
June, July & August are traditionally the busiest months for Irish hotels, particularly in the leisure market
Generally speaking, properties outside of the main cities that opened after the 29th of June enjoyed a successful July and have a healthy number of bookings for August
However, city properties, especially those in Dublin city centre, are struggling with a much greater loss of bookings
There are virtually no international visitors travelling into Ireland this summer
There are no cultural or sporting events taking place in cities, which usually would be a draw to hotels nearby
Limitations on numbers of people attending sporting events that are going ahead continues to limit demand
Most companies have travel bans in place, which immediately eliminates any corporate business
This also means that there are no conferences taking place and it's unlikely that any will take place for the rest of the year
For bookings made since June 5th, (the day of the announcement that hotels could reopen on June 29th as opposed to July 20th) these are mostly for July & August. The lead time has decreased significantly, meaning that hotels that are receiving bookings are short term, and it's difficult to plan for the months further ahead
The properties with a high number of bookings being made are outside of major cities where people feel more comfortable in an area where they can practise social distancing better and take part in outdoor activities
When the reopening of hotels announcement was first made, the properties seeing the initial pick up were coastal and resort properties. Once availability became limited for these, other rural properties and properties in towns and smaller cities saw a pick up
There are no tour groups travelling this summer, meaning that many hotels which would have had this business in the past have more availability now
For the most part, larger weddings have not taken place, meaning that hotels have availability for the nights that these events were booked
Replacing both these types of business with individual leisure business can have the result of bookings with a higher rate, as they are not on negotiated or group rates
According to the IHF, on a national level within the 26 counties, occupancy percentages for July, August & September for business on the books are 42%, 47% and 25% respectively as at 6th August. Excluding cities, these figures are 58%, 64% and 33%.
Looking firstly at general bookings

This graph highlights the impact on the volume of bookings made for all Net Affinity clients from 1st Mar to 31st Jul. It shows the impact that announcements regarding Covid-19 and the reopening of the economy have had on booking levels for hotels in the Republic of Ireland.
As you can see, bookings picked up on the June 5th as soon as the earlier reopening announcement was made. Bookings continued to improve as we got closer to the reopening date, and they've continued to be strong for the month of July for arrivals in July & August.
There are small troughs in bookings made after June 5th, however it's important to note that these are on weekends, when traditionally we'd usually see a decrease in bookings made anyway – so this isn't a 2020-specific issue.
And website traffic?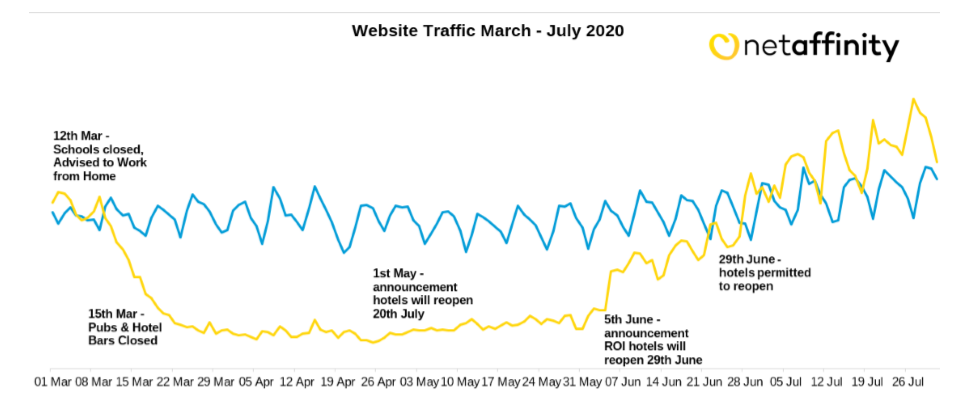 The graph above shows the level of traffic to Net Affinity clients for the same period and indicates the same impact on visitors to hotel websites. We've seen an increase since June 5th, with it only starting to surpass last year at the end of June, which has maintained until the end of July. Again, note the fluctuations between midweek and weekend here.
Along with the volume of bookings made, this graph indicates that bookers are keen to get away during the July & August summer period while they can, before the kids (hopefully!) go back to school. They might want to do an international holiday this year, but they still want to get away.
Where are the bookings coming from in July 2020 compared to July 2019?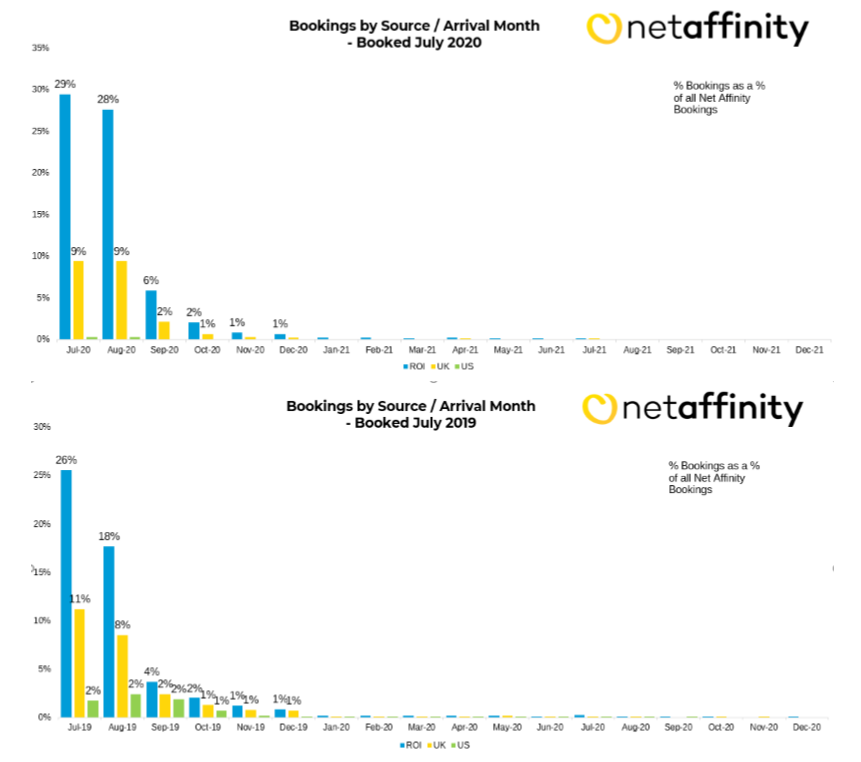 The clearest trend that we can see by comparing the July 2020 and 2019 bookings is that a larger percentage of the bookings made this month were for staycations during July & August. The volume of bookings made for July 20th from guests in the Republic increased by 45% (not shown in the graph) and for August it was 96%. In the North, it was 6% for July and 3% for August. We can see clearly from this graph that the percentage of US business booked in July was down significantly, as travel restrictions remain in place. There's so much you can do to attract the domestic market to your hotel – read this for starters. Don't forget to ensure your marketing strategy is in tip top condition, too – think email marketing and the communication around your health and safety content.
We've got much more to share with you – for the full report, email us on hello@netaffinity.com