A picture may be worth a thousand words, but with your hotel website, they're even more important: they're worth a heap of conversions. Images are proven to boost time spent on site and are important to your visitors.
That doesn't mean that decorating your hotel site with random images will work, though! Your images need to be strong, relevant, and as aesthetically pleasing as possible.
67% of consumers consider clear, detailed images to be very important and carry even more weight than the product information and customer ratings (MDG Advertising)
Travelers are 150% more engaged with listings that have more than 20 photos than with properties that have only a few photos (TripAdvisor, 2013)
To boost conversions and bookings with images, you need to grab attention, spark interest, and arouse your guest's imagination.
You need to tell a gripping visual story.
Why Tell Visual Stories?
If you've ever bought something from a store and wondered, "Why on earth did I buy this?" you're not alone. Research shows that emotions greatly influence buying behaviour:
Neuro-imagery shows that consumers base buying decisions on personal feelings and experiences rather than the features, facts and attributes of a brand.
The emotional response to an ad is far more important to a consumer's intent to buy than the content of the ad itself.
The more likeable an ad is, the more it will increase a brand's sales.
And when it comes to likeability and arousing emotions, storytelling reigns supreme.
According to conversion expert Neil Patel:
"Storytelling is like a vitamin. When it gets into your readers, it permeates their whole being, and fights every objection that might otherwise stop them from becoming loyal customers."
To achieve this vitamin-like effect, just throwing up an image of your hotel and thinking you're done won't cut it. Your image has to speak to your guest on a deeper level. It should harness the power of story to create an experience that your guest can imagine themselves in.
So, before choosing a random conference room image…stop. Think about the implications of the image:
What message does it deliver to the viewer?
What emotional buttons does it press?
Is it complementing your hotel brand message?
Can the image tell a better story?
Examples of Images that Tell a Visual Story
Your visual story will be unique to your hotel, and should target the bulk of your audience. But seeing how other hotels tell a visual story will help you tell yours.
So here are 3 examples of hotel images that inspire a unique story or create a visual experience: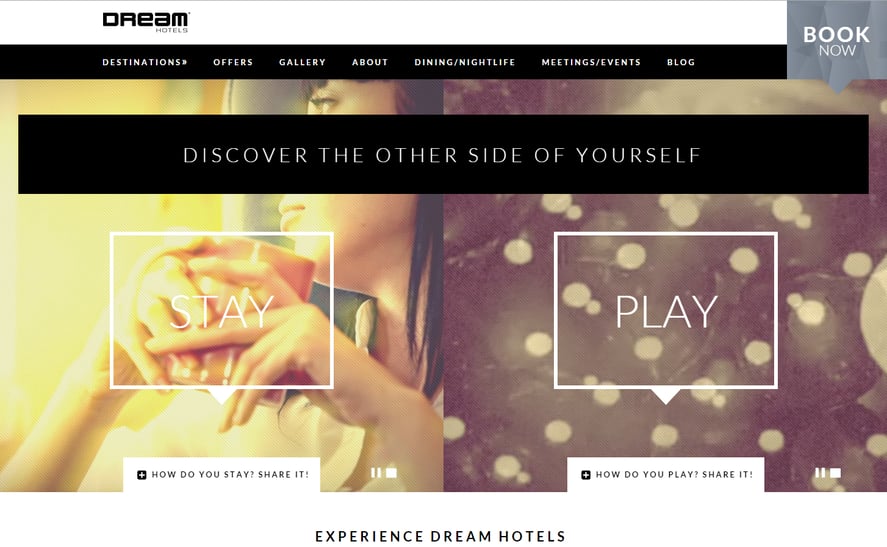 Dream Hotels aren't offering a hotel. They're offering an experience, and their split screen images make that perfectly apparent.
On the site, the 'Stay' screen stays peaceful and filled with warm color. 'Play' flicks from activity to activity, all of them filtered through the dim lighting of a nightclub, the warmth of a sunny day or the bright lights of a city at night, showing you exactly what you can do there.
Castleknock Hotel & Country Club: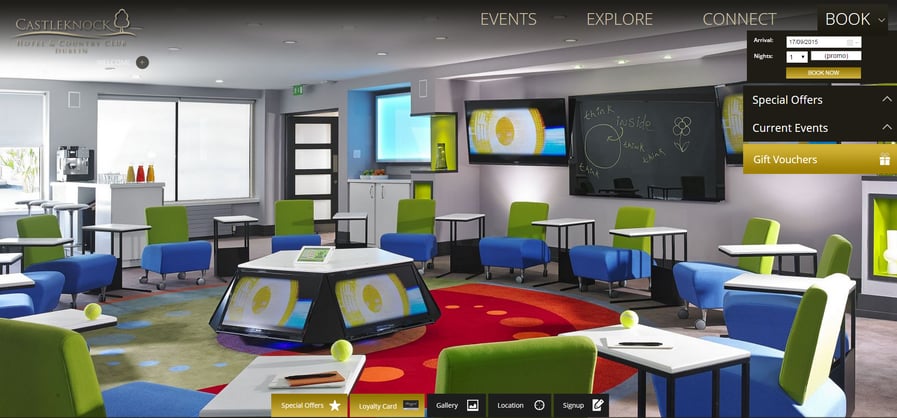 A top Dublin conference venue, a large part of this hotel's appeal lies in its meeting spaces. This image is perfectly crafted to show a fun, innovative approach to a conference room—a place where more creative businesses can be at home. Hotel Castleknock combines this image with more traditional conference rooms, large meeting halls and their nearby golf course to complete their portrait of themselves as the perfect place for business travelers.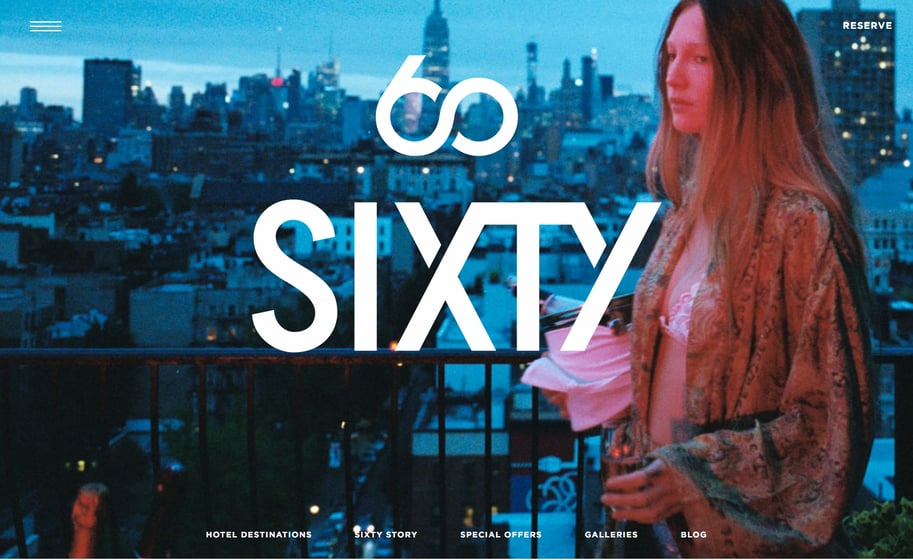 A collective of luxury boutique hotels in New York, L.A. and elsewhere, this image on Sixty Hotels' homepage conveys the bohemian, yet sophisticated style that the hotels are trying to communicate.
Looking for more in-depth analysis of storytelling images? This post is invaluable.
Ensure that Your Images are Relevant
To tell a better story, and increase conversions as a result, ensure that your images are relevant.
The more relevant the story, the harder-hitting it will be. Connect to your guests, and you will impart a stronger message to potential guests.
For example, if you serve business travelers who rely on power points and visuals to communicate, be sure to emphasise the visual tools your rooms have. If you cater to leisure travelers, highlight possible activities in your images. If you specialize in group bookings, stress activities and images involving groups.
Sometimes, simply upping image relevancy can boost conversions. One conversion test by VWO reveals a 40.18% spike in conversions by choosing a more relevant image.
Experiment With Placing People In Your Hotel Images
Numerous case studies have tested the impact of people in images. Sometimes it boosted conversions. Sometimes, it harmed them.
Nothing is black and white in the world of conversion optimization. What works for someone else might not work for you. To find out if images work for your hotel, approach things from a guest perspective and test relentlessly.
Ditch Cheesy Stock Photos
With your main images—the ones you're relying on to tell stories and stir emotions—stock photos are a big no. They tend to be irrelevant , because stock images are specifically designed to apple to a large number of different situations.
Instead, create custom images. Hire a photographer to capture images of your hotel at its finest.
Treat Rotating Images with Caution
Rotating image banners have been described as conversion boosters by some, and the "scourge of home page design" by others.
Again, just because another hotel site is doing it doesn't mean you should.
Sometimes going against popular best practices can lead to better conversions. It all comes down to relevance, clarity and testing.
Conclusion
Images are effective storytellers. This makes them powerful conversion boosters for your hotel website. To squeeze the maximum ROI out of them, tackle things from your guest's perspective. Make your images relevant, and be sure to test different best practices.
What stories do your hotel images tell?