'To be commercially successful and sustainable, hoteliers continually need to ensure that their team, tasks and technology are fit for purpose in order to meet business goals and objectives.'
As we hurtle towards the end of 2022, we're looking ahead to 2023 and contemplating the trends, specifically ones related to technology, which will hold the hospitality industry in a firm grip.
The benefit of more technology investment within hospitality is that it will make the lives of all involved easier - staff and customers.
How has 2022 fared for hotels?
A recent Failte Ireland report shows 63% of hotels reported an increase in domestic guests compared to pre-Covid times. The domestic market performed well for hotels in relation to short breaks over long stays.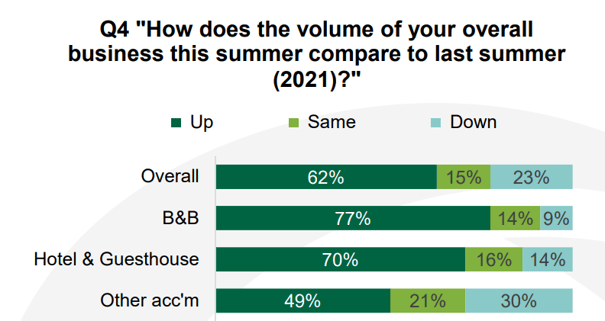 As we all know, event and corporate business has suffered greatly over the last couple of years, but these areas seem to be creeping up again to where they were pre-Covid.
It seems plenty of hotels are being smart about their environmental impact also - Failte Ireland found that 78% of hospitality businesses have measures in place to manage their waste sustainably, and 65% have measures to manage energy consumption sustainably.
When hotels adapt to eco-friendly practices, they not only help the environment but also can maximize efficiency.
What are the top concerns going forward?
Looking ahead into 2023, it seems that rising costs is a big concern for hospitality businesses.
Failte Ireland found 82% of hospitality businesses are concerned with energy costs and 49% are concerned with people's potentially lower disposable income. Staff shortages are also a worry for some and still a big consideration.
How will technology help hotels in 2023?
Implementing modern building technology benefits a hotel in a myriad of ways. Overall, these systems increase efficiency, reduce costs associated with operations, and benefit the environment, too.
Here are some technological considerations for hotels 2023.
A room service app will minimise a lot of hassle for guests by allowing them to order room service like they're ordering a Deliveroo - no awkward phone conversations and easily visible menus.
In-room tablets
Providing guests with an in-room tablet can enhance their experience overall by equipping it with additional room amenities or even allowing them to work from this if they can (instead of hauling a heavy laptop with them on their trip).
Interactive TVs
If you can't provide a tablet, interactive or smart TVs are a great way to provide details on everything your hotel has to offer including room service details, laundry services etc. And of course, access to Netflix, Disney etc is now almost as expected as good WiFi!
Smart bathrooms
A smart bathroom is one equipped with things like voice assistant capabilities, automatic software updates, water and energy usage reduction, systematically sanitized pipes, and automatic temperature controls.

Smart energy management
We know how concerned people are for the environment, and hotels will only need to move more and more towards sustainable practises going forward in every way. Guests will appreciate sustainable and low energy consumption rooms - especially if they are on a 'workation'.
Social media-driven personalised experiences
Use apps like Facebook Messenger and WhatsApp to your advantage by interacting with guests in regards to their feedback.

In-room exercise options
This is a great one, and not too complicated. Whether or not you have a gym, you can still offer guests access to equipment and/or workout videos via Youtube (on your smart TV) for example, within their rooms.

It's a nice way of lending a hand to 'workationers' or corporate customers who are time-poor and still need a quick and convenient way of keeping fit.

AI technology
Artificial intelligence can help improve the productivity and efficiency of your hotel, which in turn will increase your revenue, help you with guest personalisation and improve your data analytics.
Chatbots are one way of hugely reducing the burden on your customer service staff. They can instantly filter and answer guest questions, providing them with 24/7 personalised customer service and essentially supporting their entire booking journey.
At Net Affinity, we integrate with Asksuite - a hotel booking AI Reservation assistant providing an automated service across your hotel's websites and social media so guests can have their questions addressed asap! Rates and availability can also be pulled into your chatbot so your customers can book there and then - no waiting, no blockers.
Automated check-in/check-out
Automated check-in enables guests to save time and energy by being able to skip traditional face to face check-in at the hotel desk, and the potential hassle that can come with it - queues for example!
It's also very handy for staff in that if it's an awkward time, they don't need to worry about late arrivals.
Virtual reality
Virtual reality is a great way of enticing guests by giving life-like hotel tours, showing off the best of your rooms, beautiful surrounding views and even a taster of what guests will get if they book you for their wedding or event.
Learn more about Net Affinity's award-winning booking engine
Smart thermostats
Smart thermostats allow guests the freedom to control the temperature in their room, and can also help to save costs.
Tech-enabled water dispenser
Get rid of those plastic water bottles - add tech-enabled water dispensers on-site. You can even get ones that will provide bubbly or flavoured drinks.
Sustainable bedding
Try providing bed sheets made of sustainable materials like hemp or recycled fibers. They will earn you brownie points with guests, and more importantly, will be better for the environment!
There's also the other side of technology...
While technology has so many benefits, there is also a desire for many of us to 'switch off' from it entirely while we are away - to 'unplug'.
If you want to feed into this trend, you could offer guests access to extra quiet spaces within your property like a meditation room, a co-working spaces, or maybe even nap pods!
Have you subscribed to our blog? Sign up for weekly insights straight to your inbox.