With paid Google ads taking up a large proportion of 'above the fold' space on desktop and all of what is immediately visible on mobile, having a high ranking on search engine results pages (SERPs), is more important than ever.
In spite of Google's determination to make paid advertising dominate, organic traffic is still the main driver in e-commerce for hotels. Last year we were discussing how the traffic landscape was shifting for hotels – while traffic was shifting towards paid listings, engagement and conversion rates were growing. This year our client data-set is still showing organic traffic outperforming all other channels in terms of revenue.
Google now show 3 to 4 adverts, followed by an interactive map with several Google Hotel Ads listings, before organic results appear much further down the page. Many users aren't aware of the difference between the Google ad listings and regular organic results.
According to Google, we crossed the 'Mobile Tipping Point' back in 2015 when more people made searches on their mobile over their desktop. Our own client data here at Net Affinity shows mobile searches reaching nearly 60% of total website visits for the first half of 2017. With the smaller screen-size, organic results are shown much further down below the fold on mobile, making it even more vital to position yourself highly.

There are many SEO practices and tips but here are just 4 from the latest algorithm updates to optimise your hotel website's ranking.
So, what can every hotelier implement to rank higher on organic search results on Google both today and for improvements scheduled in the near future?
Be Mobile Friendly
Google is a constantly evolving animal and you must play by their rules, so keeping abreast of the latest Google algorithms is essential to get the top spot on the SERP's.
Google rolled out an algorithm in Spring 2017 which favored 'mobile-friendly' websites over those only suitable for desktop. This means getting a mobile website is not 'just a phase', it's now an essential part of maintaining website traffic.
Read more about mobile-first web design in this blog post.
Load Your Site Quicker
For mobile in particular, users want content to load quickly, under 2 seconds in fact. According to KissMetrics, 47% of users expect a site to load in 2 seconds or less and 40% of users abandon a website that takes more than 3 seconds to load.
Website speed is an important factor in SEO ranking because you want to encourage favorable user behavior in the eyes of Google: i.e. clicking on the site and staying on the site for as long as possible.
Scale down on heavy content as much as possible (such as images, videos & interactive maps), not only for a cleaner and easier-to-digest appearance, but also to keep site weight to a minimum. You can find more tips and tricks for reducing your site weight in this blog post.
Want to know how fast your site loads? Sites like Web Page Test or Firefox browser plugins like Page Speed can give you a valuable insight.
Content & Language
Ideally, mobile pop-ups are to be avoided as Google rolled out a mobile-specific algorithm that penalizes sites that feature intrusive pop-ups but not to worry, there are other creative ways of displaying it prominently without damaging your SERP ranking. Such as this example of one of our clients, using an Action Bar: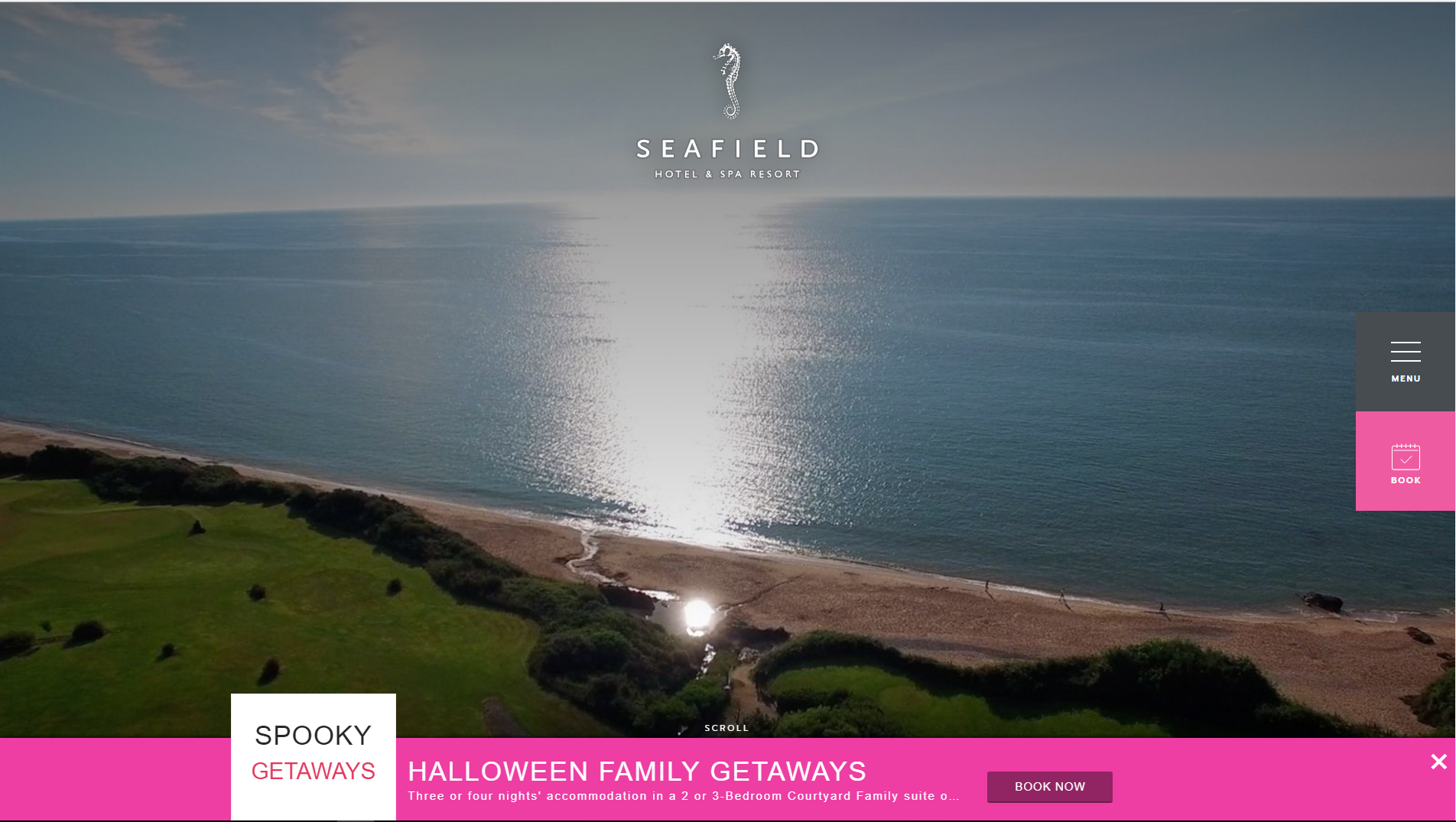 Meta descriptions and meta tags must be paid attention to. These pieces of text appear in SERP's as the title and small excerpt of preview text underneath, therefore they need to be carefully crafted to appeal to potential guests, and Google.
Mobile SERP's naturally provide much less space to sell your hotel in so your message needs to resonate with users across all devices.
The main take away points for creating meta copy are:
To use keywords liberally but never sacrifice on quality – if it doesn't make sense, it can't be included.
Use descriptive language and imagery to entice users to click – this is particularly easy to achieve with hotels and travel in general.
Employ psychological techniques – fear/urgency tactics such rapidly diminishing room availability, and conveying exclusivity at your hotel are effective in getting users to click.
Showcase enticing rates and special offers – numbers attract attention because they are easier for the brain to process, particularly helpful for smaller screens.
Google My Business
Google My Business is a free tool for every company. It displays all the vital pieces of information about your hotel such as address and contact number, as well as user reviews , property images, and most recently, Google Posts – among other features in the 'knowledge panel'.
Making sure you have claimed your listing will help make your hotel the most prominent result for brand related searches. It also gives your hotel the opportunity to appear as one of 3 businesses displayed for non-brand related search queries so make sure you're optimizing this feature, to ensure Google displays your hotel above others.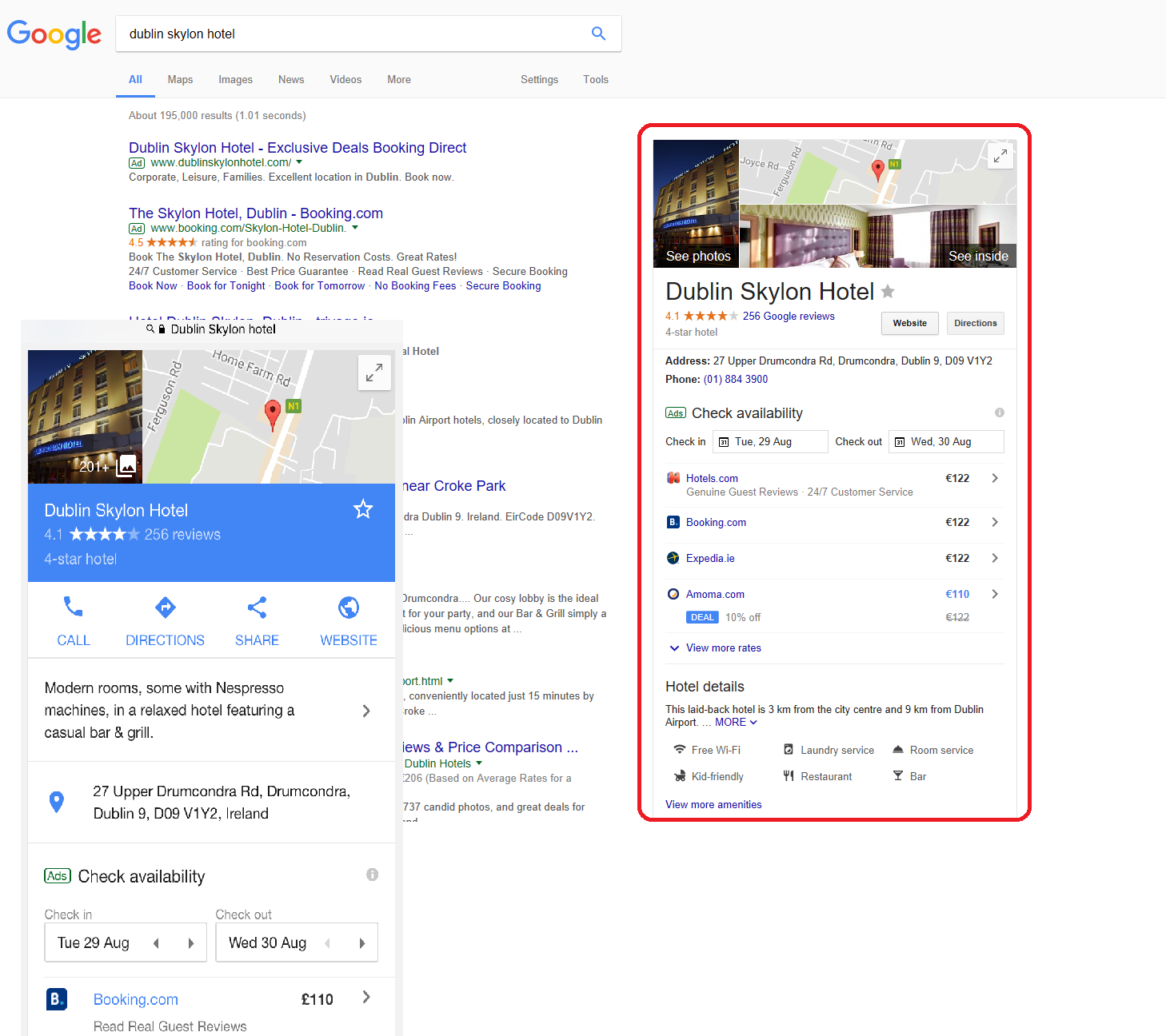 If you need help claiming your hotel's Google My Business listing, read our helpful guide to doing so here.