Creating original, compelling website content is challenging for every hotel, and it may feel as times like an overwhelming task. Fortunately, we've got the experience and the expertise to help give your website a facelift!
Your website is one of the first touchpoints for potential guests and can have a lot do with how you are perceived initially. Because of this, it's crucial to pay attention to every element of your hotel's website content. It can after all, have a huge impact on people's decisions as to whether or not to book with you.
Telling a story is as important as getting all the must-have pieces of information together. Covid has taught us how important experiences are to potential guests. By selling your hotel as an experience through content, you're much more likely to succeed in relation to engagement and conversion. With this in mind, here's some advice on creating and marketing excellent content.
1. (Customer) knowledge is power
Knowing who your audience are is key to the success of any online seller. When you know who your audience is, you can aptly tailor your content to suit your various guests, which will give you a much better chance of increasing conversions.
Before beginning to write or edit your website's content, research your hotel's guests and target the demographic or demographics who most regularly engage with your website. This will empower you with a better idea of the kind of content to focus on and develop, whether it's for families, retirees, couples etc.
Building guest personas reflective of a more complex world
Once you have identified your key markets, you need to actively generate online content that will engage with the right people via your social channels and website with the goal of increasing conversions.
2. Each piece of content should have a focus
When planning new (or updating existing) website content, designate one topic per page of content. This will mean your potential guests will be able to engage more easily with your website and understand the message each specific page is giving them.
When in doubt, grab a random third party and give them a few seconds to look at the page – can they easily decipher what it's all about? If not, rework it.
By breaking out topics into main pages and subpages, your guests will be equipped to navigate your website smoothly, and in turn, they will spend more time on it. This will also boost your search ranking overall.
a. Use keywords throughout page to emphasise the main point of the pages
b. Make sure any visuals used are the right ones
c. Keep things simple
d. Be personal, level with your readers. Use words that are inclusive, such as 'your' and 'our', to engage people. These small things help to build a relationship between guests and your hotel.
How personalisation can increase your revenue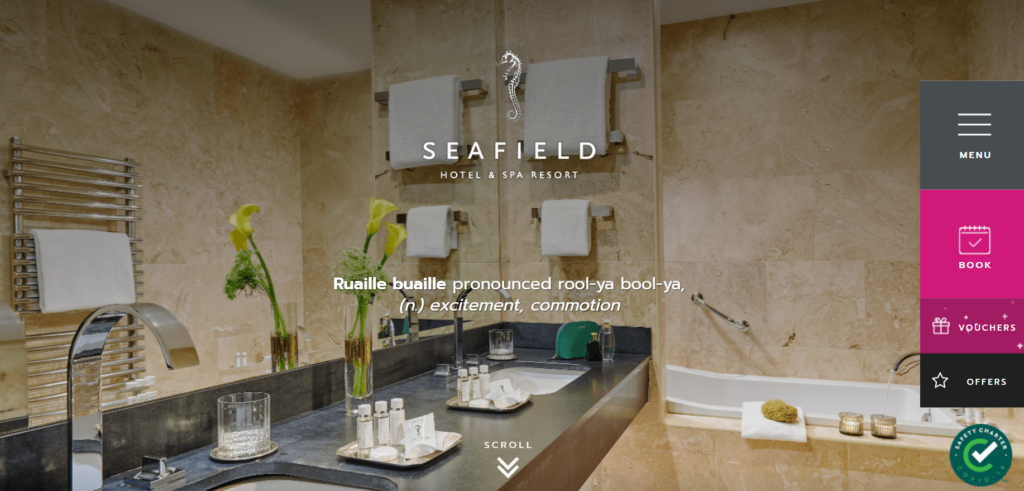 3. Invest in video content
The importance of video content for your hotel
The power of video has only increased over the last few years. Video can help to create and tell an emotive story and give your guests a better idea of your hotel and the overall experience they could have there.
55% of all internet users watch videos daily, while 78% watch videos weekly.
Keep your video content short and sweet: you want to capture people's attention in the first 3 seconds before they move on to the next post. As this experiment by Wishpond shows, only 25% of viewers watched the full video, and the average viewing time was just 14 seconds.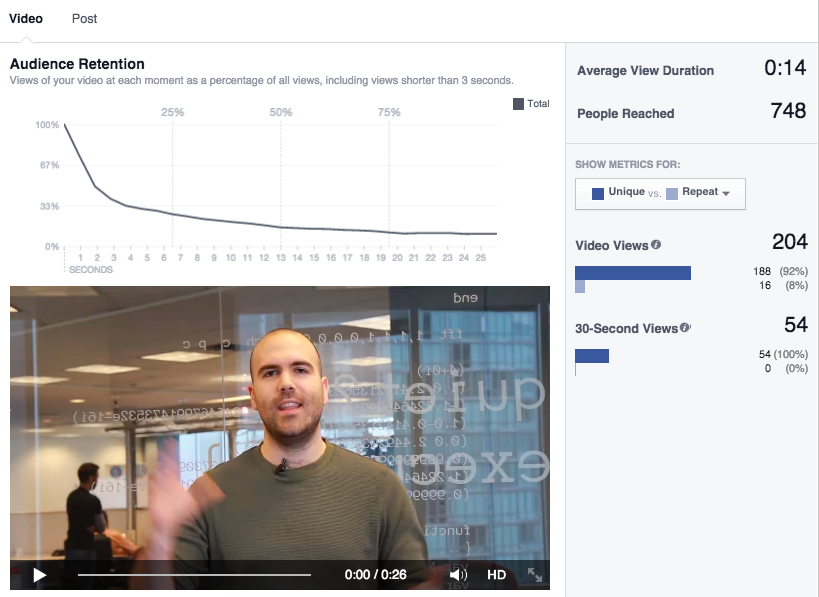 4. Consider all the page elements you need
The layout and structure of your webpages is crucial for customer engagement. Creating paragraphs that are broken out and easy to read will result in a higher level of time spent on the pages.
Once customers are appropriately informed about your hotel, you can begin to build a relationship with them and gain their loyalty.
Include the following elements:
To start off with, identify the key goals of each of your webpages.
Decide what outcomes you would like from your pages. Key goals may include:
Making a booking
Filling in an enquiry form
Downloading a brochure
Purchasing a voucher
Signing up for a newsletter
Start with your most important pieces of information
Customers don't read content – they scan through the page for the most important information. Keeping this in mind, it's essential to place your most important information at the top of the page.
Studies show that 80% of people will read a page headline, but on average, only 20% of those people will continue to read the bulk of the content. Make sure you include an attention-grabbing headline on each page.
Watch our masterclass in content
Your content needs to be actionable
When you devise your page content, take it as an opportunity to create clear calls to action. The content should drive people towards one of the specific goals you have set for the page. For example, once you've explained the benefits of your stunning presidential suite, include a clear call to action to encourage people to book a stay there!
Create original content
One of the best ways to improve your site is to continue creating original content. As you know, not only will Google penalise you for duplicate content and copyright infringement, visitors will lose interest if content is just repeated across your site.
Instead, try and make your content as reflective of your hotel's brand and personality as you can.
This is what will help to foster strong and loyal relationships between your hotel and your guests. Original content will reinforce the unique and special aspects of your hotel, and will remind guests why they would want to stay there.
5. Utilise your unique selling points
What makes your hotel different? What can you offer that others cannot? What makes your property, grounds and facilities so attractive? As people browse the web, they'll be looking for somewhere that grabs their attention, values safety and flexibility, and meets their specific needs in relation to what they want to experience during their stay.
Look at your hotel closely and pick out your USPs: are you near a beautiful lake? Do you have great shopping nearby? Is your restaurant's food incredible? How's the atmosphere- playful? Rustic? Find out what it is that sets you apart and lean into this.
Then, give your visitors a clear picture of what you can offer. This will bring them further into the sales funnel and closer to purchase.


6. Give your rateplans the right descriptions
Keep them short and sweet.
Rate plans should show information about the offer and highlight its top features. It isn't about selling the whole hotel—that's what the rest of the site is for!
Here are some key formatting tips to remember when writing your rate plans:
Consistency
Choose a style and stick to it – keep the fonts and text sizes consistent throughout all of the rate plans which are available.
Tone
Keep the tone of the text the same for all descriptions of the rate plans. Whether you're going for playful or formal, people will be distracted if you jump between tones.
Positive phrasing
Spin all your phrasing in a positive direction. For example, instead of saying 'Advance Purchase: full credit card purchase required,' say 'Early Bird Discount'!
Length
Avoid long paragraphs! When we read online, our eyes skim. Instead, use bullet points to highlight key information.
Make it about the plan
Again, you're not selling the whole hotel here. Add an introductory line for each rate plan that uses the unique selling point for that specific offer, not the hotel's USPs.
7. Upsell your property
Upselling gives you the perfect opportunity to create extra revenue streams for your property.
Potential upselling opportunities include:
Inviting guests to upgrade to 'exclusive' or 'luxury' junior bedrooms or suites
Highlighting additional features of the rooms- separate lounge & dining room, minibar, entertainment systems- television, ipod dock etc., walk-in wardrobe, signature linens or toiletries
A room with a view – invite individuals to upgrade to a room with spectacular mountain views, panoramic lake views, or a dual aspect view
How can enhancements help to improve your average booking value?
An important aspect in upselling your room is to ensure the rates are structured so the upgrade is of reasonable value to the customer – do some testing to find out which rate structures are most profitable for your hotel.
Look at what your hotel has to offer, and see where you have potential to add additional revenue to your bookings before the guest's arrival. These perks could include dinner, a spa treatment, a round of golf or something similar.
TOP TIP: Avoid highlighting standard features like 'hairdryer', 'direct dial telephone', and 'towels'.
8. Use the right imagery, and use it the right way
'A picture's worth a thousand words' – and this holds particularly true for hotel websites. Creating an emotive picture of your hotel and what it can offer will immediately engage guests and create a connection between them and the property.
Hotel photography: top tips for appealing to guests
Show customers your story.
What's at the core of your hotel? What makes it work? Is it your staff, your food, your product? If you make your own bread or your own beer, sell it with visuals. People will connect with these.
Use images to sell the experiences of your hotel. Choose each image carefully and limit the number of images to no more than 4 per page.
9. Don't underestimate people power
Think of your customers as your brand ambassadors. Harness the power of social proof. What they say about you will go a long way, whether it's via social media, word of mouth or online.
40% of consumers find new brands to follow online based on recommendations from friends and family
It is important to actively encourage people to leave you comments via reviews, and for you to embrace these, whether they're positive or negative.
91% of shoppers read online reviews before making a purchase
Here are four ways to encourage feedback:
Respond to all feedback and reviews
Take all feedback on board, and use it to action change throughout your business
Use customer reviews as a selling point on your website and to reassure customers about their choice of hotel.
Use post-stay emails to prompt reviews
Email marketing tips to help increase your hotel's direct bookings
Finally, here are a few action points for you to consider if you'd like to boost your website content:
Identify room for improvement
Use your unique selling points
Show off your hotel's personality
Sign up to our blog for weekly trends, insights and the latest goings on in the hospitality industry.
This blog was updated in November 2021.