Hotel bookings are continuing to increase.
So far in October, 49.03% of bookings made to hotels globally have been from international travellers, and nearly 3-in-4 countries have received more international bookings this month than last.
While no-one really knows how things are going to pan out over the next year or so, we can confidently predict the likes of staycations and workations continuing to trend, and sustainable travel will become more important to people.
Back to the remainder of this year! Currently in the UK, on the lead-up to Christmas, it seems bookings are spiking across mid-December – great news! With Cyber Weekend fast approaching, it's a good time for hoteliers to invest in a campaign that will attract as many bargain-hunting eye-balls as possible. If you needed more convincing, consumer spending on Cyber Monday increased by 30% in 2020 – not only this, but small businesses also had a 501% increase in sales on Cyber Monday 2020.
It's not just Cyber Weekend you need to consider on the run up to Christmas – here are more suggestions for attracting bookings this Christmas season.
Listen to our podcast on how to prep for Cyber Weekend
Cut through the noise
There is generally quite a lot of marketing noise from all sides at Christmas – and similar to last year, that noise will likely be even more urgent than previous years given the natural desire across the hospitality industry to make up for so much lost time and business.
With this in mind, try and think of ways you can make your campaign or offer stand out. Reference your USPs, think about what kind of enhancements you can offer. Are there local businesses you can partner with to create an experience for guests they may not get elsewhere? Think about what will make someone's stay in your hotel extra special. And then don't forget to cover it in a little Christmas sparkle.
How can enhancements help to improve your average booking value?
Christmas is an emotional time. The best marketing campaigns out there play on this fact, and use emotion to try and connect with people (you only need to recognise the hype around John Lewis Christmas ads each year to see what we mean!) Use everything you have at your disposal to create a campaign worthy of an emotional reaction. Think about how effective visuals can be in this area.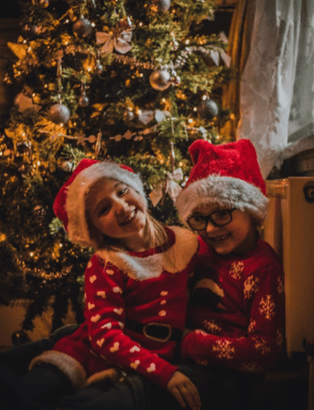 Your Christmas content
The first thing to do when you're planning your Christmas offers is to plan and allocate budgets. Do it now if it's not already done! If you're a Net Affinity client, get in touch with your Account Contact to discuss.
Your Christmas offers and content deserve a dedicated landing page. It's easier for people browsing to be directed to one clearly laid out page full of all the content they need to browse, pick, and choose from. It will also boost your site traffic from an SEO perspective.
Here are 8 ways to increase conversion on your paid traffic
Make sure all of your content and visuals match across your marketing platforms, including email, social media, paid ads and your website. This helps to simplify the message and avoids any confusion! Confusion = a blocker between someone browsing and actually booking.
Speaking of simple, try and word your offers so that they're all super easy to understand. You don't want your packages to come across complex, all over the place or just downright unclear. When you are clear yourself as to what your offers entail, you should be able to communicate them clearly, too. Create offers specific to different kinds of guests – don't create a 'one size fits all'. That will not be as effective.
It's the time of the season – perhaps you want to offer good value for money, or offer your loyal customers a special offer through email marketing? For example, you could send an email out to previous guests offering them dibs on your Cyber Weekend deal before it goes public. Rewarding customers will help to create loyalty.
How should you prepare your hotel for the winter season?
Flourish with a little sparkle
Pay attention to the little details. Consider adding the likes of snowfall to your website homepage, a countdown clock to encourage a sense of urgency, or a Christmas-themed action bar directing people to your corresponding landing page!
Pay attention to the look and feel of these elements when you're designing your email and social collateral – make everything match, and remember that small creative, festive touches go a long way.
How should you promote your Christmas vouchers?
Launch a Christmas-themed voucher
Remarketing and email marketing are the key to selling vouchers and will help provide the best ROI
Use vibrant, eye-catching and emotive visuals within your ads will help to attract potential buyers
Use an early purchase incentive
We have noted voucher sales to be strong all year. Purchasing a hotel voucher gives guests the opportunity to gift experiences that have been lost.
In previous years, Christmas voucher sales have picked up from December 10th and peaked on Mondays during the week, with the weekend seeing a drop.
Sign up to our blog for weekly trends, insights and the latest goings on in the hospitality industry.
This blog was updated in November 2021.