Did you know... the pandemic increased content usage by 207%
As we reported last week, things are looking up - travel rates are continuing to rise and so are hotel rates.
According to new findings from Hotstats and RSM UK, the performance of the UK hotels sector was better than expected in February and is outperforming the rest of the hospitality sector.
It's also an exciting year for technological developments, for example, the much-discussed ChatGPT. Experts suggest that 70% of travel agencies and 60% of hotels will use more AI technology in the following years, and ChatGPT can be a useful tool to take advantage of in ways that will help to make your day easier and more efficient.
Content marketing is a huge piece of the puzzle when it comes to positively developing your hotel's communications and ultimately, its success. While many of the basics stay the same, it's something you should constantly keep on top of to ensure you can maximise performance and give staff the opportunity to spend their time wisely, succinctly.
'Content marketing allows hoteliers to maintain consistent communications with planners and other customers, especially in moments when there are limits (safety, financial, or otherwise) to connecting in-person, face-to-face'
What is content marketing?
Content marketing generates three times as many leads as traditional outbound marketing but costs 62% less
Content marketing is a strategic approach focused on creating and distributing valuable, relevant and consistent content to attract and retain a clearly defined audience - and to drive profitable action.
There are three key reasons for independent hotels to utilise content marketing:
Increased sales
Cost savings
Build customer loyalty
Creating a sense of community around your brand
Showing your audience how your products and services solve their challenges
First up - determine your brand's tone of voice
Your brand's tone of voice is one of the most important building blocks towards content that will genuinely engage people. It determines how your brand communicates with your audience and it is a factor in how people perceive your messaging. Your company's tone of voice is the representation of your brand's personality and values.
Gather everything from brand documents to website pages to previous social media content. Cast a critical eye on this content. Which of these examples could have come from any of your competitors? Set those aside. What you want to do is whittle your examples down to a small group of pieces unique to your brand – the examples of a brand voice you want to embody. Circulate the examples to relevant team members so everyone who needs to be is aware of them.
Describe your brand voice in three words
Gather your team together and decide on what kind of brand voice you want to embody. If your hotel brand was a person, how would you describe its personality to someone? Talk about how you would describe your competitors as people, too. How do your brand's personality traits make you different?
Revisit and revise your brand voice as the company changes over time
As your brand messaging evolves and new competitors come into your market, it's good to take a look and refresh your brand voice. It's no harm doing this exercise regularly! A few tips:
Try to be warm, level with customers, treat them like humans, not robots
Be mindful of people's thoughts, values and beliefs when you are crafting your tone if you would like to be a hotel known for being inclusive and accepting of everyone
Remember that inclusivity is always top of mind for customers, but especially now, when they are searching and booking travel.
Why does your brand messaging and tone need to be consistent?
Brand consistency is important because it's about trust. Consistent presentation of a brand can increase revenue by 33%.
When it comes to consistency, major corporations such as Adobe and Walmart rely on specific style guides that govern all aspects of their brand messaging, even their partners' branding. As an independent hotel, you're obviously not on the same scale as those giants - but you should still prioritize consistent messaging!
You have to position your brand and its content in a way that appeals to its target audience and carry that same messaging over time
See some examples of brand consistency across multiple platforms from The K Club.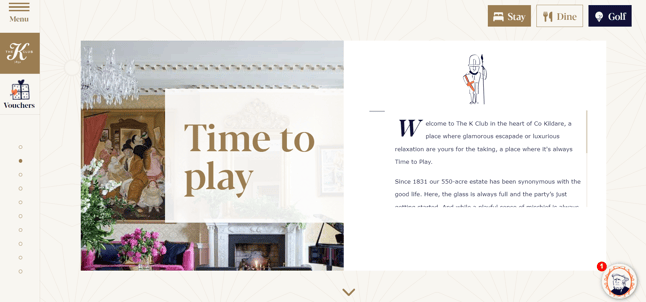 Website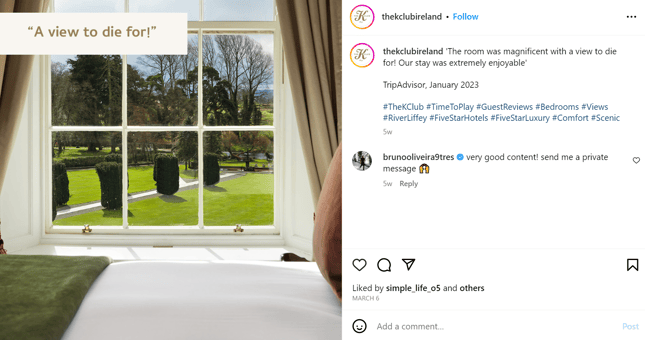 Instagram
People who arrive on your website or landing page will look for the same message from the original touch point - eg - the Instagram post, Facebook ad or email they followed through on.
Are you using consistent visuals, consistent tone, consistent copy? Make sure your titles, wording and images all match up. If they don't, you could confuse potential customers and lose their interest.
Building guest personas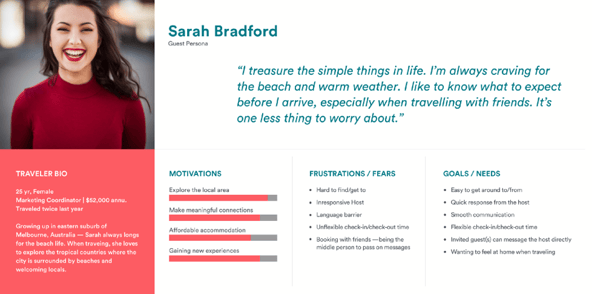 Guest personas are semi-fictional representations of your ideal customers based on data and research.
Read our article on how to build guest personas reflective of a more complex world
They will help you understand your customers better which will make it easier for you to tailor your content, messaging, products and services to meet the specific needs, behaviors, and concerns of your target audience.
Guest personas can be created through research, surveys, and interviews - all with a mix of customers, prospects, and those outside your contacts database who might also align with your target audience.
What can you do in the run up to spring/summer?
Create experiences – guests are looking for more than just a room in a hotel

Create itineraries for your guests including activities that are in easy reach of your hotel - it could include walking, surfing, wine tasting - the opportunities are endless
Make sure you still have all your relevant FAQs up on your website
90% of consumers look for sustainable travel options - what can you shout about that will attract them?
Up the ante on your wedding content - the post-Covid wedding back up is STILL real!
Try and attract 'digital' travellers, remote workers, solo travellers, workationers, bleisure travellers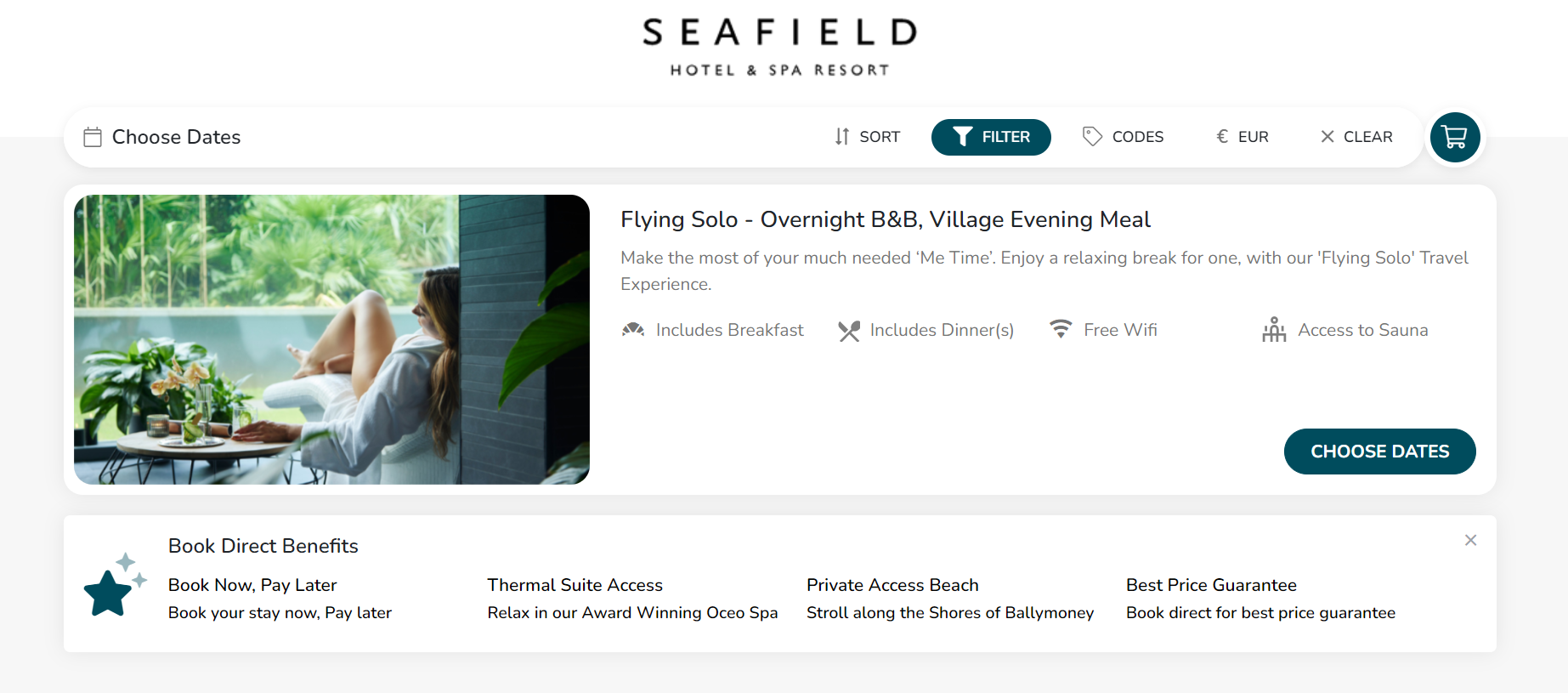 If you don't have a blog already, here are the benefits
Blogs are more effective than SEO and social media in increasing your web traffic
They can help to develop and strengthen relationships with customers
They can help to establish you and your hotel's personality if you do it well
They can be a source of utility and entertainment
If you have a blog, consider the following:
Take a look back over your guest personas and refresh your memory of who you're speaking to
Try to think about why your audience would want to read your blog. Is it: educational, useful, entertaining? Is it answering questions, resolving a challenge, quenching an interest?
Your title will reel readers in – so make it a good one
Do not underestimate the importance of editing
Include the right images (Try sites like 'Unsplash' for inspo)
Always include a CTA – no harm in using your blog posts as another way of securing a direct booking
Optimize for SEO
What types of content should you be posting on social media?
The day to day
Sometimes it's the little things throughout your day to day that can be used to attract attention. Content should be light and positive. Day to day activity can actually help piece together the bigger picture of who your hotel is in a delightfully human way.
The people
Promoting offers is a given. But it's the other, softer types of content that will often help to build a brand's personality on social platforms. See example from The Twelve Hotel who celebrated an award their staff member received recently.
Awards
Have you won anything lately? Have you been mentioned as part of any 'best of' guides? Shout about it! This shows credibility.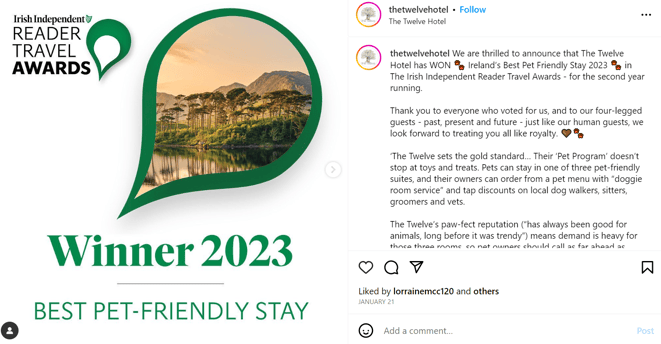 Your surroundings, location & history
The silver lining of the Covid era was the rediscovery of all the beauty on our own doorstep. Delve into your area and make a list of different things you can post about – walking trails, special local hidden spots, unique facts about your village or town. Attract guests with what your area has to offer.
Your offers
Use social to highlight your latest with brand-relevant imagery and short, snappy copy.
User-generated content
79% of people say that user-generated content highly impacts their purchasing decisions… and most of us are amateur bloggers at this stage anyway. Encourage user-generated content through competitions and use what's available to you.
Also consider using reviews as posting content. According to a new report from Tripadvisor, reviews left on the platform during 2022 are up +20% from 2020 levels to 30.2 million.
Business partner/local content
This is an important one, and links back in with trust. Who can you partner with in your community to develop meaningful experiences?
Using micro-influencers
Are there any micro-influencers local to your area who you could partner with? Micro-influencers get higher engagement rates because they have a more dedicated fan base. If there are, approach them and make a plan together.
Utilizing what the social platform has to offer
Use everything at your disposal, for example – on Instagram, are you tagging local partners in your content?
Are you utilizing the saved stories feature?
Are you using 'reels'?
Are you using your 'bio' space to share relevant links?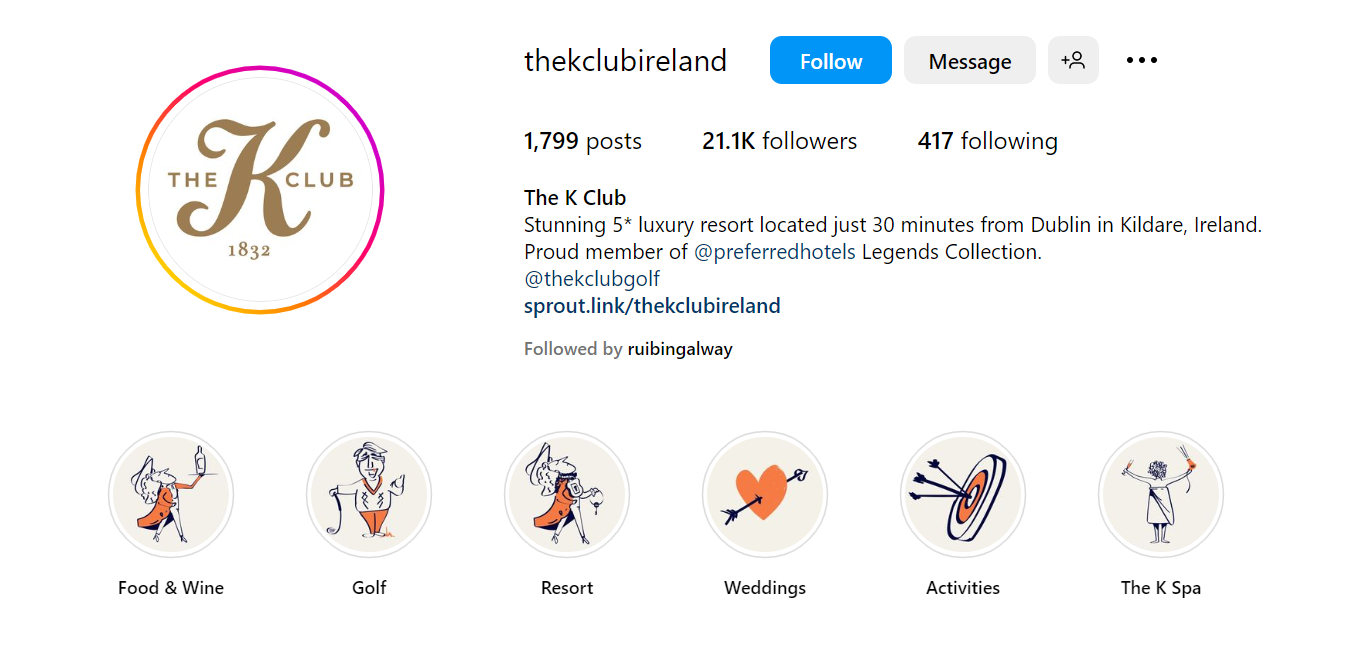 Using video
With video, you can:
Promote product or new room/room feature launches
Showcase simple food/beverage demos
Post fun food/coffee reels – keep it simple
What types of video should you pay attention to?
YouTube bumper ads
Bumper ads are a great way to maximum reach on a minimum budget. YouTube bumper ads are 6 seconds long and let you reach people with bite-sized messages, while providing a minimal impact on their viewing experience.
They're less expensive to run so they are a great opportunity to showcase your brand at a lower cost. From an advertising point of view, bumper ads have the highest conversion rate within the video ad format.
YouTube shorts
A relatively new short-form video content type, YouTube shorts are up to 60 seconds long, but it's not compulsory to use the entire minute duration.
They are vertical videos with a 9:16 aspect ratio and 1920x1080 pixels resolution. Viewers will find them on the YouTube homepage and on your channel homepage.
Facebook campaigns
Videos that you use in your YouTube bumper ads can also be uploaded to Facebook campaigns with MP4 files.
Here are some tips for creating video content
Capture and captivate
Try to engage your viewer in the first few seconds. If their interest is not captured immediately, their automatic response will be to skip to the next available video.
Be informative
Make sure your message is clear and appeals to the needs of your customer
Mobile-friendly
In a mobile-first world, it's necessary to ensure your video is mobile friendly - or you might lose out on a large demographic of potential viewers.
Encourage action
Strong creative that has an enticing call to action will encourage customers to take the next step in the purchasing funnel.
Developing a content calendar
Your content calendar should be simple, no fuss and easy for you to use and access – especially if there are more than one people who will be using it. You ca create yours in Google docs or even Trello.
Using 'content buckets' will help you define the different types of content you are posting. Examples of content buckets could be: 'packages' 'local attractions' 'staff content' 'fun posts'. They will help you to ensure you are balancing the kind of content you are posting and that you're not posting too much of one thing and too little of another.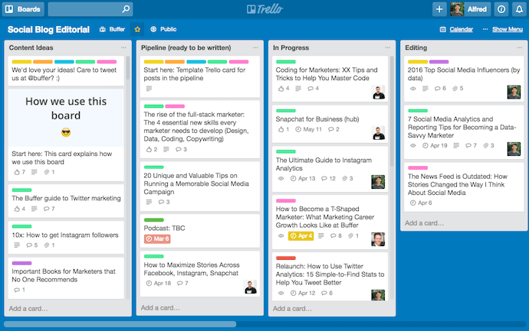 Decide on timing & frequency

It's recommended generally that a brand should post anything from 3 times a week to once a day on social media. Decide what works for you and stick to it.



Your content calendar posts should outline:
Specific content buckets
Time of post or scheduling
Copy and image/video/link
Who is responsible for the post
Whether the content is in progress or published
Using ChatGPT
ChatGPT is a model which is trained to interact with you in a conversational way. Its 'dialogue format makes it possible for ChatGPT to answer follow-up questions, admit mistakes, challenge incorrect premises, and reject inappropriate requests'. You can ask it questions and it will use masses of data to give a unique and personalised response.
While it has definite drawbacks, it can help you with the following:
Idea generation
As it is a Q&A tool, you can experiment with questions - ask it factual questions that will provide content you can use and shape to fit your needs, for example - if you are writing a blog on the history of your hotel's area etc.
Customer service
You can use ChatGPT to handle common customer service queries on the likes of amenities, room requests etc.
Data processing
GPT-3's language model can extract specific information about bookings, supplies or guests from innumerable records and profiles
Marketing
It can absolutely help to craft blog posts, social media copy, emails, and video scripts.