With no big surprises or substantial changes in relation to Covid restrictions, our August data shows an undisturbed, generally successful month for Irish hoteliers.
Not only was it a strong staycation month (naturally, given it was the last month of summer) it was also a strong month for bookings. With over 90% of adults now partially vaccinated, consumer confidence is growing.
Elsewhere, it looks like London's hotel performance was the highest it's been since the start of the pandemic (occupancy was at 56.8%) Dubai's performance was up compared to the previous month (occupancy was at 58.4%), while Australia's performance was the lowest since May 2020 (reflecting the country's state of lockdown).
How did bookings fare?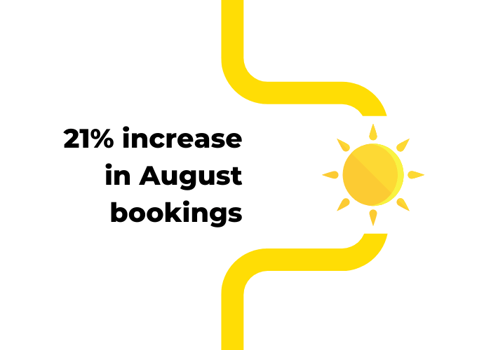 We noted an increase of 21% for August bookings in the Republic of Ireland compared to the same month in 2020 and an increase of 35% compared to the same month in 2019.
In the North of Ireland, we noted an increase of 22% compared to the same month in 2020 and 44% compared to the same month in 2019.
Overall in ROI, 41% of bookings were made to stay in August, 27% were for September and 13% were for October.
As the month creeped towards autumn, we began seeing a change in the type of bookings being made – they moved away from midweek breaks, shifting more towards weekend breaks for September & October.
Strong bookings have been made for the October midterm break, and for the middle of December, ahead of Christmas (very interesting considering that American hotels are noting Christmas vacations being booked earlier than ever before).
Over in the North, the market has maintained its confidence. 24% of their bookings in August were for stays during the month, while 28% were for September, 16% were for October, 10% were for November and 11% were for December.
How was site traffic?
Consolidated site traffic remained steady and did not drop compared to July 2021 – we had expected a drop after the summer, but as we've touched on, autumn bookings are strong.
We noted an increase in the number of properties needing to compete more strongly with
Booking.com on the Google Hotel Ads platform, as they increased their spend before heading into the autumn months, gaining impression share as they did so.
We strongly recommend that hotels consider maintaining their Google Hotel Ads budget throughout September despite it being a quieter time for bookings. The commission bidding model means that you only pay for bookings made, not just for clicks, so it's an incredibly smart investment.
Read more about the benefits of Google Hotel Ads
What about cancellations?
The cancellation rate for August finished at the same place as it did in July – at 22% (it began at 17% and increased throughout the month – we noted September's cancellation rate at 17% at the beginning of the month also).
If you are interested in delving deeper into August booking stats, please contact us at hello@netaffinity.com for more.