It's becoming harder every day to differentiate between Airbnb and traditional online travel agencies. And now the agreement that allows Siteminder, a leading hotel distribution platform, to distribute hotel rooms on Airbnb is blurring that line even more. But can Airbnb compete with the OTAS?
Airbnb gained recognition as an online marketplace to rent short term rooms, apartments and homes. They also listed more unusual accommodation like boats, tree houses and even igloos! Later some boutique hotels started to list their inventory on the growing platform, however these were all independent efforts. Now with this Siteminder agreement, Airbnb clearly intends to become a dominant player in the global hotel distribution economy.
SiteMinder currently has more than 28,000 hotels and their customers will soon be able to apply to be listed on Airbnb through the channel manager. If approved by Airbnb, SiteMinder will add Airbnb as an online channel for distributing room rates and availability. SiteMinder noted that not all properties will be accepted though. Airbnb is looking for hotels that offer unique design, links to local experiences and high-quality photography only. It hasn't explicitly excluding branded hotels but the qualification criteria favours more "experiential" properties first and foremost.
The service is due to launch this month but apparently the company has already been testing the offering in select markets. Interestingly they said the partnership will not require hotels to sign contracts and it will manage all transactions made through its own site.
Airbnb revealed it will be charging hotels a commission in the range of 3% to 5% per booking, a number dwarfed by OTA fees that can charge up to 30%. However, their usual guest 'service fee' will also be applied which is typically between 5 and 15%. The hotel won't have any control over the final price.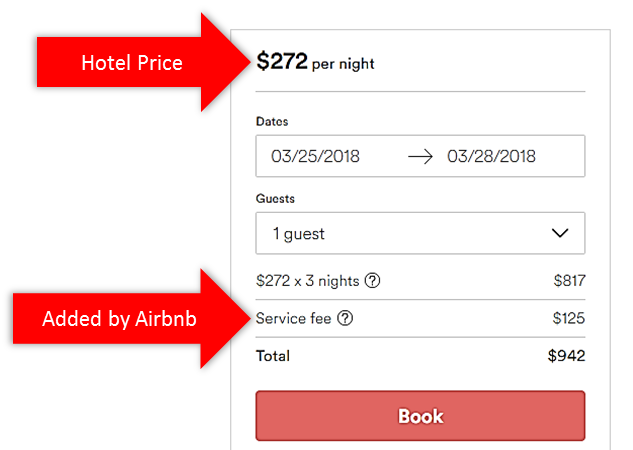 This might have been less of an issue for Airbnb in the past thanks to their unique inventory, but with the increasing overlap of their content, it can pose a serious competitive threat.
"Small hotels and B&Bs have long used Airbnb and now we're building new tools and partnerships to help these local businesses thrive," Cameron Houser, Airbnb's program manager for hotels, said in a statement. "We are dedicated to working with small hospitality businesses that excel at offering the best guest experiences and living our mission of belonging and we couldn't ask for a better partner than SiteMinder. SiteMinder is the industry leader and we look forward to continuing to work together to support boutique hotels and bed-and-breakfasts around the world."
With 4.5 million properties, Airbnb beats all its competitors in number of listings. But Booking.com, with nearly 200 offices around the world focused on contracting and their extremely successful onboarding process, will likely close this gap quickly. Also, Airbnb must contend with increasingly strict city regulations for short rentals across the world. According to the Financial Times in the UK it represented a loss of $100 million last year and this recent article showcases the example of San Francisco where Airbnb lost over 50% of its listings between Aug 17 and beginning of 2018.
While Airbnb wants to compete with the OTAs by making a foray into the hotel market the two dominant OTA players Booking.com and Expedia have also been making inroads into the growing home-sharing market, blurring the lines between all these providers.
Currently Airbnb has roughly 15 percent share of the global home-sharing market, compared with 12 percent for Expedia and 9 percent for Priceline (Booking.com) according to research by the Susquehanna International Group.
Expedia showed intent to capitalise on the growing home-sharing market when they acquired HomeAway Inc in 2015 for $3.9 billion. HomeAway is a vacation rental marketplace with more than 2,000,000 vacation rentals in 190 countries. This turned out to be a great move for them with their financial release in quarter 2 2017 showing HomeAway delivered $224 million of revenue. This was an increase of 31% year-over-year!
Booking.com has also gradually expanded its footprint into the vacation rental sector and by the end of 2017 listed over 1,200,000 vacation rental properties, which represented a 53% year-over-year growth.
CEO of Booking.com Glenn Fogel stated last year:
Aggressively expanding our vacation rental business is a key part of our growth strategy. As consumers increasingly desire to explore more unique places to stay, including homes and apartments, we want Booking.com to remain to be the leading platform to search and book all types of accommodations.
This was the key message in their TV ad launched in over 30 countries last year which brought their branding investment up to $392 million in 2017. This was in conjunction with their incredibly successful online marketing strategy that boasted a budget of $4.1 billion in 2017, allowing them to outspend all their competitors.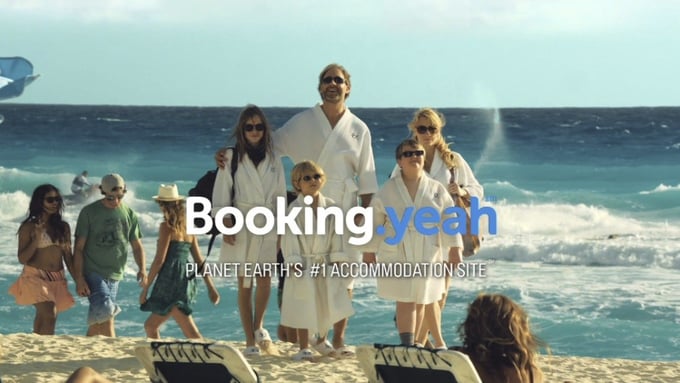 Despite Airbnb´s deep pockets and the fact that they recently reached operational profitability, it is difficult to see how they will be able to get anywhere close to these spending levels in the near future with an IPO on the horizon.
There are also other questions that remain to be answered with Airbnb moving into the hotel space. Will hotel guests resent the service fee imposed by the company? Will it offer discounts which go beyond than the price set by the hotel? Is it open to changing its charge system to allow payment at the hotel?
And it's not just Airbnb the OTA's must watch out for. Google is investing heavily to tie together user data across its products to enable the company to "own" the customer relationship with the traveller, beginning at the top of the funnel and throughout the user journey.
Google's VP of Travel Oliver Heckmann spoke about the future of digital assistance and described a world where the Google assistant will become multi-modal and live in multi-devices—from your watch to your phone to an assistant in your home.
Google Assistant is already in more than 100 million devices. Said Heckmann, "If you are working with us on flight and hotels search, you will be included in the future. If you want the booking function, then you can work with us on booking functionality."
At ITB Berlin yesterday Booking.com CEO Gillian Tans said the company is testing how customers interact with the new services that were recently added to the top of the site (links to packages, flights, restaurants etc.) and does not rule out launching full functionality to these services in the future. This would make them a one-stop shop for all things travel and a fully-fledged competitor for Expedia and Google.
One thing is for certain in this changing economy, hotels need to focus on their book direct strategy more than ever. Is your hotel ready?