As the infographic from Phocuswright linked below demonstrates, only 8% of independent European hotels are affiliated with a sales and marketing organization.
In some cases, that's no doubt due to in-house efforts to manage brands. Is your hotel one of those, or could your digital strategy use some work?
Here's some solid advice to make sure you've got your bases covered, regardless of whether or not you have a dedicated outside marketing team. For this week's Friday Five, we're looking at on online reputation management, how to leverage social, and what 2016 might have in store for hoteliers.
Here's an infographic from Phocuswright and H2C with the stark facts for European independent hotels.
While bookings are growing, OTAs will represent 71% of online gross bookings in 2015. On the flip side, only 8% of European independents are affiliated with a sales and marketing organization and only 50% have an internet booking engine – which might explain why OTAs have such a high share of the market. How's your hotel doing?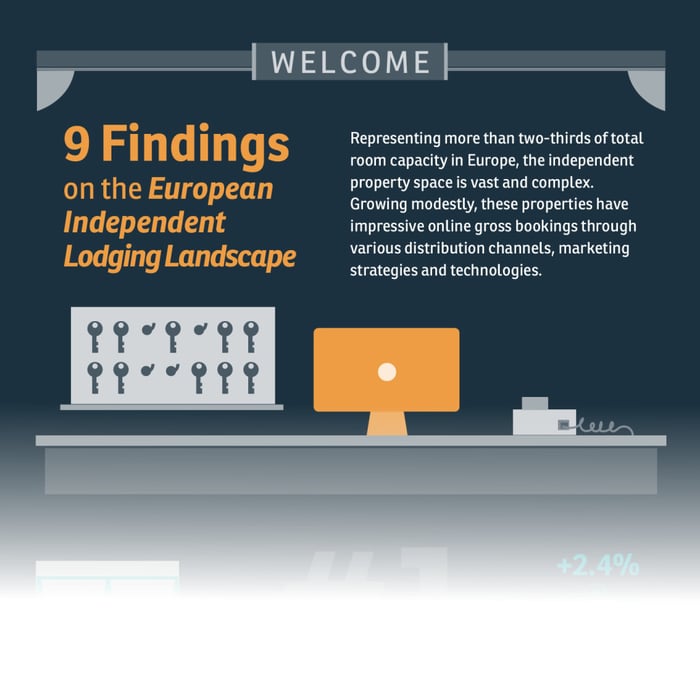 An upcoming report will say hotels are looking at online reputation management as their key investment area in 2015.
The latest TripBarometer report from TripAdvisor captured from data via a survey of thousands of hotels around the world. It found that ensuring how a property's online presence is managed is likely to receive the most injection of financial support this year, with online reviews considered the most important area of a business.
Your brand reputation translates directly into higher revenue, and nowhere is brand reputation influenced more than online. The Internet is an enormously influential tool for consumers today: 80% of TripAdvisor's 340 million unique monthly users read at least 6-12 reviews before they book a hotel; another survey reported almost 30 percent of consumers saying that positive online reviews are the single most important factor in their booking decision.
Change is the only certainty in the world of search engine optimization. To succeed in the ever-evolving SEO landscape, hoteliers should adopt a proactive approach to content creation, marketing and optimization.
In 2016 and beyond, hoteliers and digital marketers should make data-driven, analytical decisions based on measurable results and research. They should stick to proven best practices, updating these tenets as needed. And they should think of search engine optimization (SEO) as a living, breathing, ongoing effort.
Hotel technology presents seemingly endless possibilities, but hoteliers shouldn't invest in technology for technology's sake. As 2015 starts to wind down, smart hoteliers should start planning how they're going to make a splash next year, and evaluate new tech that will help get guests through their doors to drive sales.
Here are three cutting-edge technologies that will help hotel drive more business in 2016.
If you find yourself struggling for inspiration or to find the right tools, don't hesitate to get in touch with Net Affinity's experts!