On a bright, crisp morning in February 2020, we held our first Revenue Summit for a room full of hoteliers, in the beautiful surroundings of The Westbury Hotel, right in the heart of Dublin city!
What's going on in the industry
It would be an understatement to say we work in a fast paced industry. Partner this with living in a time when advances in technology are so rapid, so frequent, that it can be hard enough navigating your day to day, never mind taking any time outside of the office to learn and network. But we know how important this is, so we wanted to organise an inspiring and welcoming forum for independent hoteliers in Ireland to get together and do just that – learn from experts across the industry, listen to their thoughts on everything from branding to revenue, to sales, marketing and tech trends.
We wanted them to leave feeling inspired, energised, more knowledgeable, and equipped with actionable takeaways they could bring back to their teams and start implementing – some right away, some later on after more thought and consideration. We wanted to bring people together, out from behind the desk to network, bond over challenges faced, and exchange solutions found.
Adapting to change
As our MD William pointed out in his welcoming address, it's a time of great change in the industry. Changes in the hotel tech stack (for the better), changes in customer expectations and changes in staff expectations, too. That's why at Net Affinity, one thing we're fanatically obsessed with, is getting the balance just right between technology, staff and clients.
The importance of your brand in an ever-changing economic climate
Your brand is the cornerstone of your business. Martin Mangan, General Manager of The Conrad Hotel, Dublin, gave the first presentation of the morning on 'The Power of Your Brand', with an emphasis on international vs domestic brands.
He riveted listeners with an invigorating (and entertaining!) reminder of how important your independent hotel's brand is, and how, if built correctly, it can set you apart from the bigger players in the industry. This is especially true in an uncertain economic climate, however Martin reminded us that although the short term outlook may look tough, long term outlook remains strong.
When it comes to your brand – take a step back and ask yourself some important questions. Who are you? What do you stand for? Are you relevant?
Getting them to book direct
Getting into the specifics, Joanna Doyle, Group Sales & Marketing Manager for Ireland & UK at PREM Group, excellently presented next on How to Influence the Direct Booking Journey.
First thing's first – your website is your hardest working employee! (This is why it's so important that yours is designed to maximise revenue). Think of it as your shop window. Your website, revenue management strategy and social media / digital marketing should all work together and complement each other in perfect harmony. Considering this, investing in things like a loyalty programme, decent photography and a blog truly will help set your independent hotel apart, and will encourage guests to book direct with you.
What else can social media help you do? It's another way of amplifying your book direct message! Remembering also that 86% of people have become interested in travelling to a certain destination after seeing social images from friends, family or peers should should encourage you to consider competitions that require pictures to be posted. Put more focus on the influence of peers rather than 'influencers'!
People still want human experiences in this digital era
Andrew Martin, Customer Experience Manager at GuestJoy, treated us to a highly entertaining and informative presentation on Upselling and Providing a Human Experience in the Digital Era. Sometimes the rising power of tech can cloud our judgement and we forget that at the end of the day, we, as guests and consumers, still want a human experience – that's why people choose hotels over short stay apartments.
It's really about how to use your tech to deliver seamless human experiences that make guests feel special. Their upsell experience should be personal, timely and relevant.
Connecting with your guests requires your hotel to have a personality. Reminding us of Martin's points earlier on around the power of your hotel's brand, Andrew asked – if your hotel was a person, who would it be? Establishing your own distinctive traits will help differentiate you from bigger properties. Once you've established your personality, now's the time to infiltrate it through all your communication with tone, define the guest personas you're speaking to, and tailor your offers accordingly based on what they want. And remember to keep it personal!
Keeping up with the pace of change
Before we wrapped up the discussions, Oonagh Cremins, Owner and Director of the Innovate Room, assertively and gracefully moderated an impressive panel of hoteliers who intelligently dissected a variety of current topics under the title: Dynamic Times for Revenue Management.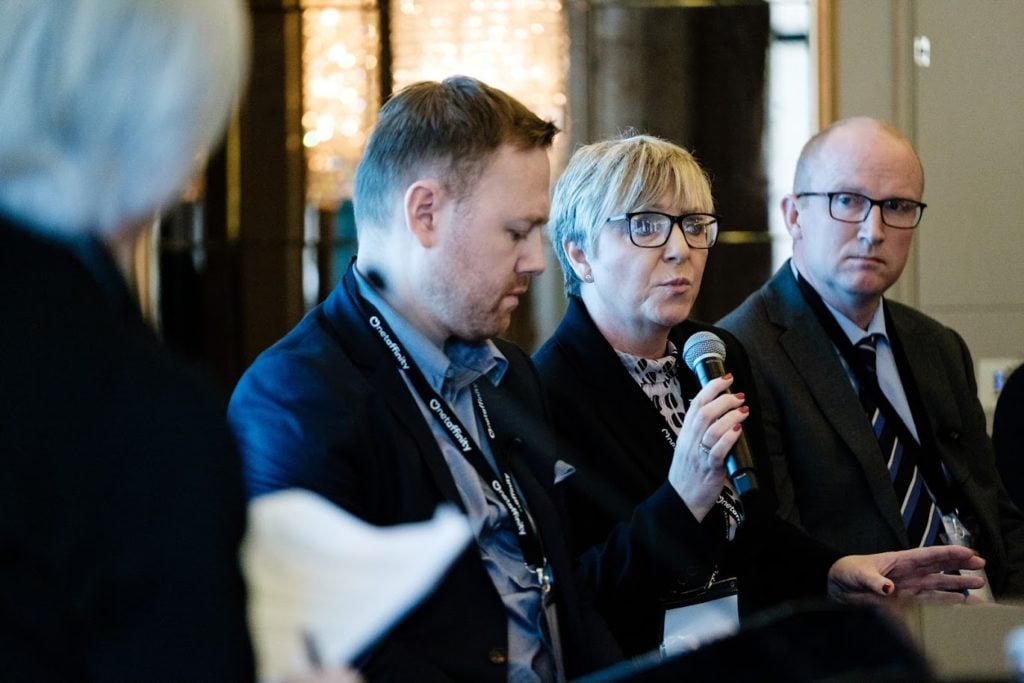 In keeping with one of the underlying themes of the morning, Oonagh stated that the pace of change in the industry is so frenetic at the moment, it's imperative that we all keep up. She also touched on key points echoing some of the important takeaways from presentations throughout the morning:
– In relation to tech, system integration is absolutely key. It allows you to leverage your data properly and in turn, increase your revenue
– Personalisation is also key, so it's important that you have a dedicated data manager within your business. It needs to be managed effectively so it can fuel your marketing
– If a high customer effort is required, it will negatively affect your revenue
The expert panel included Andrew Kavanagh, Group Sales and Marketing Manager at FBD Hotels & Resorts, Wilson Bird, General Manager at Breaffy House Hotel andTrish Tweedie, Revenue, Sales & Marketing Director at Galgorm Spa & Golf Resort!
The panel was full of insights and a lot of common ground was found. There was a feeling that everyone was experiencing similar challenges, and intelligent solutions were offered up for discussion.
When it comes down to it, everyone has the same goal – to increase direct bookings in the face of bigger competitors, an uncertain economic climate, and significant technological and cultural changes.
Some key outtakes from the panel included the following:
– It's much harder for independent hoteliers to sustain loyalty. This is why, as Joanna spoke about, loyalty programmes should be an important part of your strategy
– Each area in your business informs the other area – revenue, marketing and sales – so it's important that teams work together
– It's a balancing act between growing your hotel's budgets and safeguarding its future
We really look forward to the next Revenue Summit. In the meantime, here's what our attendees thought of our first!