There's certainly been a 'sustainability' surge in cultures around the globe over the last few years. In response to the many environmental issues we face as a planet, and the increasing awareness and concern surrounding these issues, a desire to live more sustainably has gripped many of us, making it crucial for businesses of every kind to start paying attention to how they can do the same.
Environmental sustainability involves making decisions and taking action that are in
the interests of protecting the natural world.
A study led by Southern Cross University in 2019 showed that 93% of people surveyed indicated a general concern for the environment. As well as this, 77% said they wanted to learn how to live more sustainably.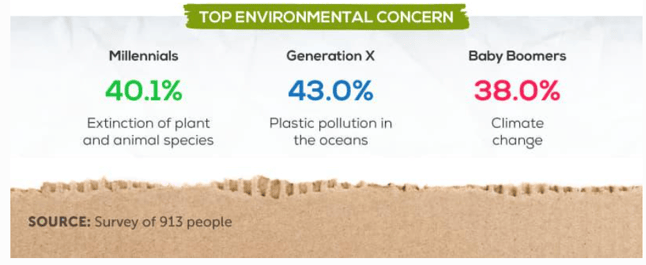 What's interesting about this is, there's an admittance to not knowing everything about how to live a more sustainable existence, but a willingness to learn, to be better. "Education is set to become one of the best tools to fight climate change and environmental degradation, and we have an appetite for it."
As a hotel, you don't need to worry about being perfect, and you don't need to have a long list of sustainable practices in place before you can start talking about it. 81% of people prefer to buy something from a sustainable business. When people use a service that aligns with their personal values, they feel that they've done something good.
As a business, it's important both for the planet and for your customers that you continue making steps towards sustainability. You will in fact end up saving money by becoming more sustainable, given the fact that it should involve reducing your energy and water consumption. If you're making any kind of effort already to act sustainably, and if you're continuing on that journey towards becoming even more sustainable, it is absolutely something you should be talking about as part of your content and marketing strategy.
How has the pandemic impacted sustainability and the travel industry?
It seems the pandemic has heightened people's awareness of, and need for, more sustainable practices, choices and purchases. According to a recent study by travel company Virtuoso, 82% of people surveyed said the pandemic has made them want to travel more responsibly in the future, and 72% said travel should support local communities and economies, preserve destinations, cultural heritage and protect the planet.
Articles like this, and this, detailing the best eco-friendly hotels around the world are a dime a dozen, and it's more than a passing trend. It will only continue to grow in coverage and importance.
New research from Expedia Group shows travellers surveyed want to support sustainable practices, with 59% willing to pay higher fees to make their trip more sustainable. One of the key factors shaping their booking decision is in relation to environmentally friendly policies like reduced use of plastics or locally sourced food and products.
So… what can you do to make your hotel more sustainable?
Reduce your energy with small changes like switching to LED lights, installing skylights where suitable, using energy-saving kitchen and laundry equipment
Install low-flow shower heads and toilets, and sink aerators to limit water waste
Switch to natural, organic and local (if possible!) toiletries in biodegradable/recyclable packaging
You can also think about installing refillable shampoo and soap dispensers in your bathrooms
Swap any plastic and paper cups you may have with reusable glasses and mugs in your rooms
Encourage your guests to reuse their towels and bedding by including signs in each room
Use eco-friendly cleaning products
Include recycling bins in rooms and common areas
Serve local, seasonal, organic food – this way you're supporting local business too, which is also very important to your guests!
Replace single portions of things like cereal, yogurt and jam with glass containers
Compost your food waste and donate leftover food to local food banks!
Install a water bottle filling station in your lobby
Offer guests remote/digital check in/check out – this cuts down on paper usage
Have staff wear reusable masks, not disposable ones
When it comes to office supplies, go for biodegradable products as much as you possible can
Once you have some of these easy-to-implement practices in place (and there may be much more you can do depending on your own hotel and surrounding area), let guests know by creating a landing page on your website detailing your commitment. Gregans Castle Hotel have included a list of things that guests can do themselves too, in order to make their trip more sustainable. This is a great way to involve the guest and create a collaborative-like feel between the person and your hotel.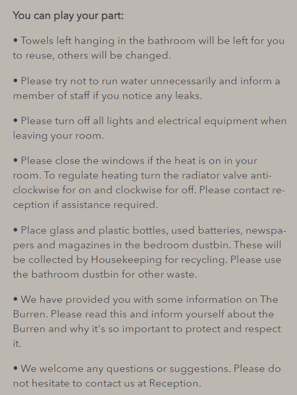 Any questions on how to make your hotel more sustainable, reach out to us on hello@netaffinity.com