We hear the world 'sustainable' all the time, but what does it mean?
Sustainable Tourism refers to sustainable practices in and by the tourism industry. It is an aspiration to acknowledge all impacts of tourism, both positive and negative. It aims to minimize the negative impacts and maximize the positive ones.
To say the world is going through irreversible changes at the moment is an understatement. We are living in extraordinary times. While in years gone by, concern for the environment may not have been a top priority for some businesses, it is now impossible to operate as almost any kind of business and not have some awareness of your environmental impact. This is because the people you are trying to sell to are concerned for their planet, communities and surroundings.
One in three consumers prefer sustainable brands.
A study led by Southern Cross University in 2019 showed that 93% of people surveyed indicated a general concern for the environment. As well as this, 77% said they wanted to learn how to live more sustainably.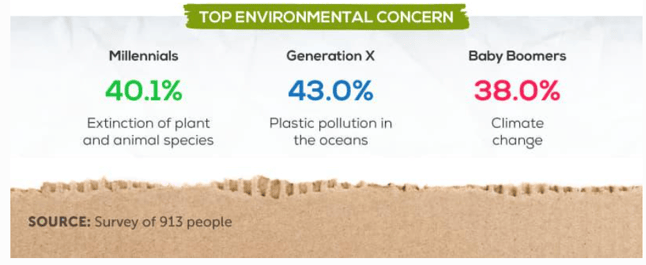 There are so many resources available to hotels who want to learn more about operating more sustainably - from the likes of Failte Ireland for example. There are also courses available from bodies like Sustainable Travel Ireland.
There are opportunities to provide a truly sustainable tourism offering.
As a hotel, it's not about being perfect or doing everything. It's about having an awareness and making small yet impactful changes that will make a notable difference and place your guests, staff and business overall, in a better place. 81% of people prefer to buy something from a sustainable business - and when people use a service that aligns with their personal values, they feel good about it. Don't fall into the category of businesses who talk green but don't actually do anything about it... a recent survey by Expedia found that 2 in 5 people avoid a travel destination or transportation option due to skepticism that the commitment to sustainable practices is real. Being accused of 'greenwashing' is potentially worse than not joining in with the sustainability conversation at all, so keep this in mind!
The traveler mindset is changing, and sustainable travel has emerged as a growing trend as travelers hope to lessen the environmental impact of tourism.
As a business, it's important both for the planet and for your customers that you continue making real, tangible steps towards sustainability. You will save money by becoming more sustainable - for example by reducing your energy and water consumption. Your environmentally friendly journey/actions/policies are something you should be talking about as part of your content and marketing strategy.
Energy represents the single fastest-growing operating cost in the lodging industry.
The rising consciousness around treating the environment with care
''Sustainable' and 'eco-friendly' hotel articles and guides are everywhere and seem to pop up almost weekly - this one for example provides details on 'Ireland's most sustainable hotel' and others across the globe. Note their intro which acknowledges hotels who only jump on the bandwagon.
We've all seen that sign in hotels where we are encouraged to reuse our towels for the sake of the planet. Often it's just lip service. But what if that idea is taken a level upwards – to make your whole hotel sustainable?
The sustainable hotel they go on to describe does things like -
Use 100% renewable energy, recyclable and biodegradable materials
Makes a conscious effort to limit single-use plastics in its 137 rooms
Puts a big emphasis on local
Uses wonky veg is used in the kitchen
Works with local distilleries and breweries
Another article from The Gloss shows the sustained demand for eco-friendly staycations.
Research from Expedia Group indicates that travellers surveyed want to support sustainable practices, with 59% willing to pay higher fees to make their trip more sustainable. One of the key factors shaping their booking decision is in relation to environmentally friendly policies like reduced use of plastics or locally sourced food and products.
How can you make your hotel more sustainable?
Reduce your energy with small changes like switching to LED lights, installing skylights where suitable, using energy-saving kitchen and laundry equipment
Install low-flow shower heads and toilets, and sink aerators to limit water waste
Switch to natural, organic and local (if possible!) toiletries in biodegradable/recyclable packaging
You can also think about installing refillable shampoo and soap dispensers in your bathrooms
Swap any plastic and paper cups you may have with reusable glasses and mugs in your rooms
Encourage your guests to reuse their towels and bedding by including signs in each room
Use eco-friendly cleaning products
Include recycling bins in rooms and common areas
Serve local, seasonal, organic food – this way you're supporting local business too, which is also very important to your guests!
Replace single portions of things like cereal, yogurt and jam with glass containers
Compost your food waste and donate leftover food to local food banks!
Install a water bottle filling station in your lobby
Offer guests remote/digital check in/check out – this cuts down on paper usage
Have staff wear reusable masks, not disposable ones
When it comes to office supplies, go for biodegradable products as much as you possible can
Once you have some of these easy-to-implement practices in place, let your guests know by creating a landing page on your website detailing your commitment, eco-policies, how you work with and utilise your local community/businesses.
Gregans Castle Hotel have a great example of what this looks like. They also include a section where they tell guests how they can play their part, which creates a healthy connection between hotel and guest working together to reduce consumption/waste.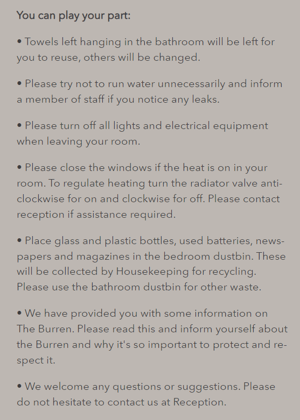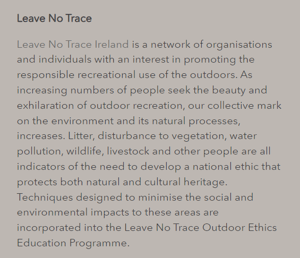 Source
Sign up to our blog for weekly trends, insights and the latest goings on in the hospitality industry.