There's no denying it. We're an impressionable and highly influenced bunch – by those we trust, anyway. The steady (and sometimes scary) rise of social and digital platforms cluttered with brands, ads and 'influencers' all screaming for our attention, paired with consistent revelations of distrust and data misuse, has helped craft nations of wary internet users, who continue to trust the same people they always have the most: their peers. In fact, a recent study shows that 83% of consumers surveyed trust recommendations from friends above any other form of advertising. And even more importantly, 84% trust online reviews as much as recommendations from family and friends.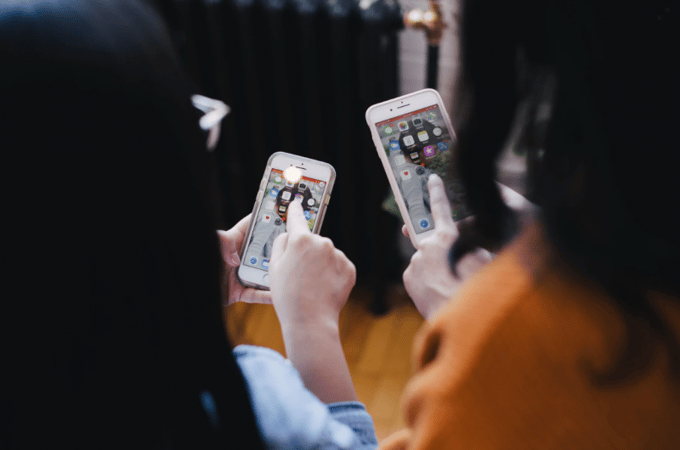 People know that a brand or an influencer's recommendations are ultimately biased and influenced by profit. Online reviews from regular people (well, the legit ones anyway), are typically uninfluenced by external factors and give a genuine, 'real' insight into the quality of the property, and typically, people tend to read 6-12 reviews online before making a booking.
"It's in our DNA to seek approval from our peers, to want to belong in a group, and to 'follow the pack.'" We have always done this, but living our lives online through phones and other devices accentuates the role of social proof ten-fold. Traditionally, Tripadvisor has been the holy grail of hotel reviews, but there's another Big Man On Campus comin' through: Google! Let's take a deeper dive into Google reviews and how they've quietly, yet steadily, become as important as Tripadvisor reviews, and impossible to ignore.
Why do I need to pay attention to Google reviews?
We're well aware of the powerhouse that is Google, and how the search engine has leaked its way into so many aspects of our lives and businesses. We bet a nice chunk of your monthly budget goes towards Google Ads for example, and for good reason. Since 2015, Google has seen the most dramatic increase in the quantity of reviews compared to other online review platforms, and it's the fastest growing at the minute. Google reviews are fully integrated with maps and search, too.
As it's by far the most used and trusted search engine currently, (its 2018 EU market share in search was 92.08%… #powerhouse), not only does its legitimacy make people trust the reviews, it also means people are physically seeing the star rating and review appear before them when they Google search your property. When someone Googles your hotel, they get served with your pretty little 'Google My Business' (GMB) box (which Google have been adding features to like there's no tomorrow) containing: your hotel's location, hours, phone number, reviews, website, rates and option to book. This is why it's so important to have correct info and flawless imagery that represents your property in the right way. First impressions are key.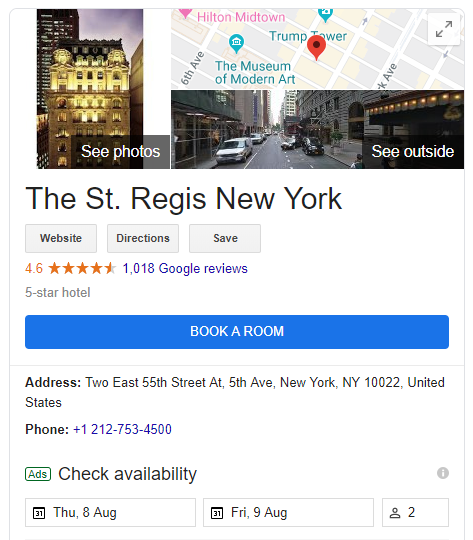 Size (and search) matters
Think of the sheer size of Google and its native integration into Android devices. These factors mean a massive audience and the ability to constantly prompt Android users to leave reviews of their recently visited properties. Google knows who's reviewing, too. Reviewers have to be logged in to leave a review and Google will trust their review over one from Booking.com or Tripadvisor, for example. To be fair, this does account for some authenticity, which other platforms sometimes can't follow through with… which can lead to frustration for you as the hotel provider, and also, a misinformed potential customer.
When it comes to search, is it any surprise that Google will favour reviews that are made on their platform? A positive review on Google will help you rank higher on the search results page, more than 3rd party platform reviews will. Positive Google reviews will also influence your Google map ranking more than other sites, too! That's just how they roll.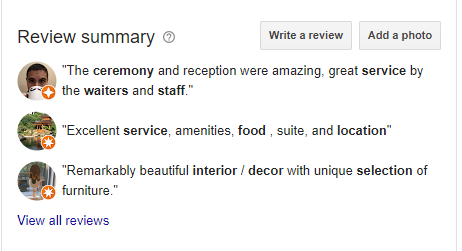 What about Tripadvisor?
Look, we're not saying it's to be sniffed at. While Google are consistently gaining the highest number of new reviews, Tripadvisor are still trumping Google reviews in terms of market share, take a look at how they compare:
Tripadvisor reviews aren't going anywhere, so we absolutely advise you to continue integrating, optimising for, managing and replying to them as normal. Some people will still prefer to leave a review on Tripadvisor and that's fine, there's room to consider both.
So what do I do about Google reviews?
Firstly… Optimise
We mentioned it earlier, and it might seem obvious, but try to ensure your property's basic details are right – this includes your address, phone number, business hours and types of payments accepted. Make sure everything links to the right place, too. Flawless imagery doesn't hurt either – your images say so much about your property, so add the right ones for maximum appeal.
Google are super speedy at updating features, so much so that it can be hard to keep up! Regularly log in to your GMB and see that your profile is 'complete' or if there is something that needs to be added or updated.
Don't forget about optimising for search – try and encourage keywords in reviews by asking customers to mention a specific service or product. This will be helpful when it comes to your rankings.
Asking for it
You won't get if you don't ask! Most happy customers are happy to leave a positive review these days. They don't live in a bubble – they're well aware of what effect a good (or bad) review can have on a business. They just need reminding! Personal touches always go a long way and have significant impact – if you're a small property, consider hand-written cards left in the rooms encouraging feedback.
You probably send a post-stay ezine? Make sure the focus of this is your request they leave a review with a very clear and easy path to follow. Creating any unnecessary barriers will hinder the number of people willing to participate.
And forgive us for being old school, but how about trying to ask people in person, too! Brief staff at your front desk to remind guests to print their (hopefully kind) words. Don't underestimate what a little human interaction can do.
Give them what they want – answers!
The Q&A section is another opportunity to engage with people and provide something useful to them. What questions does your property get often? Maybe you know yourself or you might need to ask around internally. Make a list and use them to help guests get a better understanding of your property and its surroundings. Who doesn't love a company service provider that aims to help?!

When it comes to responding to reviews, first thing's first – reply. Whether it's an issue that needs to be looked into or a glowing paragraph of praise, make sure to acknowledge it, for your benefit and theirs. Google notifies the reviewer when the business owner responds, by the way.
You're up the walls, we know – but try and respond to reviewers in 7 days or less. Particularly important when it comes to a less than positive review!