A hotel's inventory is its lifeblood. As the digital world becomes a more important part of the circulation of that inventory, dozens, even hundreds of technology solutions have been built to help hotels promote and sell their inventory.
There are two broad segments of companies that help hotels sell their inventory online:
Firstly, there are technology providers that help hotels drive direct bookings. This is a highly competitive and highly fragmented industry, comprised mainly of small- to mid-sized companies and a few big players. This index from Snapshot, who provide a cloud-based analytics tool for hotels, gives a good look at the number of players involved, although the list is not exhaustive. This competition leads to innovation, competitive pricing and differentiated products, all of which benefit hoteliers. Technology companies in this sector range from internet booking engine providers to PMS systems, channel managers, digital marketing solutions, rate checker tools, data analysis tools and much more.
The other major arena for driving online bookings is inhabited by online travel agencies (OTAs) and other third-party booking sites. OTAs have been aggressively consolidating over the past few years, and at this point there are only 2 major players in the market: Expedia and Priceline. You can find a non-exhaustive list of OTAs here. While the massive size of these companies allows them to put enormous funding into research & development and marketing, it also allows them to take a highly privileged stance in their relationships with hotels. This can mean high commission rates, rate parity clauses and little room for hotels to negotiate.
Of course, all of these providers want their fair share for helping hotels sell rooms. However, there are some technology providers who would prefer to take control over the distribution process altogether – direct bookings and third-party bookings alike.
OTAs have begun acquiring and offering their own booking technologies to hotels, and they are marketing these aggressively. These systems include internet booking engines, rate comparison tools and even websites, all provided by the OTAs.
Priceline is selling this technology via BookingSuite, a company owned by Priceline that sells websites and booking engines for hotels, along with revenue management services. BookingSuite is offering hotels a "free" site under the condition that all bookings through it will be charged a 10% commission.
Meanwhile, Expedia-owned Trivago has recently acquired Base7Booking, which is a cloud-based PMS system.
Why is this happening? What do these systems have to offer OTAs, who already make high margins through their usual products? Is it simply a new revenue stream (with lower profit margins), or are other motivations in play?
Why Are OTAs Getting Into Hotel Technology?
These new offerings from OTAs are being called a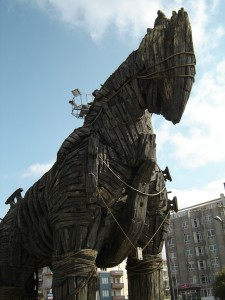 Trojan horse by some in the industry, and we tend to agree. There are, as Mike Ford of Siteminder points out, more lucrative targets for OTAs to focus on. Also, hotel technology certainly isn't always a "core strength" for OTAs.
Here are a few possible motivations for OTAs offering these services, which are typically difficult and expensive to develop, and lay outside an OTA's main capabilities:
Control of rates and offerings:
Inventory Access
Ford speculates that one strategy the OTAs might have in providing distribution and marketing tech directly to hotels is "they are attempting to gain greater control of the supply chain from the hotelier level, by isolating the inventory feed to themselves and therefore controlling price parity."
With the recent legal changes in France and Germany and the inquiry into OTAs commission by the British House of Lords, OTAs are facing an international downswing in support for their rate parity clauses.
These offerings may represent a kind of back door for OTAs: if they have access to all of a hotel's rates and availability, they can make it very difficult for a hotel to offer lower or different rates to those on an OTA site.
If an OTA owns and provides your property's internet booking engine and PMS, they gain "ongoing and in-depth access" to your inventory, revenue and pricing information.
Marketing Opportunities
It is possible that BookingSuite will be able to tag visitors with cookies to the sites they're offering hotels. Then, they would be able to retarget them with Booking.com offers. BookingSuite's privacy policy allows them to use cookies from themselves and third parties for various purposes.
BookingSuite declined to comment on this when asked by Regatta Travel Solutions. Given this, their Priceline ownership, and clauses that specifically allow for third party use, hotels should think twice before taking up their offer of a website with 10% commission. In addition to the potential conflict of interest, there are better offers for lower costs available on the market.
Limiting Rate Intelligence
One OTA is offering a "free forever" rate checker tool. This is a comp-set rate checker tool, distinct from the price check widgets provided by independent technology companies.
Price check widgets, pioneered by Triptease, are simple tools that are placed on a hotel's website. They allow hotels to display their rates across different OTAs and on their own site, so guests can see immediately whether they're getting the best deal. Some of these tools, like Paraty Tech's Parity Maker and Travel Tripper's Rate Match Tool, allow the price on the hotel's website to be automatically adjusted to match or beat the lowest price if it isn't already the best price.
These tools are designed to encourage direct bookings and keep guests on site – understandably, most OTAs disapprove of hotels using them. A recent example of the tension came with the flare up between Booking.com and Triptease.
However, the tool OTAs are offering is a comp-set rate checker tool, which only shows rates of the hotel's competitors, and only their rates on that particular OTA. It also withholds rates from the hotel's own website. There's nothing to discourage guests from shopping around on other OTAs, but also nothing to promote direct bookings, which of course is sensible from the OTA's perspective.
Ford points out, though, that this rate tool "naturally makes hotels less likely to adopt other independent rate intelligence tools," including ones that would let a hotel see if its direct rates were being undercut by OTAs. While this might not be wholly accurate, as rate checker tools are distinct from price check widgets, there is enough overlap for concern.
If this rate intelligence tool does discourage hoteliers from using price check widgets, it will limit the information hotels and guests can access. If, however, it's used alongside price check widgets on hotel sites, it can be seen as a positive or at least neutral offering.
Conclusion
Regardless of an OTA's intention in offering a booking engine, rate checker, PMS or other tool, there is certainly a conflict of interest. What is in a hotel's best interest is not always in an OTA's best interest, although there is room for compromise. Instead, hoteliers should cultivate a distribution strategy that spreads over several channels, setting and changing rates on each as needed.
Properties shouldn't tie themselves to one distribution channel, especially one that has a vested interest in raising commissions as high as possible. Ultimately, hotels must resolutely keep control of their rates and inventory.
Words By Taylor Smariga