OTA Booking.com is turning off BookingSuite later this month. BookingSuite is a platform with an array of tools and services for accommodation providers.
In May, the company announced that WebDirect, BookingButton, RateIntelligence and ChoicePro will be discontinued from November 30th – less than two weeks away.
A Booking.com representative said they are ending support for the platforms because they want to "continue to deploy resources toward our core business and invest in our long-term strategy."
We're here to help! If you were a BookingButton customer, we've got everything you need, and you can try it all our for free with a 90 day digital transformation trial. As part of this trial, you'll have access to our top products and features such as:
Award Winning Booking Engine
Website Builder
Hotel Gift Vouchers
Heat Map Analysis Report
Website & Booking Engine Exit Intent Poll
Free Onboarding & Support
Website SEO Site Audit
Key features of our booking engine include channel manager connectivity, secure online payments, discount codes, enhancements and more. Learn more about our award winning booking engine here.
Don't just take it from us – have a read of our booking engine customer reviews over at Hotel Tech Report!
It's really important to be aware of all the features your booking engine should have, in order to make sure you maximise bookings in 2021. With that in mind, we've compiled a few pointers to be aware of while considering providers.
What is a booking engine?
A booking engine is a software application that secures online reservations.
According to The Global Online Accommodation Booking Market 2018 report, nearly one-half of hotel booking revenues will be made online by 2022. With such an increase in online bookings, a booking engine is a basic necessity for even the smallest of hotels!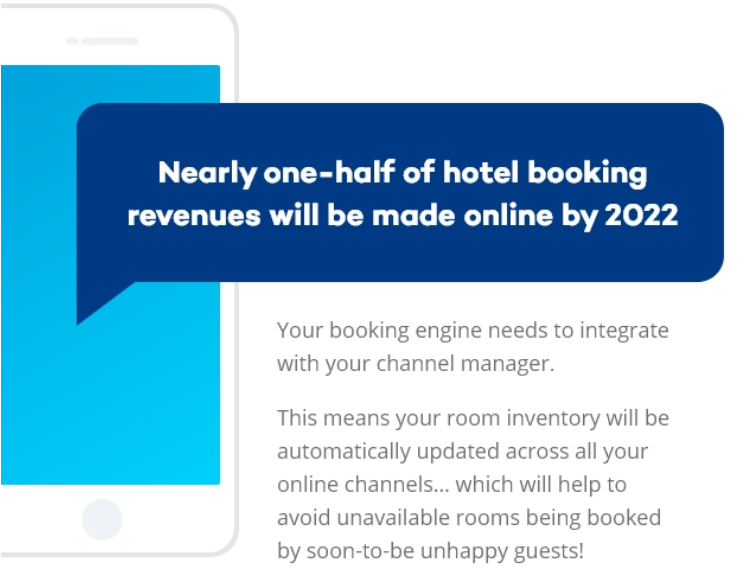 Integration with your channel manager
To prevent unavailable rooms being booked, it's crucial that your booking engine integrates with your channel manager. This means your room inventory across all of your online channels is automatically updated.
Compatibility with mobile & social media platforms
According to our latest device trends report, mobile traffic share is currently at 75% and mobile revenue is at 56%. Mobile will continue to grow rapidly as a booking platform, so you must ensure your booking engine works seamlessly on mobile. Bookings will be lost if it doesn't.
Flexibility in relation to your hotel's needs
Your hotel has needs. Is your booking engine meeting them?
To figure this out, ask yourself a few questions like:
Does your booking engine display the languages your guests speak and the currency they pay with?
Do you see success with voucher sales?
If so, does your booking engine provide online voucher redemption?
Data collection
Your booking engine should provide you with transparent, in-depth insights into your hotel's performance. These insights should include direct conversion rates, bookings via desktop and mobile, average length of stay (ALOS), and revenue from packages and promotions.
Features to help you build guest relationships
The more your guests get to know you, the more likely they are to stay with you again! Building strong, personal relationships is a necessity for you to drive direct bookings, and your booking engine should enable and empower you to create these through email.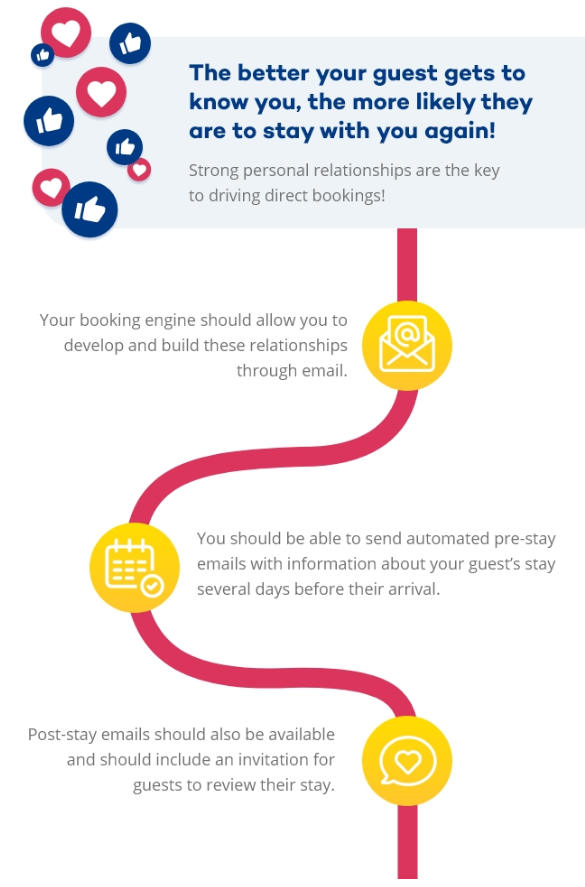 Secure payment
Your booking engine's payment process should be fully PCI Compliant. Keeping your hotel and guests safe needs to be your first priority.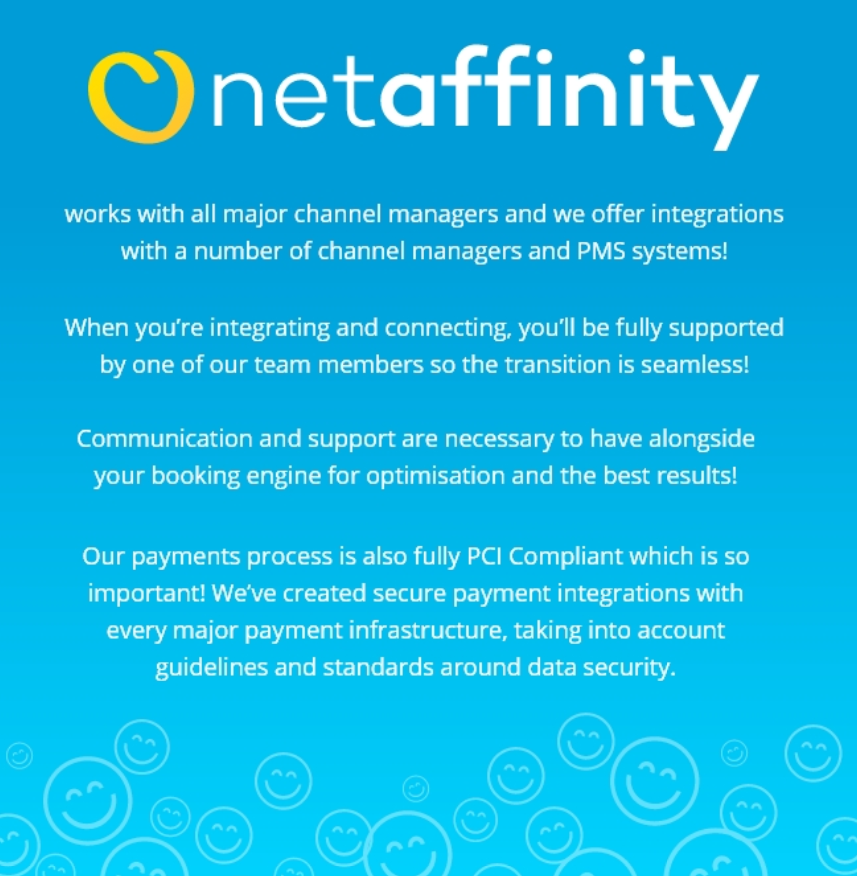 We'd be delighted to hear from you if you have any questions. Send us a mail at hello@netaffinity.com if you'd like to chat.