The time has rolled round again! Tis almost the season, and that means Cyber Weekend is around the corner. Consisting of Black Friday and Cyber Monday, Cyber Weekend has become a tradition as part of which brands hold a selection of impressive sales and spenders take the opportunity to buy their Christmas gifts – and whatever they're having themselves. It may have begun in America, but it's swept its way across other parts of the world in the last few years. In Europe, UK shoppers are the most aware of Cyber Monday, with a share of 89%, followed by shoppers from Germany (86%), Spain (85%), Italy (80%), Netherlands (70%), and Sweden (69%).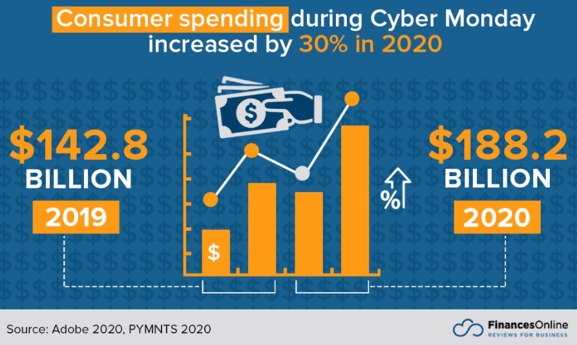 Cyber Weekend sales are not dropping – in fact, they're increasing year on year. Consumer spending on Cyber Monday increased by 30% in 2020. What's more, small businesses had a 501% increase in sales on Cyber Monday 2020 – there's truly enough to go around.
Listen to our podcast about prepping for Cyber Weekend
Where hotels are concerned, Cyber Weekend is an ideal opportunity to increase occupancy during low periods and shoulder dates, and increase voucher sales. This year, Black Friday falls on November 26th (around the time many people will be getting paid… handy). If you're planning on getting involved, it's time to start prepping your offer and surrounding campaign. If you are planning on running a Cyber promotion this year, now is the time to start putting your strategy in place to ensure you are prepared.
Start preparing
There are so many brands fighting for attention over Cyber Weekend. That's why a truly valuable offer is absolutely necessary to see any kind of interest or success. Typically, we have noted in the past that hotels who ran simple offers with a significant discount and few restrictions performed the best. Costs for ads tend to increase 2-3x over Cyber Weekend, so if you can't offer a discount of 25% or more, it's best not to put any campaign spend behind the offer.
On the other hand, if you can in fact offer this kind of discount, here's how to get your campaign together:
Agree on your offer
Like we said, offers that do the best are generally advertising a discount over 25%. Agree on what you can offer and go from there
Set up a marketing landing page
A landing page is created for a specific campaign with the goal of converting visitors to customers. Unlike web pages, landing pages typically don't have external links or navigation to other pages and their specificity is what sets them apart.
Setting up a landing page for your Cyber Weekend offer is the perfect way of holding all the clear and concise information a guest might need in one place – and every element of your message is important as your copy and visuals will be what reels people in for more.
Learn more about setting up a landing page here
Organise an email campaign
Cyber weekend is not only a strong weekend for sales – it's also a brilliant time to build on your email database. Building up an email database is a great way to keep return guests coming back and to build loyalty over a longer period of time.
Start by running a teaser lead generation campaign on Facebook from November 19th – 24th, with the view of enticing potential guests to sign up and receive their Cyber Weekend discount in advance.
We recommend you also consider automating a series of Cyber weekend-focused emails to both your new and existing email database to create a bit of build up around the offer. Using exclusivity prompts in the subject line like "Limited time only" or "72 hours only" is a smart strategy that will help to create a sense of urgency and will hopefully entice more people in.
Here's how utilising automation can help your hotel staff
Consider mobile
We noted that mobile delivered 64% of transactions over Cyber weekend in 2020 and delivered 60% of revenue! These figures will only continue to increase, so it's crucial for you to check and double check your website on mobile including any content or rate plan updates, to be sure the user experience is perfectly seamless.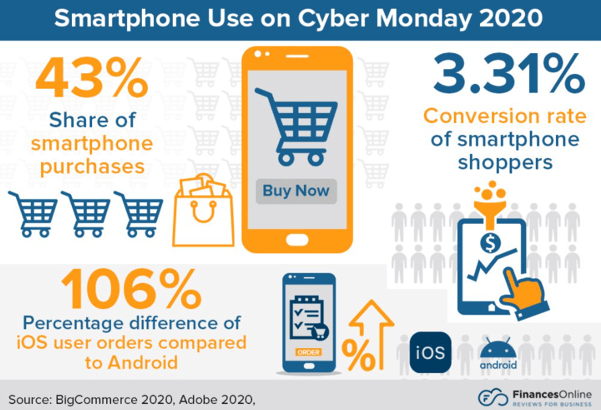 Don't forget social and Google ads
If people can't see what you have to offer, it won't sell – no matter how good it is! 36% of all of November's social revenue in 2020 was delivered over Cyber Weekend. Consider that when you are putting your offer together and deciding on copy and visuals. It's so important your campaign elements are strong and eye-catching – and that you have your offer out there well in advance of November 26th. We recommend running a teaser lead generation Facebook campaign to capture the attention of anyone doing their Cyber offer research.
In relation to Google ads – as well as updating your brand campaign sitelinks and adding a promotion extension, we recommend running display remarketing ads using strong and eye-catching visuals with a clear, simple message.
Log your key campaign dates
November 19th – 24th
Teaser campaign with lead ads on Facebook to increase database
November 25th
Email to database with early access to the sale 1 day prior to the public. Teaser ad on Facebook – "coming soon"
November 26th – November 29th
Google Ads sitelinks, promotion extension, remarketing and Facebook remarketing & prospecting
Sign up to our blog for weekly trends, insights and the latest goings on in the hospitality industry.