As hoteliers, we are constantly fighting the battle of driving more direct bookings. After spending substantial budgets on driving website traffic, the last thing you want is for someone to abandon at the last hurdle.
Unfortunately, last-minute abandonments happen for most hoteliers, with numbers in the range of 81% abandonment often quoted.
The first step towards shrinking that number is jumping into the mind of the consumer. Your potential guests are familiar with the idea of using multiple touch points, multiple devices and visiting multiple websites before making that final purchase.
The challenge for the independent hotelier is clear: to drive as many users through your booking funnel as possible, without losing them to one of those other touch points or websites.
Here's the fix: for those who abandon, use re-targeting to give yourself a second chance and bring them back.
Let's get started.
What exactly do we mean by Booking Abandonment?
In the hotel industry, booking abandonment is an e-commerce phrase used to describe a user who shows an interest in making a booking, but leaves the booking funnel before they finish the booking. In mainstream retail and e-commerce, this is called 'cart abandonment'.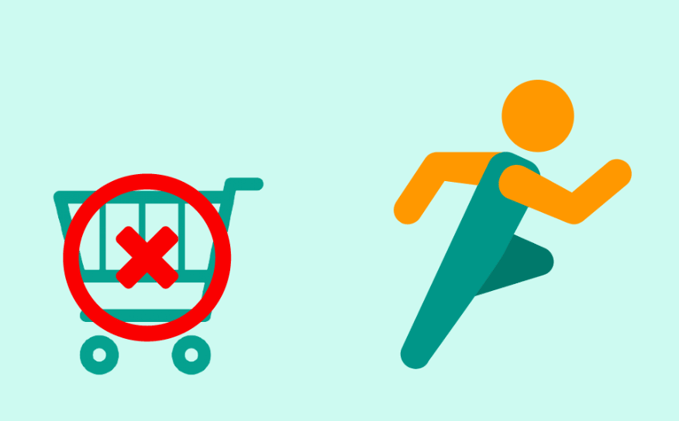 A study conducted by Millward Brown for Expedia found that in the 45 days lead up to a booking, a consumer will conduct as many as 38 visits to travel sites. Knowing when and how to engage with these users is crucial to driving direct business. With so many touch points, booking re-targeting techniques can be the 'golden nugget' in converting the user at a time when they are swamped with choices.
Before I explain the re-targeting techniques used in today's world, I wanted to firstly share some key findings which are taken from a study conducted by SaleCycle. The study found that 81% of users abandon a travel booking. Here are the top reasons why:
39% said they were 'doing more research'
37% said 'Price too high'
21% needed to 'check with other travelers'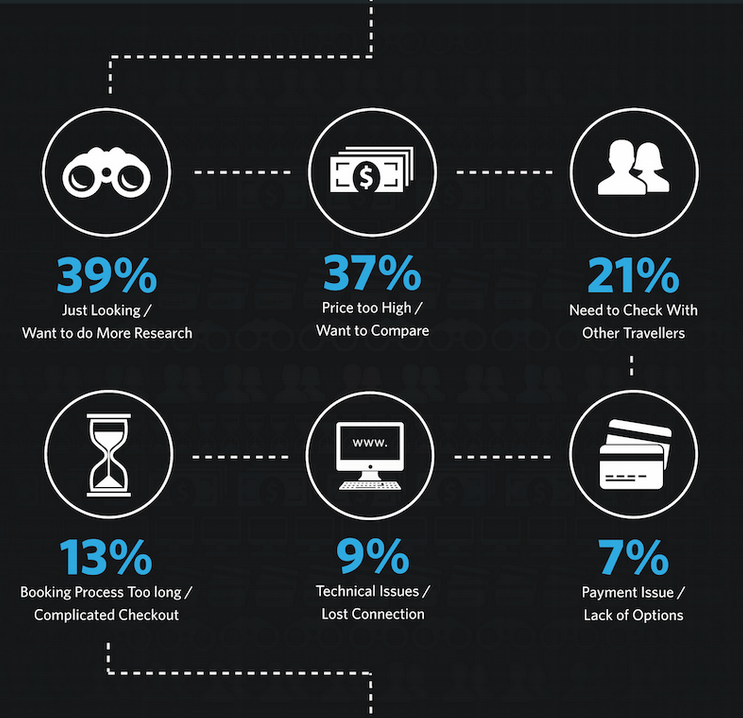 If your guest leaves your booking process for one of these reasons, it is highly likely that they will end up completing a booking either at your property or a similar one. However, the channel they decide to complete this booking on is still up in the air.
Re-engaging with these guests though retargeting techniques is crucial in ensuring the user chooses to complete this booking directly with your hotel's brand site.
Yes, revenue management factors such as rate parity and availability parity come into play in securing direct bookings, but that's a whole other conversation for another day.
Re-Targeting Techniques used to re-connect with Abandoned Guests
There are a number of re-targeting techniques used by e-marketers worldwide, but for today's discussion, we'll deep dive into something I call the 'Retargeting Trio'.
The Retargeting Trio are three techniques which can work in tandem to re-engage with the users at different touch points through your booking funnel and achieve the end goal of more direct bookings. Sounds good, right?
Here's how they work.
The Re-targeting Trio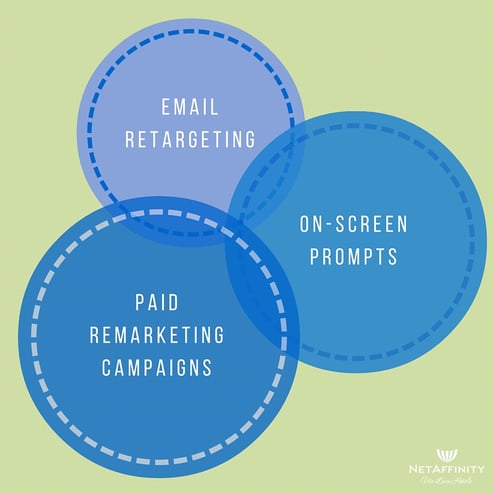 1. Paid Remarketing Campaigns: The technique probably used most frequently by Hoteliers is remarketing.
Well-known paid advertising platforms like Google and Facebook offer the ability to re-engage with users, using either cookie lists or email identification. There also some well-known third party platforms such as Ad Roll which specialise in the area of re-targeting across various platforms.
The concept of remarketing was first launched about 5 years ago, and has grown from strength to strength ever since.
The method of remarketing can be used to re-engage with users who enter your goal funnel, but abandon without completing the given goal. The goal, in our case, is a hotel booking.
Remarketing adverts give you the chance to keep your hotel in front of the mind and eyes of your indecisive guests.
Here's an example: Imagine that, as a consumer, you decided to book a hotel and go through the online booking process, but for one of many reasons you didn't complete this booking—maybe you got distracted by a different site, or decided to wait to book until later.
Sounds familiar?
How about if, over the next 7 days, as you browse the web you're shown adverts for the hotel you almost booked, or you see an advert for the hotel in your Facebook Newsfeed? You'd be more likely to return and book, wouldn't you?
Well, this is why re-marketing works. It brings people back into your booking funnel.
In fact, we at Net Affinity are yet to see a hotel where re-marketing doesn't perform.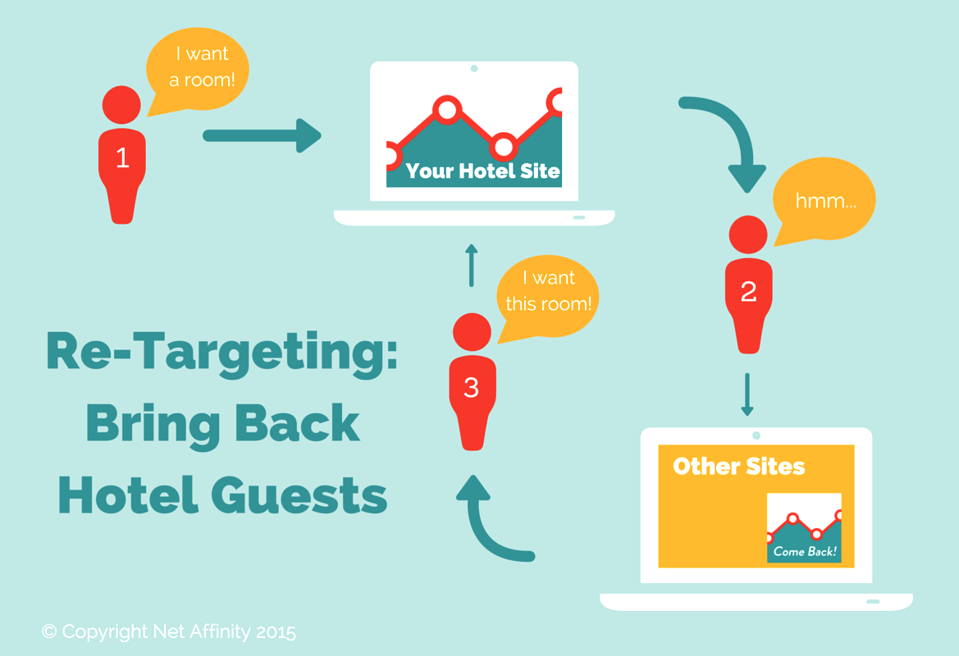 A note of caution: you'll want to make sure you've got frequency caps on your remarketing ads. This makes sure people aren't seeing them too often and feeling harassed or followed. Our recommendation would be a maximum of 3 impressions a day, but there's a little flexibility there depending on your business.
2. Re-Engaging through Email:
Capturing the email address of a user within the booking funnel can be a significant advantage and, when used correctly, email retargeting techniques can return pretty impressive conversion rates.
Ideally, the email address of your guest is captured as early in your booking process as possible, so that in the event of an abandonment, you can use this information to re-engage with your abandoned guest.
Since introducing this capability with Net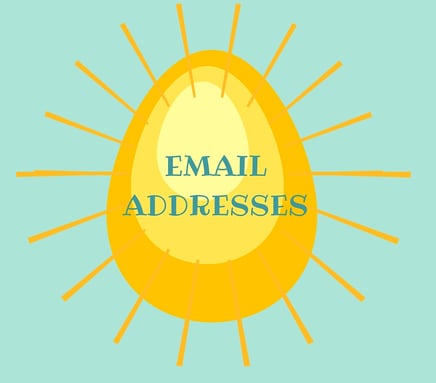 Affinity's Booking Engine Solution, I now refer to email addresses as the 'golden nugget'. Not only do you have the guest's email address, but you also have information on the booking they were about to complete, like the date and room type.
With this information you can re-engage with your guest via email, encouraging them to return and complete the booking.
In my passion to find the 'secret sauce' for email retargeting, I have come across some hotels being really creative with this process. Some hotels offer guests an ''exclusive' offer to encourage them to return and book, for example. Offering a discount code within this communication is also an option. If you weigh up the fact that, without a discount, you might have lost this booking completely or lost the booking to another channel such as booking.com, it's a win/win.
It doesn't take rocket science to figure out that offering a '5% off' promotional code is more cost effective than paying 18% for a booking through an OTA.
So, does it work? (That's a silly question)
YES – Clients using the email retargeting solution within our booking engine have recorded average conversion rates of 16%, with a quarter of clients reaching a conversion rate in excess of 30%.
(*Conversion: Emails sent to bookings completed. Based on statistics from September 2015)
Here's an example of an email re-targeting template sent to users who abandon the booking funnel: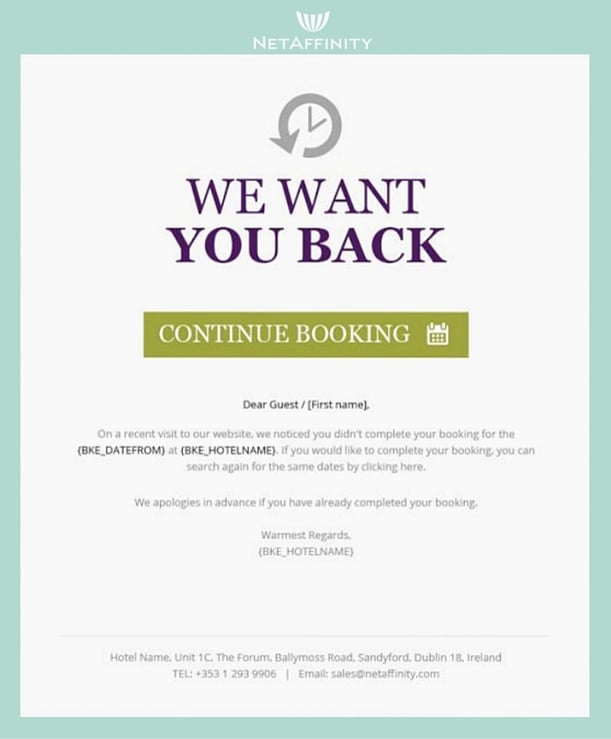 On-Screen Prompts.
On-screen prompts are the marmite of re-targeting techniques. Users either love or hate them. Nevertheless, this technique does and can work, so they make the list for the Re-targeting Trio.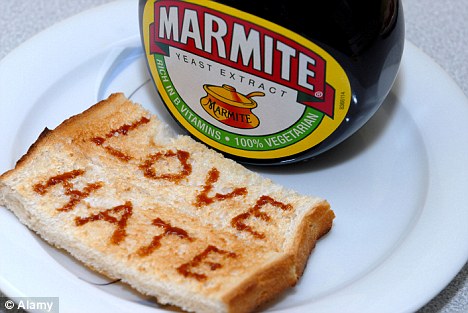 On-screen prompts can be shown to users based on 'exit intent' or 'page inactivity'. For example, you can present an on-screen message when a user exits the screen. This message can act as a last minute prompt, and encourage users to remain in the booking funnel.
Simply re-enforcing a 'book direct' message can keep people with the booking funnel and drive stronger conversion rates.
Creative minds can have fun with this technique, leading the guest into different elements of the website or offering 'secret X% off' codes.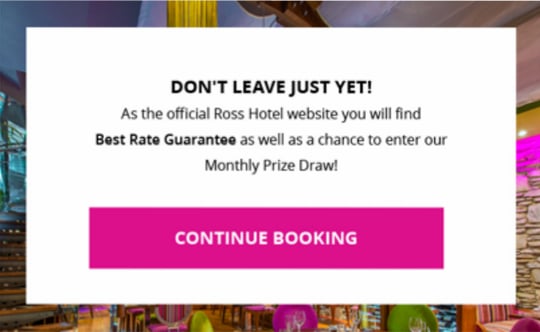 Outside of the 'Retargeting Trio', there are two additional features which, done correctly, can have a positive impact on funnel abandonment rates.
Live Chat:
One issue users can have when the book online is a disconnect from someone who can answer their questions in real time, with precision.
Depending on the demographic of your guests and their specific needs, this may have an impact on your funnel conversion rate.
For example: If your hotel relies heavily on family business, you probably get lots of weird and wonderful questions about room configuration, family facilities etc. Being able to answer these questions through real time chat adds a layer of reassurance for the guest and has been proven to improve your funnel conversion rate.
According to a study by BoldChat, live chat is more appealing to web-users when it comes to seeking specific information. The BoldChat survey found that 63% of consumers were more likely to return to a website after live chat, with 38% saying they had completed a purchase after engaging with a live chat session.
'In-funnel' Price Widgets
Widgets such a Price check by TripTease and Booking Direction can reduce funnel abandonment by adding a layer of reassurance for your guest.
Example: The Price Check Widget by Triptease presents real time OTA prices and compares them to your best available rate. This widget is styled into your 'own site' booking templates and appears to the right of your search results.
Not only does this save the consumer valuable 'shopping around' time, it also reassures them that they are getting the best price.
As a result, you have a more confident booker who is more likely to proceed through the booking funnel.
In a recent TripTease blog post, they shared some interesting statistics of how its tool is influencing the booking funnel:
"Since implementing Price Check, we've seen a marked increase in bookings coming through our website. It just works. We saw our booking page exit rate fall by 25% in the first month and have continued to see more direct bookings month on month."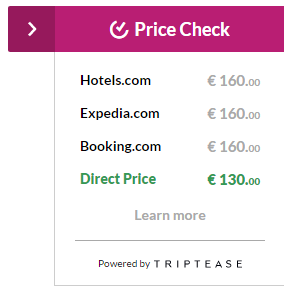 I predict such tools will quickly develop a strong presence within 'own site' booking engines. After all, there is an active army of hoteliers and marketers on a mission to cut hefty commission costs and drive more direct bookings.
Conclusion
Completely understanding your customer's journey is a puzzle that continues to challenge hoteliers and digital marketers on a daily basis. The puzzle is particularly tricky when it comes to driving as many guests as possible to complete a booking on your own brand website, rather than an OTA or a different option.
The reality is that there are multiple factors that influence whether a customer will complete the final booking. These factors take place both on and offline, across multiple devices, on multiple platforms and over an unpredictable period of time.
However, from the knowledge we do have, there are techniques and tools that can be reliably implemented to consistently help improve the flow of customers through your booking funnel—and to drive customers back into your booking funnel if they abandon.
Ultimately, your goal is to improve the conversion rate of your booking engine and, even more importantly, put more dollar in your till and less in the hands of others.
Have you used retargeting techniques to cope with booking abandonments? What kind of results have you seen?