Revenue management is fundamental to a well-run hotel. It's the way hoteliers manage rates, inventory, and distribution in an effort to show the right room to the right guest at the right time at the right price. Here are 5 ways that you can use revenue management techniques specifically to build direct bookings.
The recent drive to push bookings directly through a hotel website comes from a few places. Firstly, managed with proper revenue management, direct bookings are more cost effective than third party bookings. This brings in higher profit margins for your hotel.
Secondly, when you control your direct bookings, you control your online presence. This gives you more leverage with third parties, like OTA's, and keeps your guest relationship under your control.
Finally, by building that guest relationship after a direct booking, you can upsell the guest, gain their loyalty, and increase their lifetime value.
Here are 5 ways to achieve all that with your revenue management toolkit:
1. Manage & Evaluate Each Channel
Channel managers make it easier to manage your presence on multiple channels, but it's performance and net gain that counts. Make sure you're looking at channels' performance over time. Do you get huge numbers of bookings from one during high seasons, but practically none during low?
Can you drive those same bookings at a lower cost from a different channel?
To critically evaluate each channel, good revenue managers encourage the team to look at the facts, not their feelings. 'Liking' a certain channel means very little when you discover that you get a huge cancellation rate from that channel, or that guests who book through that channel almost never book again. Figure out which channels yield your most valuable guests.
2. Plan for the Future
Focus your team not only on historic data, but on looking forward with current direct booking trends on site and in the industry.
Pace reports are a great way to unlock hidden revenue, and to tell you when you can expect certain trends. They show you "the rate at which reservations are made for a particular date." They help you measure swells of demands for particular days and months far in advance, and let you plan for the future.
Use your pace reports to help you plan your book direct strategy. Is there a particular time you'd really like to push direct bookings? Can you offer a tailored incentive to book direct for those dates? For example, if a particular annual horse race always draws a large crowd, could you offer a free commemorative pin or small glass for that race to guests who book direct?
In addition to these reports, use benchmark reports to look beyond your own hotel's performance! How are your competitors doing? Is there a way you can do what they're doing, but more successfully?
3. It's Not All About the Price
Hotels are seeing success with loyalty schemes, but revenue managers must be aware they're cannibalising bookings that might have gone for a higher rate. Long term, RMs will know properties must be judged on value – not simply discounts.
Be certain that the value of your loyalty program goes beyond points or discounts for your guests. Try to delight and surprise guests who are part of your loyalty scheme. For a brilliant example of an independent group's loyalty scheme, take a look at Kimpton Hotels' Karma Rewards program. Make sure that the cost of the rewards you offer for loyal guests are lower than the profits you expect to make from their repeat bookings!
4. Focus on the Customer
What are the compelling, unique benefits for guests booking direct? Are they clear from the moment a guest lands on your homepage, or even reads your paid search ad? Your book direct message must be part of your overall marketing message.
Consider adding a clear list of reasons to book direct near your Book Now button on your website. The placement and explanation of Book Direct benefits is key.
Here's an example of the book direct message Net Affinity offers for our clients: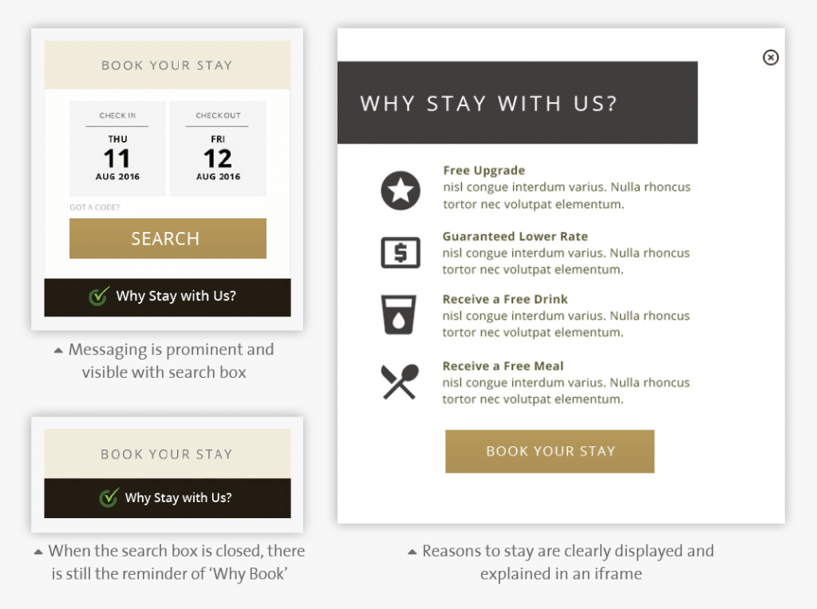 Follow through on those benefits. Make them clear in your rateplan description as well.
Here are a few good examples of benefits you can offer for customers who book direct:
Free breakfast
Early/late check in
Free item on arrival
Free upgrade
Access to a lounge club, spa, etc.
Something unique to your property
Load ample availability on your own site, keep pricing clear and simple, and don't overload on available tariffs – the more choice, the more confusion.
5. Accurate Booking Insights for Every Channel
Revenue managers should examine every aspect of your online channels. Look at:
Demand patterns
Booking pace
Cancellation pace
Overbooking status
Accurate insights let you understand the true value of each channel and how to leverage that value. For example, you may want to offer less inventory during high periods to a channel that gives you a lot of bookings, but compensates with a very high cancellation rate for those dates.
You can only understand the role you want direct bookings to have in your strategy when you understand your performance on every channel.