The Client:
Situated right there on the sprawling, picturesque Salthill promenade, 4 Star Salthill Hotel overlooks beautiful Galway Bay, where in the distance across the water, you can just about make out The Burren in neighbouring County Clare. It boasts contemporary décor, spacious rooms, a fully equipped gym and leisure centre, along with state of the art facilities for conferences and corporate entertainment. It's got it all. The sophisticated décor and luxurious, airy rooms make it the perfect base for anyone visiting the west of Ireland, whether they be travelling for business or pleasure.
The Brief:
There's no doubt that this stunning hotel has a lot to offer, however, it was the Salthill Hotel team's ambition to shift their business from OTAs towards direct bookings on their own website. Together, we all worked closely towards increasing revenue and driving a greater proportion of this revenue income from direct bookings.
The Approach:
A 'book direct' strategy was carefully constructed by combining the talents and expertise of our eCommerce team with Salthill Hotel's internal team. The finalised strategy analysed the business through all of the hotel's existing channels and resulted in a number of initiatives being implemented, one of which was a roll out of a competitive discounted rate for those booking via the hotel's own website. We also removed the booking deposit and introduced a Bed & Breakfast rate which was only bookable via the website. The hotel team implemented a strict management of allocation of availability on the OTAs.
The Results:
The Salthill Hotel saw brilliant results upon moving their booking engine over to Net Affinity. In fact, their direct booking rate has flourished, increasing by an incredible 73%.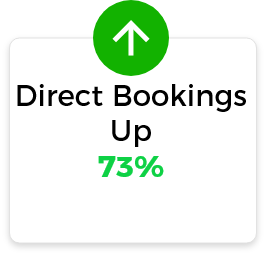 The Feedback:
Salthill Hotel Sales & Marketing Manager, Caroline Spollen, says: ""Working with Net Affinity on this project felt very collaborative and easy. The results we've seen thus far speak for themselves and we're excited to continue seeing success together."
Interested in learning more about any of our products or services? Get in touch!