We can hardly believe it's time for a 2022 trends piece already, but here we are.
As the western world continues cautiously down the path of recovery, we've been keeping a close eye on what recovery means for the hospitality industry going forward. Certain global concerns were impacting our industry pre-Covid (ethical travel, climate change, impact on the environment) and when we look at guest feelings, habits, patterns and concerns since travel has opened up, it seems Covid has magnified those issues and brought them forward so that no-one in the hospitality industry can feign ignorance.
Read what our hospitality trends were for 2021
From sustainability to staycations – from a greater focus on experiences to increased importance in relation to tech, the key hospitality trends in 2022 as we see them are all focused around a new kind of guest, a more mindful one – a guest who is placing good times and experience over anything inauthentic. As you read this piece, we encourage you to consider throughout – how can I enhance my guest's experience? By letting all of these trends sink in, and implementing what you can, you will work towards this enhancement, and will not get left behind in the dust of 2021.
A focus on experience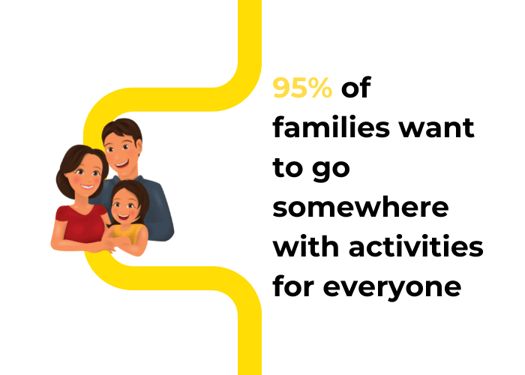 Experiential travel will continue to be all the rage in 2022. The precious time that we've lost has really hit home for the majority of us who are lucky enough to be able to go on holidays, and it seems that people will be placing an emphasis on sharing experiences together well into 2022 and beyond. This means highlighting partnerships with local businesses that allow you to provide experiences – unique or otherwise. It could be outdoor activities like kayaking or surfing. Perhaps it is a local food and wine trail. Maybe it is a yoga retreat. Whomever your audience is, be it families, couples, retirees or digital nomads/workationers, consider the emphasis on experiences when you are crafting your 2022 strategy and packages. Which brings us to…
Staycations – we think they're here to stay
August was another strong staycation month
Although many of us might identify as globetrotters under normal circumstances, lockdown has given us a newfound appreciation for our own countries (and even our own localities).
Domestic spending growth is set to experience a year on year rise of 49% in 2021
While of course it was the only option, the limitations allowed us to travel within our own countries and enjoy the endless treasures they had to offer. Domestic travellers have had pleasant experiences doing this and have perhaps realised how easy it is to holiday locally. They're also eager to support local, and to go away with friends and family – something that is logistically easier to do without getting on a plane. Having said that, international travel is of course on its way back, too – it's slow to recover, but it's getting there. With so many people having nothing to spend money on for essentially a year and a half, 'revenge spending' will continue into 2022, as travellers plan trips overseas they may have missed due to Covid or book to make the most out of their spare cash and thirst for experience.
The UK could see Travel & Tourism's contribution to GDP rise by 53% in 2022, resulting in an additional £66 billion to its economy
Workationers are here to stay
With an estimated 47% of people working remotely post-pandemic, it would be silly to disregard workationers in 2022. In fact, workationers have only gotten started.
Being given the ability to work remotely means many of your guests will be able to either tack on a few days either end of their holiday, and also means they could decide they need a change of scene entirely while they see out their working week, and so they book a few days or week away. Always consider this type of guest when you are crafting your packages going forward, and in fact, it will do you well to create a package specifically for them. Entice this cohort by talking about your facilities that will enhance their working day, and include treats for them to avail of during their precious downtime.
Sustainable travel
To be in line with the Paris Climate Agreement, the global hotel industry will need to reduce its carbon footprint by 90% by 2050
A study led by Southern Cross University in 2019 showed that 93% of people surveyed indicated a general concern for the environment. As well as this, 77% said they wanted to learn how to live more sustainably. Like we said earlier, Covid has accelerated people's awareness of and need to take part in travel that is more sustainable – recent research from Expedia Group showed travellers surveyed want to support sustainable practices, with 59% willing to pay higher fees to make their trip more sustainable.
As a business, it's so important both for the planet and for your customers that you continue making steps towards sustainability. You will save money by becoming more sustainable, given the fact that it should involve reducing your energy and water consumption.
Mobile technology
Mobile technology bridges the gap between the customer and the hotel itself
We have seen exponential growth in mobile performance across revenue and traffic over the last year. During the summer, mobile revenue contributed 60% of all revenue and mobile traffic came in at 77%. With so many people viewing and booking your hotel via mobile, it's crucial you invest in the right technology that will allow your guest's experience to be as seamless as it would be on desktop – even more so if possible!
Our award winning booking engine is mobile-optimised
In 2023, it is projected that there will be over 295 million mobile internet users. Currently, approximately 83% of the US population are mobile internet users. Give them a flawless booking experience or lose potential guests at your peril.
As well as mobile, using smart technology products to personalise your guest experience will be crucial. Think things like email, pre and post-stay.
About 91% of consumers are more willing to consume products by brands that provide relevant offers and recommendations
Other smart technology will also be helpful in enhancing the guest experience. Things like offering wifi throughout your property, contactless check-in (via mobile), making your rooms 'smart' rooms with the likes of voice-activated controls and casting devices that will bring guest convenience to another level!
Sign up to our blog for weekly trends, insights and the latest goings on in the hospitality industry.