Amber Springs Hotel is a beautiful family-run 4 star property located in gloriously sprawling Wexford, just a 5 minute walk from the main street of charming town, Gorey. Full of the warmth and friendliness you only get in a family-run hotel, it's no wonder they were voted as one of Ireland's Best Family Friendly Hotels. Amber Springs is only a short drive from miles and miles of sandy beaches.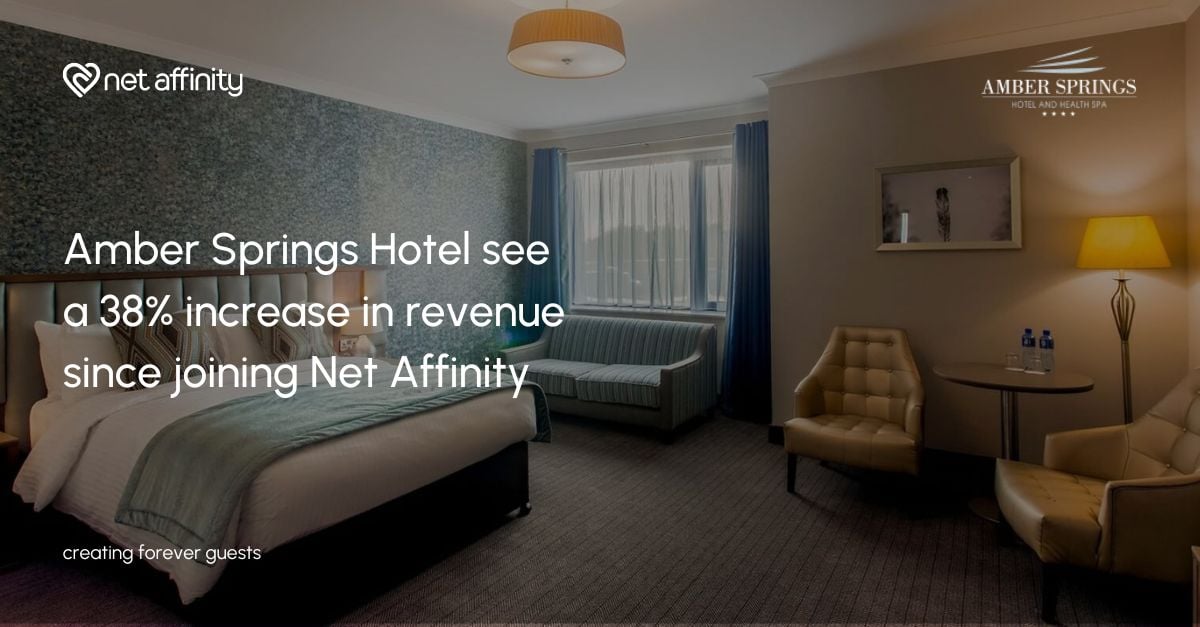 Spacious, comfortable rooms are built for singles, couples and families. Award-winning cuisine is served from their multiple restaurants, dishes are prepared using organic and locally sourced produce where possible, some of which is grown naturally and nurtured on their own Redmond Family Farm not far from the hotel.
Our relationship so far
We have worked with Amber Springs Hotel since March 2022. From the beginning, the relationship between ourselves and the team in Amber Springs has been so positive and intuitive, given our shared love for the hotel, understanding of the objectives at hand, and the determination to reach our set goals. Organized and regular contact mean strategies and action plans are always on track.
Maeve Walls, Senior e-Commerce Manager at Net Affinity says: "Since coming on board with Net Affinity, it has very much been a collaboration between the two teams, a great openness to ideas and sharing information. There's been a clear and simple goal of growing the website business from the start. The results to date speak for themselves, and for myself, I am lucky to work with such a hotel. Onward and upwards we go."
Our shared goals and objectives
Our booking engine is the newest technology on the market. Using this feature-rich, lightning fast piece of technology, alongside our award-winning website and marketing services, the collective objective was to grow Amber Springs Hotel's direct business as much as possible, and to increase their marketing activity – which in turn would increase general brand awareness.
Net Affinity rank #2 Best Hospitality Digital Marketing Agency Globally in the 2023 HotelTechAwards
What are the results?
Since March 2022, Amber Springs Hotel have seen strong and consistent growth in their direct revenue and transaction volume:
38% increase in revenue
29% increase in transactions
Their multi-channel marketing campaigns have also consistently performed very well – which may come as no surprise given our marketing team recently ranked #2 Best Hospitality Digital Marketing Agency Globally in the 2023 HotelTechAwards!
Eibhear Coyle, General Manager at Amber Springs Hotel says: "Since we've joined Net Affinity, we are delighted with the growth we've seen in our business. We have been delighted overall with our switch to Net Affinity – our on-boarding and transition process was smart, competent and seamless. We had support throughout the whole process – through the design and build of the website, and we received valuable advice on our journey since March 2022. The partnership with Net Affinity has been fantastic, with all invested parties working towards the same goal."
Sign up to our blog for weekly trends, insights and the latest goings on in the hospitality industry.