Hotel cancellation rates have been steadily rising for years, in part fueled by a culture of 'book now, pay later' created by OTA giants. Covid did not create cancellation habits – it will perpetuate them, though. As a hotelier, it's important for you to be aware of the patterns because it will help you to determine how to combat the issue. Back in 2019, D-Edge Hospitality Solutions reported that the global cancellation rate of hotel reservations reached 40% (with the direct website channel keeping the lowest cancellation rate).
There are ways to combat cancellations – including having a solid, smart tech stack that integrates well together, a confident marketing strategy, and a real understanding of the new guests post-Covid that will require you to develop new guest personas, (doing this will also help you identify who is cancelling) to name but a few – more practical ways on how to combat cancellations later. It's imperative as a hotelier that you do not ignore this growing behaviour, it's crucial you use all the tools at your disposal to minimise the upset to your revenue.
What patterns have we seen ourselves since 2017?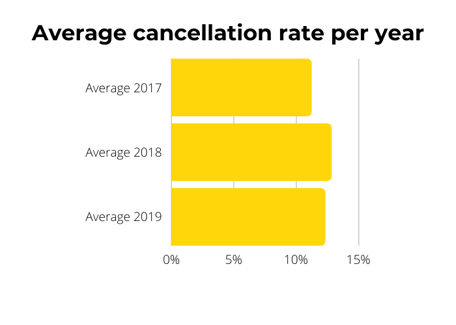 While the cancellation rates we are seeing are increasing year on year, on par with the global trend, they are still some of the lowest in the industry. There are a myriad of reasons for this. We service the majority of our clients with the full suite of our products, including booking engine, website and marketing. The connection between all of these elements can create more harmonious conditions throughout the booking process, which can help to establish loyalty between guest and hotel. Loyalty is such an important factor! You can try to start deepening loyalty between you and your guests by looking into the likes of personalisation, your social media presence, your marketing strategy and email strategy.
In 2017, the cancellation rates analysed across our clients were coming in at 11.2% on average. That figure moved up to 12.8% in 2018 and to 12.3% in 2019. Cancellation rates may never be this low again due to significant and notable changes in people's booking habits. It is widely recognised in the hospitality industry globally that understanding your guest and their new behaviour & expectations will be key to your success as you compete against other hotels. Post pandemic, it will be crucial to make sure your website has favourable cancellation terms, which will help to drive more direct bookings, and also manage your cancellation rates, as those booking direct, with a direct relationship with the property are less likely to cancel.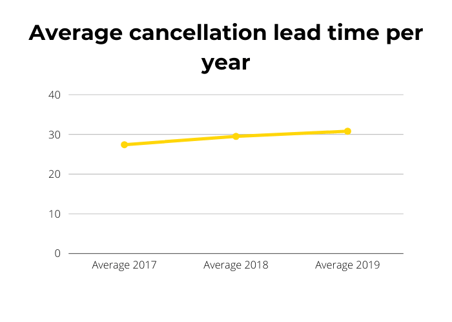 When it comes to average cancellation lead times, in 2017 this figure came in at 27.4 days, moving up to 29.5 days in 2018 and to 30.8 days in 2019.
Cancellation rates affected by Covid-19
As we all know, 2020 and 2021 so far have been heavily affected by the pandemic, so they sit in their own category in terms of trends and behaviours.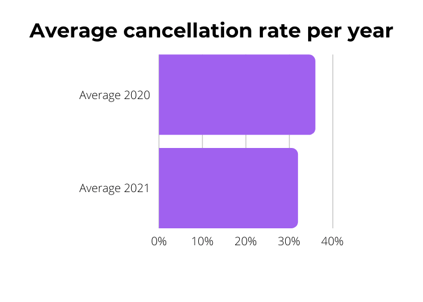 The cancellation rate in 2020 came in at around 35.9% on average, and is currently sitting at around 31.9% so far in 2021.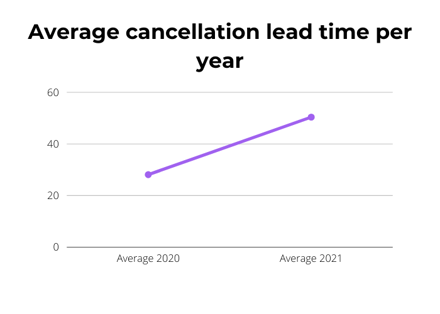 Considering cancellation lead time, on average we saw it come in at around 28.1 days in 2020, and saw it shoot up to around 50.4 days on average so far in 2021.
In regards to May 2021, we can see that the majority of cancellations were made by people due to arrive at hotels this month (June). This is mainly due to the fact that there were a significant higher number of bookings made for June than May. The cancellation lead time in May sat at an average of 82 nights. This number will drop massively when we analyse June in a few weeks, as guests tend to cancel bookings in the month for the month.
What other booking trends did we see in May 2021?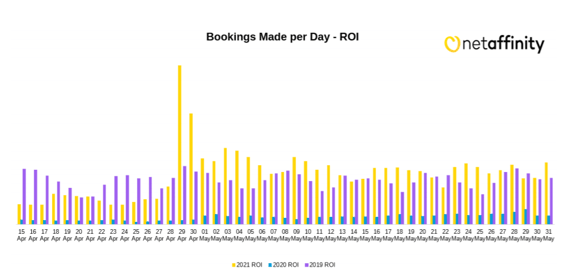 As was to be expected, we saw a nice spike in bookings on the 29th April for ROI properties once the reopening date was announced (following in the footsteps of cities who reopened before us). Booking numbers levelled off after a couple of days, but remained steady throughout May.
We noted the natural peaks and troughs throughout the month (bookings are normally a little quieter on Friday and Saturdays), however the monthly booking volume was 27% higher compared to the same period in May 2019. Looking at the North of Ireland, bookings were up a whopping 112% compared to May 2019.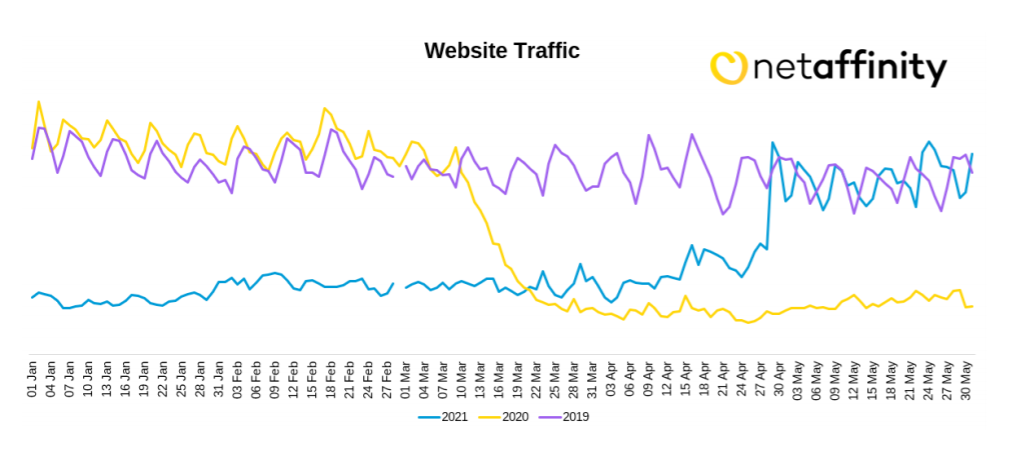 Website traffic in May saw a return to 2019 levels following the announcements of hotel reopenings (with normal peaks & troughs highlighting slightly slower weekend traffic). This is positive when we consider the growth in bookings – people seem to have a strong intent to book when they arrive on a hotel's website, and the patterns show that marketing campaigns are driving targeted traffic to hotel's websites.
What can you do to combat the number of cancellations you inevitably face?
Booking deposits
Putting a booking deposit requirement in place is the most effective tool to reduce cancellations – however, keep in mind reduced bookings are also a side effect of booking deposits for many hotels.
You will need to consider a number of factors when it comes to the impact of a booking deposit on your property including:
Past cancellation terms
Demand for location
Demand for your property
Current occupancy levels
If you're confident that your property can charge a booking deposit without it negatively effecting your revenue optimization, then it's most likely a good strategy for your hotel. While it may work for some, we generally encourage hotels not to put a booking deposit in place as we have seen it reduce bookings in some instances.
Give your guests a call
We talked recently about the growing importance of personalisation when it comes to increasing your revenue – one of the most effective things you can do without having a booking deposit in place is to give your guests a call.
This establishes a sense of personal attention, while also giving your guest the opportunity to cancel if they need to. It also gives you another way of giving them handy information they might need like your restaurant opening hours, dinner reservations, leisure centre policies, etc. Use the call to let guests know you're looking forward to welcoming them to the hotel. If they've booked another hotel in the meantime, this personal touch could potentially be a deciding factor in their decision to stick with you.
Establish a solid email strategy
Perhaps you don't have the manpower necessary to call all your guests! Email is another incredibly effective way of making contact, and you can personalise them too.
Use email to give guests the opportunity to cancel, but also to communicate your excitement about being open and for their upcoming visit.
If you normally send your pre-stay email 3 days in advance, maybe look at sending it 1-2 weeks in advance so you're giving more time to allow for cancellations.
Here at Net Affinity, we provide our clients with the option to customize their pre and post-stay emails, see here for more details.
If you're a Net Affinity booking engine client, you can also add a message to your 'Pre-cancellation' section which appears on the page your guests visit when they are cancelling their booking. This message can be tailored by your hotel to encourage guests to rebook another time.
You can also add a 'Post-cancellation' message which appears on the cancellation confirmation screen and on the cancellation email. This is an opportunity for you to use the space to encourage guests to sign up to your newsletter or to buy a voucher.
Increase the cancellation period
While many hotels have a 24 hour free cancellation policy, some have a 48 hour policy, or even up to 7 days depending on the property type.
Some properties will have more favourable terms on their own website such as 24 hours, and then they might increase it on third party sites which can benefit them by helping to drive more direct bookings. Have a think about the benefits of increasing your cancellation period and decide if it's right for you.
Overbooking
It is a well known strategy for hotels to utilize 'overbooking', which allows them to maximise their revenue and reduce unsold inventory.
If you normally have a certain threshold for overbooking, then you might need to discuss increasing it. It may be necessary to include front office, the reservations team, the Financial Controller, the Revenue Manager and the General Manager in this discussion so that everyone has the chance to buy into the decision. It's something we advise you keep reviewing and discussing as part of your regular internal catch ups.
Keep reviewing the data and your strategy
It will be important to keep on top of the trends that manifest themselves over the coming months so you can continue to make smart decisions when it comes to your strategy. We are holding a market insights session next week, in which Helena Rowe Bradley will talk you through everything we're seeing in relation to booking and cancellation data. If you're a Net Affinity client, you can sign up for free.
If you're interested in learning more about cancellation trends, send us an email at hello@netaffinity.com