The good news regarding the reopening of hospitality across Ireland in April meant that May was a strong, positive month for bookings as the country's collective sentiment lightened and optimism grew.
After an incredibly long and seemingly endless year and a half, people are ready to spend on their staycations. The pandemic not only reduced opportunities for casual and leisure-focused spending, it also caused many people to increase their precautionary saving. Those who kept employment have wracked up more savings than they would have, simply for the fact that they have had nowhere to direct their money. Now is there time to spend a little money on themselves (88% of consumers are now more focused on 'personal wellbeing' – spa treatments, anyone?).
We analyse booking trends consistently by pulling data across all of our clients which creates a coherent picture of how, where and what people are booking. Let's take a deeper dive into May's booking trends breakdown and see how it compares to 2019 (pre-Coronavirus) with a focus on the type of properties people booked and were eager to stay in. Having a tighter grip on people's latest and ongoing booking habits will hopefully help you refine your marketing strategy and clarify what you should focus on. Marketing will continue to be crucial throughout this period, given more than half of consumers who haven't booked their staycation yet have only just started considering destinations, which gives you the opportunity to influence their decisions.
What were general bookings like?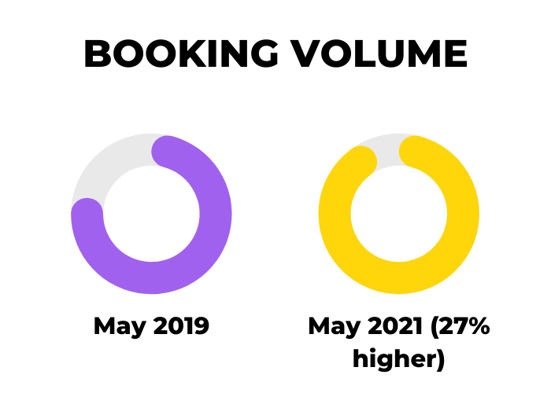 ROI
We saw a big spike in bookings on the 29th April for ROI properties once the
reopening date was announced. Following this, numbers steadied out and remained healthy throughout the month
We have seen natural peaks and troughs, for example bookings were quieter on Fridays and Saturdays – but when compared with the same period in May 2019, booking volume was 27% higher
This data coincides with Failte Ireland's latest consumer report for May, which shows that intent for travel within the Republic over the next 6 months rose significantly (up 7% points from April) in May, as did the number of domestic holidays being booked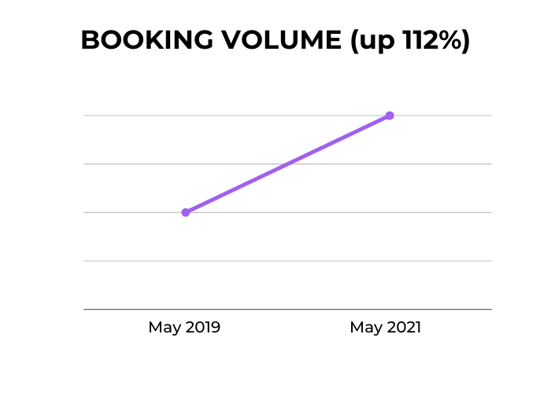 NI
In the North of Ireland, reopening dates were announced two weeks before the Republic. Naturally, we saw a spike in bookings earlier than in the Republic, and bookings remained steady throughout the rest of the month
Bookings in the North were up 112% in May 2021 compared to 2019
What was website traffic like?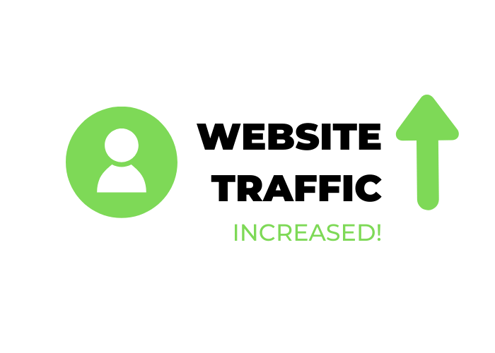 It was extremely positive to see consolidated site traffic returning to 2019 levels following the reopening announcements, while we noted normal peaks & troughs here too (weekend traffic was generally lower)
It was also positive to look at the growth in bookings, showing that website visitors have a strong intent to book when they do arrive on a hotel's website, and it's good to see marketing campaigns driving targeted traffic to hotel's websites. Here's a 10 point checklist for a successful digital marketing campaign
As per Failte Ireland's latest report, the challenge for Ireland's domestic travel industry will be keeping up the appeal and attraction of staycations as competition with international travel eventually ramps up. This is why your marketing efforts are so crucial and why you can't let marketing wane. Keep inspiring potential guests with what you have to offer. For more on how to do this, take a look at these blogs:
'How to prepare your hotel for summer staycations'
'Giving your content marketing a refresh'
What types of hotels were being booked?
With people finally being given an opportunity to travel (domestically), they are getting the chance to spend some of the money they may have saved from a year and a half of not doing too much. Considering the fact that many people will put off international travel for longer, and given the fact that as consumers our interest and investment in 'wellness' is only growing, it's no wonder 4 and 5 star properties are seeing a growth in popularity compared to other properties.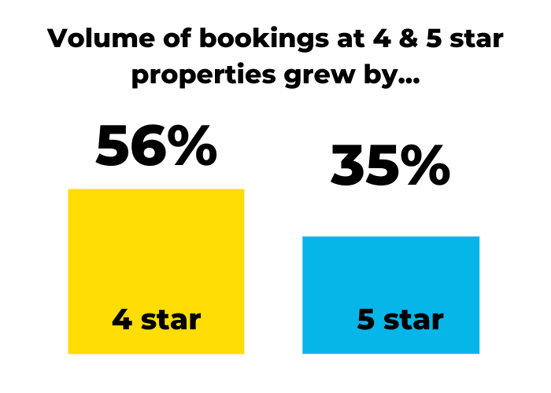 The volume of bookings made at properties located in towns (48%), rural settings (46%) and resorts (69%) have all increased significantly in May this year compared to the same period in 2019
The volume of bookings made with 4 and 5 star properties has grown in May this year compared to the same period in 2019 (4* grew by 56%, 5* grew by 35%)
ALOS (average length of stay) growth decreased. In April 2021, ALOS increased 24% compared to April 2019, however as the majority of bookings made in May 2021 were for June 2021, we began to see it becoming increasingly difficult to book 3+ nights together, and so naturally, ALOS began to shorten and averaged out at 12% growth
In the North, there was a booking volume growth of 89% compared to May 2019
Growth was strong across all hotel types
Rural, city & urban hotels saw the smallest growth at 49% & 47% – which was still excellent
City/urban properties saw no increase in average booking value however, due to a drop in ALOS
5* properties also saw a drop in ALOS due to availability
To find out what the state of cancellations is like currently, take a look here.
Want to learn more about the latest booking trends? Get in touch at hello@netaffinity.com