Expedia is now very kindly allowing hotels to offer their normally closed user group member-only rates publicly on Expedia. Red Lion Hotel Group (RLHG), a brand that operates in the US and Canada with 114 properties, is the first to participate in Expedia's latest initiative.
Expedia displays Red Lion's discounted loyalty programme rates beside their standard rates on Expedia. If users select the discounted rate, they'll sign up to RLHG's "Hello Rewards" loyalty programme automatically. When users book the Red Lion member rate, they'll get points and benefits for both Red Lion's programme and Expedia's membership programme Expedia+ (once they sign up to Expedia+ in the booking process). The benefits for booking include a best rate guarantee as well as "a free night every seven stays, express check-in and late checkout when available, room upgrades when available and more."
This is a startling move for several reasons. Firstly, loyalty programmes typically exist as a tool for hotels to gain direct, repeated business from guests. They offer discounts, perks, rewards and best-rate guarantees to persuade guests that they'll get not only the best price but also the best value by booking direct. The close ties of a loyalty programme also give hotels a chance to build a stronger relationship with guests.
Offering membership, points and benefits through a third party, then, would seem to slightly miss the point of having a loyalty programme.
However, Expedia's high volume platform and highly developed marketing strategy might compensate for that by leading to large numbers of signups, which is how Red Lion feel: their CMO Bill Linehan was quoted by Tnooz as saying that "his brand was too small to go it alone and needs Expedia to reach a range of customers."
Secondly, what is motivating Expedia to offer this to hotels? The clear advantage is that Expedia can be certain that it has the hotel's best price on their platform. Rate parity clauses typically demand that hotels offer the same or higher rates on their own site as they do to OTAs. However, hotels can offer better rates through closed user groups – like through a loyalty programme or offline, e.g. over the phone.
Expedia's scheme neatly circumvents that by getting hotel's loyalty programme rates and perks on their own platform for all the world to see.
Expedia is also creating a mechanism by which they can compete directly with hotels for these new loyalty programme members – more on that below.
Why is Expedia doing this now?
Expedia's new initiative is an innovative response to the book direct movement many hotels have been pushing strongly for the past 12 months.
Hilton Worldwide, Marriott International, Hyatt, Choice Hotels International, InterContinental and more big brands have been launching advertising campaigns and rethinking loyalty programmes in an attempt to push bookings on branded sites rather than OTAs like Expedia. Independents and smaller properties have been making the push in their own way, with smart pricing strategies, perks for booking direct and tailoring the channels they operate on.
OTAs have not been pleased about the industry-wide book direct initiative and have taken measures to curb it. This has ranged from Booking.com threatening legal action against a price comparison tool that lets hotels show a comparison of their direct rates versus their rates on OTAs, to Expedia releasing a discouraging study showing a "conservative estimate" of the revenue hit hoteliers could expect if they continued to push direct bookings.
Most recently, it's come to light that many hotels with book direct initiatives are being 'dimmed' on OTA search results. Expedia's CEO Dara Khosrowshahi said that hotels had "a choice to make" and could expect to see themselves in lower positions if they didn't offer their most attractive rates to Expedia. Dimming involves lowering the rankings of some hotels and, in extreme cases, removing a property's pictures from the site.
Now, however, Expedia appears to be taking a more collaborative approach. Instead of fighting hoteliers' efforts to push direct bookings via loyalty programmes, they're encouraging the loyalty programmes – but is this just a way to get around the question of direct bookings altogether?
Is this new programme a good thing for independent hotels?
At first glance, this looks like it could be good news for hotels. Red Lion is achieving much greater exposure for their loyalty programme. According to them, over the month the programme has been running, they've received more than four times their number of average monthly signups.
Since hotels don't typically get access to email addresses from guests who book via OTAs, Red Lion is getting an unusual chance to market to guests who were captured through an OTA, as well as increased loyalty memberships.
So, what's the problem?
There are a few serious hesitations to take into account before you sign up to Expedia's new programme.
Firstly, this is a prime opportunity for Expedia to be assured of receiving Red Lion's best rate, while Red Lion will be competing directly with Expedia for members gained through Expedia's platform. After all, Expedia will have access to the same names and email addresses as Red Lion.
To test out the new programme, we made a booking for one of Red Lion's properties on Expedia.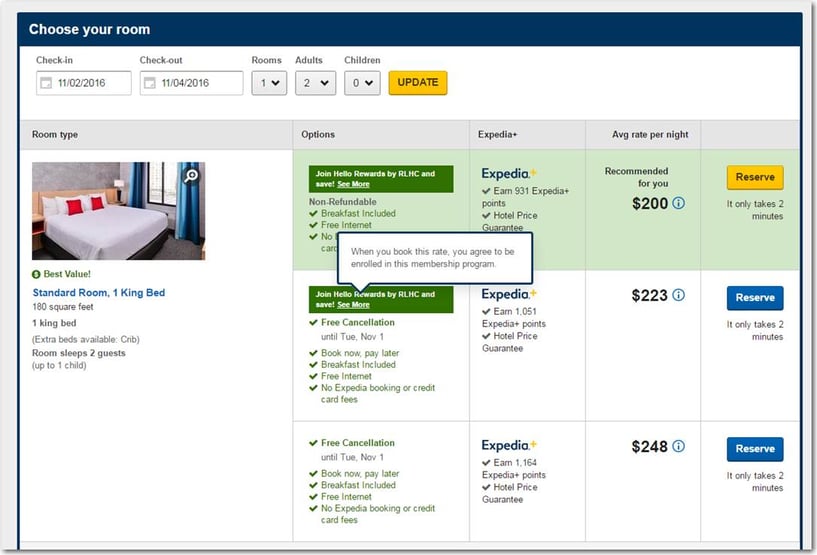 Both Red Lion's Hello Rewards programme and Expedia+ are promoted when selecting the booking, but Expedia+ is much more prominent and given its own column, while Hello Rewards is contained to a small box – with little explanation to what 'Hello Rewards by RLHC' actually is.
There's no further mention of Hello Rewards as you continue through the process, although Expedia+ continues to be promoted: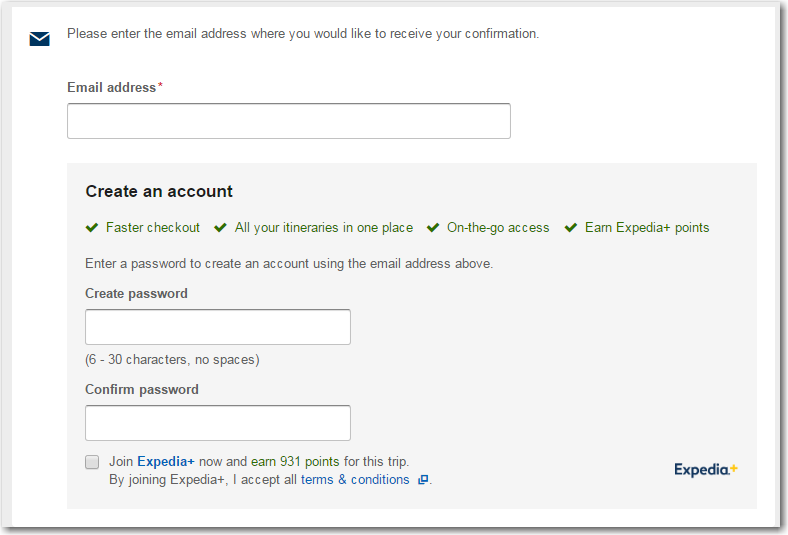 Finally, on the receipt and confirmation page, there's a brief mention that you've become a member of the Hello Rewards programme – if you can't find it, look under "included amenities."

We made this booking several days ago, because we wanted to see what kind of follow up or welcome email we'd get from Red Lion, especially since hotels getting consumer emails from OTAs is something of an unprecedented move.
Red Lion Hotels' chief marketing officer Bill Linehan told Skift that "We now have the ability to communicate with our consumers before they even arrive. Every single consumer," he said, adding that it was "a huge deal."
So far, there have been no emails from Red Lion, although Expedia has emailed to encourage us to book flights and cars for our upcoming stay.
This lack of follow up could be due to several reasons, but it's not an encouraging outlook if Red Lion are hoping to create brand recognition in their new loyalty programme members. So far, the reality seems to be that it's Expedia building up the communication and engagement.
Update: Tnooz asked the company about this, and it replied:
"RLHC has started communication with the announcement going out last week and functionality put into place, but the actual e-mail communication from the brand is the part of the program that is still getting put in place. RLHC has the capability to directly communicate with guests, but they are still connecting all the systems to ensure they communicate properly together."
As we mentioned earlier, Expedia has a very powerful, agile, responsive marketing department, which is the result of having a huge budget to pour into your R&D and marketing departments. Red Lion have set themselves up to compete in a very direct way with Expedia's marketing machine for the business of these new loyalty programme members.
When asked by Tnooz whether Red Lion felt this new initiative was stepping on the toes of the direct booking initiative, Linehan was quoted as saying:
"I don't think it's stepping on the direct booking message…. The direct booking message is stepping on consumer preference…. Because consumers are clicking around…. When you look at the research, consumers shop multiple channels, even when they have a preference for a past brand they've used."
Linehan explains that consumers don't like being told what they can or cannot do, and that limiting qualifying stays to direct bookings would run counter to consumer desire, Tnooz writes.
Strong words, and while the reasoning is clear, it's not the usual stance from hoteliers this year. The common response from those behind the book direct movement would be a questioning of who the user feels loyal to after making the booking – with how subtle the Red Lion loyalty programme is on Expedia, will they remember a few months down the line that they've signed up?
An additional point to be made in response to Red Lion would be that while customers are getting their best rates and loyalty perks, Red Lion is still paying the commission fee to Expedia. The benefit of pushing direct bookings is avoiding that commission fee, which is how many hotels justify offering lower rates and perks to those that book direct.
To Sum Up
In conclusion, this programme is a clever countermove by Expedia in the book direct wars. Independent hotels have difficulty growing loyalty programs in the same way big brands can, and while there are certainly alternative strategies, they take time and effort to make them successful.
Expedia is stepping in to offer a solution by saying they have a happy alternative for hoteliers looking to quickly grow their membership programme. In reality, however, Red Lion are now competing with Expedia's loyalty programme.
While hotels that participate in Expedia's new programme might get more repeat business out of it, they'll still be offering best rates and perks for bookings they're paying commission on, and they'll be in direct competition with an OTA for the hearts of their new loyalty programme members.
Expedia appears to be solving the puzzle of how to grow a loyalty programme quickly, and are in talks with other chains to feature more member-only rates – but have they really just exploited a pain point for their own long-term gain?
Only time will prove whether Expedia's programme drives value for hotels, but we would encourage caution until the results are more clear.
Words by Tayor Smariga