The hotel
The Heritage, set in the heart of the Laois countryside, is a classically charming Irish property that offers comfortable and luxurious rooms for all types of travellers – solo, business, families, the whole lot! Not to mention, it's a prime, popular and picturesque place for a conference or wedding. Open since 2005, it was recently bought in January 2019 by the luxury hotel group FBD Hotels & Resorts.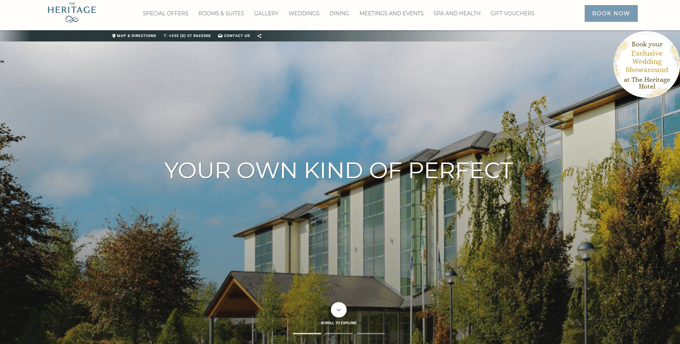 Gaining direct bookings was the objective
A property with so much to boast (its spa is one of the top 5 in the country), they joined us in 2016, and we began working with them on their main objective: increase direct bookings. The Heritage began their journey with us with a bespoke website, carefully designed and optimised to do two things: showcase the absolute best this stunning hotel has to offer, and, of course, drive direct bookings. We used a mixture of the hotel's flawless photography of its varied, impressive features and surrounding grounds, with clearly written content as well as implementing best in class website features – (landing pages, action bars, the right CTAS) – all to drive bookings. Since then, we've continued to develop their website, our most recent projects with them being wedding landing pages and a wedding micro-site.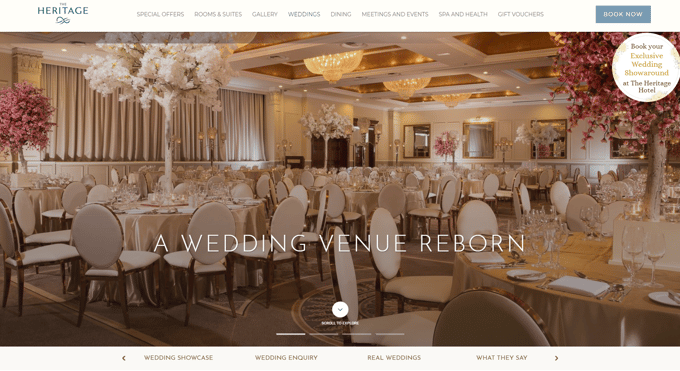 Next steps
The next step on our journey with The Heritage came in February of this year, 2019. We implemented our booking engine into their website and began working closely with them on developing their digital marketing activity further with the help of our expert teams. As part of our collective strategy, we agreed on an investment into building and protecting their audiences by utilising all relevant digital marketing platforms including search engine marketing, meta and, of course, social.
The results
With the mixture of our dedicated marketing, ecommerce and design experts, paired with a refined strategy, increased activity and above all, a smart and progressive client, The Heritage has seen an increase in revenue of 95% over the last 5 months. Not only this, but their website brought in a whopping 56% of bookings in July just gone – an impressive result given a hotel's website is typically responsible for 30-40% of bookings.
The response
Orla Delaney, Director of Sales & Marketing at The Heritage says: "We are thrilled with how our website has performed over the past 6 months with Net Affinity. Our strategy was to increase our occupancy for Q1 which we have grown by 50%. Our direct bookings have also seen a huge increase with 56% of our overall bookings coming directly through our site. Having recently rebranded the hotel its important for us to roll out a new look and feel to the site which we will continue to do over the coming months by introducing microsites for our different segments."
Interested in learning more about any of our products or services? Get in touch!