As an independent hotel, it makes perfect sense to use OTAs as part of your selling strategy. However, the key word is part - you still want to prioritise getting as many direct bookings as possible.
What are some of the best ways for you to protect your direct business?
Don't cap your brand budgets as long as the brand campaigns are delivering revenue at a good cost. At an average CPA of 1.7% compared to Booking.com's 15% or more commission, it is in your best interest to make sure your campaigns get as much impression share as possible to drive direct bookings. Keep your budgets unrestricted to ensure maximum coverage




Review your booking windows on the OTAs. For example, if you are getting a majority of bookings on the OTAs 60+ days out, there could be targeting opportunities for your marketing campaigns to move this business direct

As always, ensure you have rate parity or better rates on your own site. People shop around, and not only do you hand over the relationship with your guest to an OTA when they book on a third party site, there is also a loss of trust in your product if it can be purchased at a cheaper rate on other channels
Invest in the right technology that will monitor and update your rates if OTAs lower or raise them in certain times or locations. To comply with your contracts and avoid legal risks, it's also important to monitor your own rates.
Booking.com's expansion of their Genius programme has helped them to increase loyalty. The organisation stated their aim for Genius was to 'help its property partners gain even more visibility, increase bookings and grow their businesses'.
In reality, the expansion of the Genius programme has meant more of an incentive for people to use Booking.com, and to reap the additional benefits by doing so. Genius loyalty builds guest loyalty to Booking.com – not guest loyalty to the hotels taking part.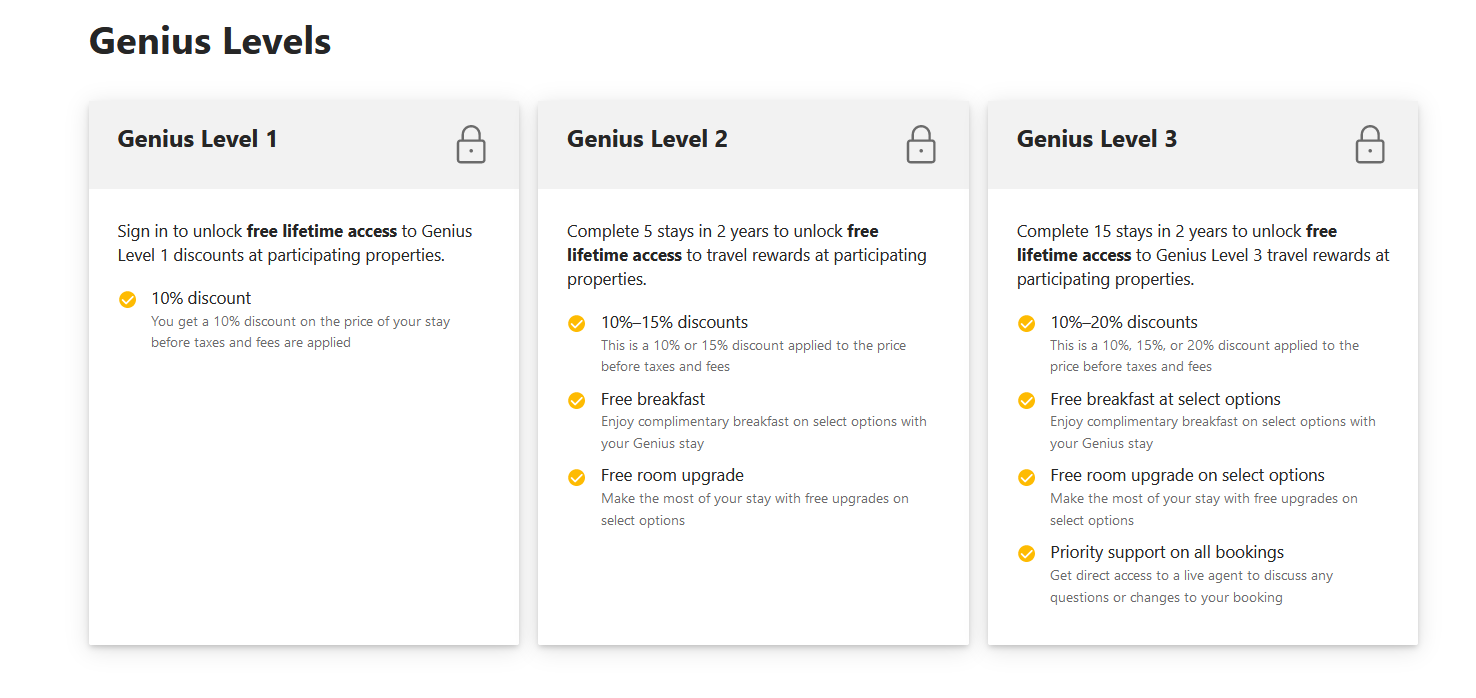 What are OTAs doing to win market share?
Promoting mobile discounts/use of virtual cards
Mobile discounts are pushed heavily by Booking.com and the majority of bookings are being delivered on mobile. As you know, mobile is crucially important to consider as part of your online strategy overall - but it's interesting to note what a push Booking.com put on it. No surprise as most of us spend a third of our waking lives on our phones. Pay attention!
"VCC or virtual credit cards are something used by Booking.com to pay hotels that have an additional commission to hotels averaging 3%. Expedia uses VCC as well but it calls them EVC or Expedia Virtual Cards. Most of the VCCs are issued in the US and the European Union, so for hotels located outside these two areas, their costs will be even higher as there is an additional cross-border fee to process payments."
Flexing/cutting their commission rate resulting in a lower rate shown to the consumer
There is an algorithm in place to price match or discount a rate the customer is shown.

Continuing to develop loyalty programmes which has a number of tiers and incentives
It is smart of OTAs to opt people in to these kinds of programmes automatically so there is no thinking involved on the customer's part - only benefits.
What else can you do to entice customers to book direct?
The average user spends four hours and 48 minutes using their mobile phones every day. In relation to mobile, make sure you are:
Be mindful of your pricing
Always keep the best price for your hotel website!
Best practice is for your rate-plans to be ordered by price
Once again... don't cap your Hotel Ads budget. With room rates increasing, the commission you pay to Google will also increase, so your allocated budget may be spent quicker than usual
How to fight rate disparity and keep your room rates in check
Auto replenish availability
When a room cancels Booking.com hold onto the inventory to resell the room
Replicate whatever offers/discounts you've used on Booking.com on your own
website
Use our rateplan badges. Booking.com use them extensively to create urgency and
highlight value offers
Rooms are sold by description and images – be sure your descriptions are detailed
and there is a gallery per room type
Ring fence key dates – not just in the short term
Keep some rateplans and room types exclusively for your hotel website
Be creative
Incentivise

guests to book directly by offering a small discount or

unique enhancements
Emphasise

what you have to offer – your property, your area as a destination, your surrounding local attractions

Create an engaging booking experience that ensures your guest sticks with it through until the end. Part of this is making sure you have an

intelligent booking engine

that is built for mobile,

optimised

for conversion and easy to integrate with other software that will collectively create a seamless user experience

Use targeted newsletters
Net Affinity's booking engine is the newest technology on the market
Remember – Booking.com's Genius program encourages loyalty to Booking.com – not your
website.
Why is growing your direct channel so important?
It gives you the ability to control your marketing message

It gives you more control over the experience your guest has and the relationship you have with them
You will have lower cancellation rates
It gives you a chance to secure new customers