This time last year, Booking.com expanded their Genius programme in an attempt to
increase loyalty. The organisation stated their aim for Genius was to 'help its property partners gain even more visibility, increase bookings and grow their businesses'. In reality, the expansion of the Genius programme has meant more of an incentive for people to use Booking.com and to reap the additional benefits by doing so. Currently, we are seeing OTAs including Booking.com working even harder to win back the market share they had lost during (and after) the pandemic, as hotel direct bookings notably rose.
There's nothing wrong with using OTAs and they can still be an incredibly valuable and handy part of your overall selling strategy - they have their place within the mix. This aside, as an independent hotelier your direct bookings should still be your number 1 goal. Remember that Genius loyalty builds guest loyalty to Booking.com – not guest loyalty to the hotels taking part.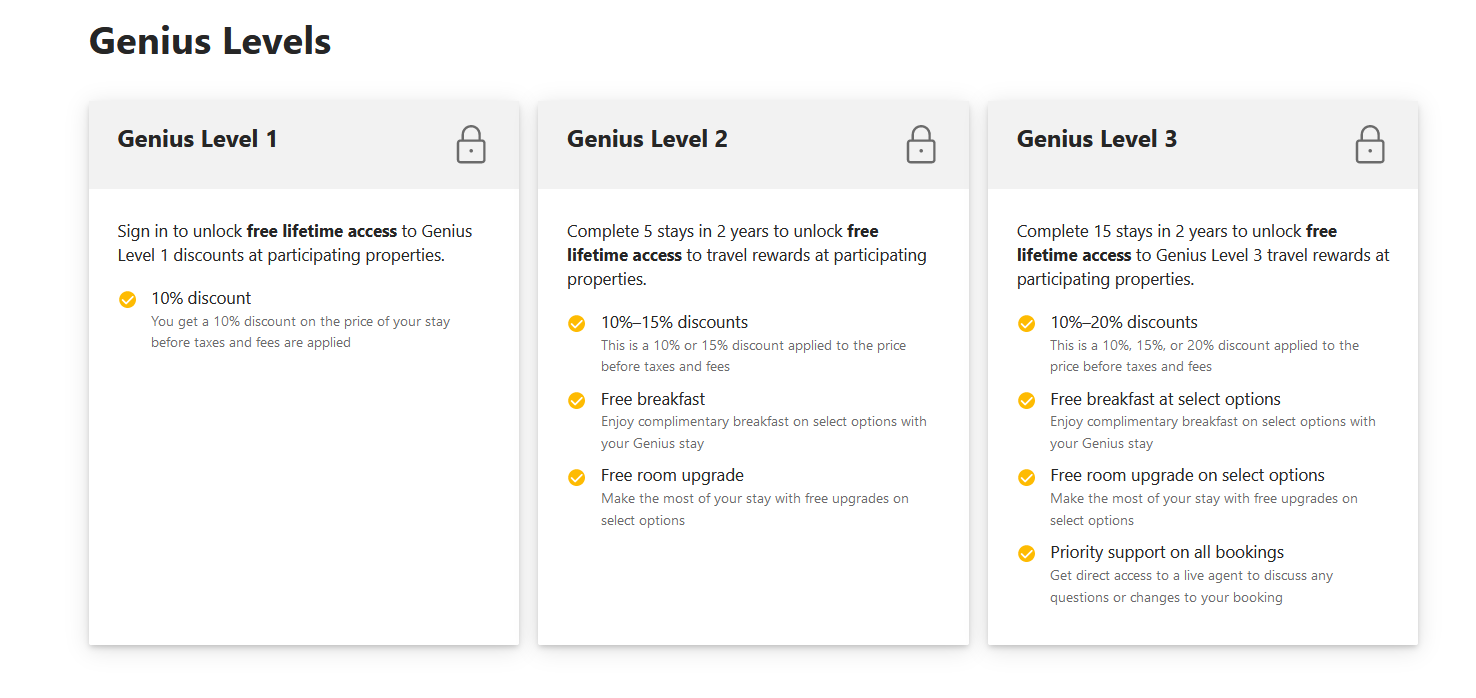 What are OTAs doing to try and win back market share?
Promoting mobile discounts/use of virtual cards
Mobile discounts are being pushed heavily by Booking.com and the majority of bookings are being delivered on mobile. As you know, mobile is crucially important to consider as part of your online strategy overall - but it's interesting to note what a push Booking.com put on it. No surprise as most of us spend a third of our waking lives on our phones. Pay attention!
"VCC or virtual credit cards are something used by Booking.com to pay hotels that have an additional commission to hotels averaging 3%. Expedia uses VCC as well but it calls them EVC or Expedia Virtual Cards. Most of the VCCs are issued in the US and the European Union, so for hotels located outside these two areas, their costs will be even higher as there is an additional cross-border fee to process payments."
Flexing/cutting their commission rate resulting in a lower rate shown to the consumer
There is an algorithm is in place to price match or discount a rate the customer is shown.

Continuing to develop loyalty programmes like Booking.com's Genius programme which
has a number of tiers and incentives
It is smart of OTAs to opt people in tho these kinds of programmes automatically so there is no thinking involved on the customer's part - only benefits.
We held a webinar session this week as part of which we asked our clients some questions around their participation with Booking.com - here were the results.
Are you participating in the Booking.com Genius Programme?
47% Yes
53% No

Are you participating in the Booking.com mobile discount promotion?
32% Yes
68% No

Are you using the Booking.com Virtual Credit Card as a payment type?
79% Yes
21% No
What can you do to entice customers to book direct?
The average user spends four hours and 48 minutes using their mobile phones every day! In relation to mobile, make sure you are:
Be mindful of your pricing
Always keep the best price for your hotel website! This is the golden rule
Best practice is for your rate-plans to be ordered by price
Weigh up the consequence of having the virtual credit card feature on. It is being
used to charge for no-shows but in reality its true value is to Booking.com as they
can show lower prices
Auto replenish availability
When a room cancels Booking.com hold onto the inventory to resell the room
Replicate whatever offers/discounts you've used on Booking.com on your own
website
Use our rateplan badges! Booking.com use them extensively to create urgency and
highlight value offers
Rooms are sold by description and images – be sure your descriptions are detailed
and there is a gallery per room type
Ring fence key dates – not just in the short term
Keep some rateplans and room types exclusively for your hotel website
Be creative
Incentivise

guests to book directly by offering a small discount or

unique enhancements
Emphasise

what you have to offer – your property, your area as a destination, your surrounding local attractions

Create an engaging booking experience that ensures your guest sticks with it through until the end. Part of this is making sure you have an intelligent booking engine

that is built for mobile,

optimised

for conversion and easy to integrate with other software that will collectively create a seamless user experience

Use targeted newsletters
Remember – Booking.com's Genius program encourages loyalty to Booking.com – not your
website. So be mindful of its features!
If you do offer the Genius/Mobile discount, consider the following:
When do I get the bookings?
Which rate plans are booked?
Which room types are getting booked?
What is the cancellation rate?
What is the ALOS?
What is the lead time on these bookings?
Finally... why is growing your direct channel so important?
It gives you the ability to control your marketing message

It gives you more control over the experience your guest has and the relationship you have with them
You will have lower cancellation rates
It gives you a chance to secure new customers