We're on the cusp of summer already – how did that happen?! While the UK and North of Ireland have begun easing restrictions, the Government in the Republic of Ireland will agree next week on the next stage of the country's reopening.
In a recent consumer sentiment survey, Fáilte Ireland found Irish people have been adopting a "wait and see" approach to booking holidays so far this year. Their survey found that 43% of Irish people intend on taking a short break in Ireland in the next six months. We do expect to see hotel bookings increase significantly once the Government announces a lift on inter-county travel restrictions – it's important to be aware of people's mindset in the midst of all the differing messages since the beginning of the year. As the country begins opening up, consumers will gain back more confidence.
Here are some recent booking insights from looking at our own data for the month of March 2021.
What were general bookings like?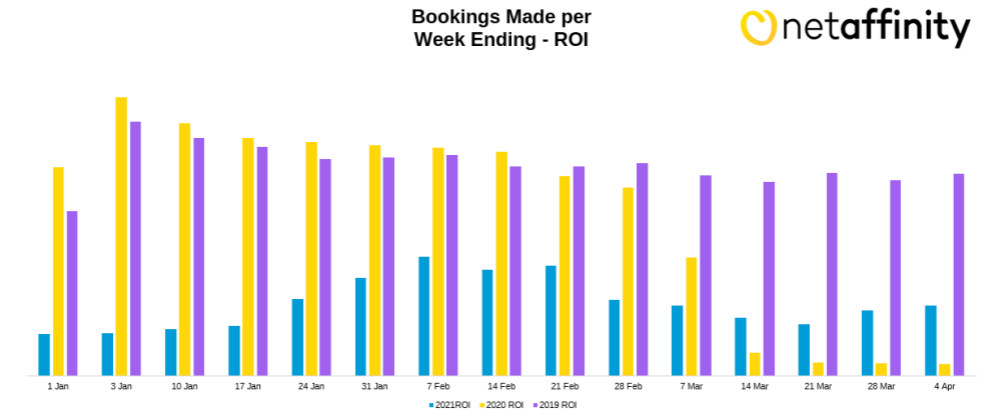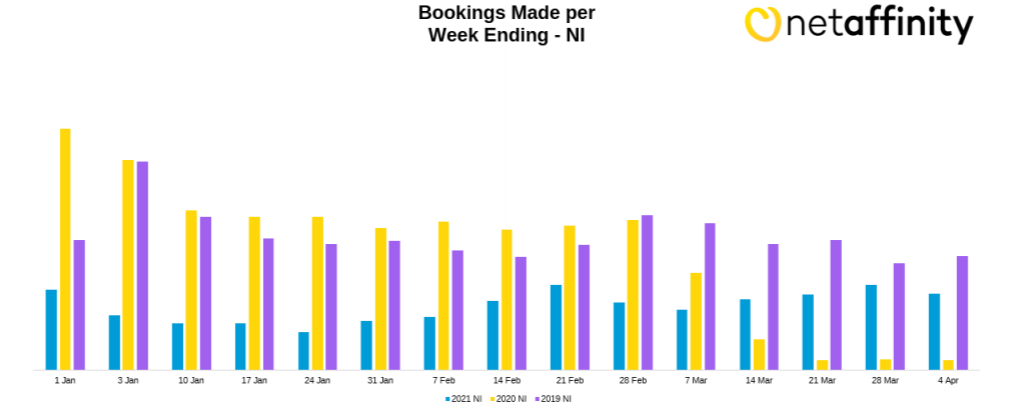 We noticed an upturn in bookings in the second half of February, which were made for summer. Naturally enough, when the extension of restrictions was announced at the end of February, this impacted the volume of bookings for March, which noticeably slowed down
This mainly affected properties in the ROI, who recorded a drop of 34% in booking volume compared to the previous month
Hotels in NI finished 27% ahead of February, as it was clear properties would be opening sooner there
Comparing year on year becomes more difficult in March this year, considering the pandemic began impacting bookings around the middle of the month last March
This means that comparing year on year doesn't necessarily give us a true picture because the first half of March 2020 was relatively normal (before bookings essentially stopped in the second half of the month)
To give an example of what we mean, booking volume for March 2021 finished 20% behind March 2020 in the Republic of Ireland. However if we compare this to March 2019, it was 66% behind
In Northern Ireland, March 2021 bookings are 4% ahead of March 2020, and 52% behind March 2019
What was website traffic like?
'Global' website traffic for March 2021 remains at a similar level to what we saw in the previous two months
Interestingly, the traffic figures are ahead when compared with those from March 2020!
We'll be keeping an eye on this trend as we continue through April, as a significant number of properties are continuing to keep their marketing campaigns running in order to drive their summer bookings
As we said earlier (and echoed by Failte Ireland), we do expect to see an increase in the volume of traffic and bookings in ROI when the Government releases a firm reopening plan
Compared to February 2021, the average marketing for March 2021 has seen a 9.4% increase
We expect this to increase further in April 2021, especially given the OTAs are likely to increase their spend ahead of summer to compete with brand campaigns and Google Hotel Ads in order to defend their market share
For further context, the average spend in February 2020 (pre-pandemic) for Google Ads & social media combined was just under double that of March 2021, so while we are seeing increases, the lower demand is still impacting spend
How did voucher sales do?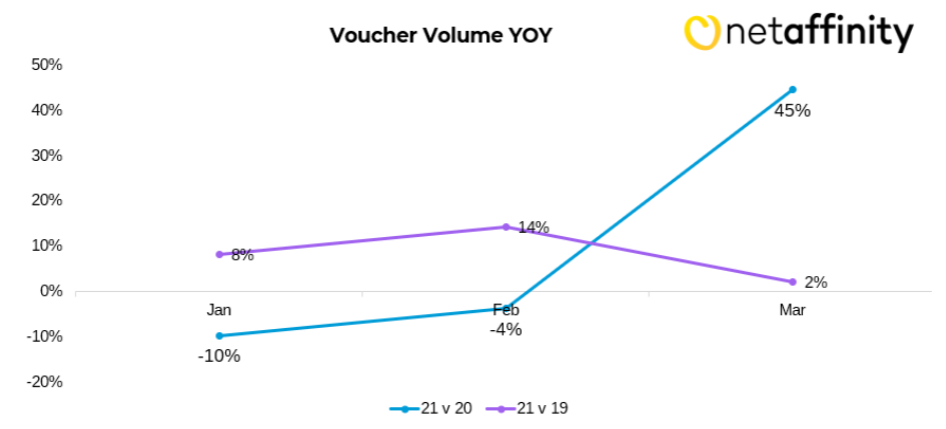 It was a mixed month for voucher sales
Looking at the type of vouchers sold, it seems gifts were being purchased with luxurious getaways in mind once restrictions are lifted
Mother's Day had a significant impact on March sales this year. In March 2020, sales for the weekend of Mother's Day itself were strong, but the week around it did
not perform as well. In March of this year, it was more like March 2019 in the sense that the five days leading up to Mother's Day saw a strong pickup, just not to the same extent (to be expected)
Sales for March 2021 finished 2% ahead of March 2019
We don't expect any incredible surge in voucher sales over the next couple of months. April & May are usually quiet for voucher sales, under normal circumstances
As we have been reiterating over the last few months, it's never been so important to have a high performing booking engine, fully optimised website and a strong, strategic marketing plan than now. Your booking engine should be:
Capable of providing accurate, actionable data and insights in a smart, digestible way
Built with conversion top of mind
Able to help recapture abandoned bookings
Provided with intelligent and helpful support
Capable of search flexibility
Equipped with a variety of booking modules (wedding for example)
Interested in learning more about our booking engine? Book a demo!