The surge of staycation culture has been a breath of well needed fresh air for the hospitality industry – in between lockdowns last year, but more-so now this year as many countries slowly turn a corner into a safer environment with more and more people getting vaccinated everyday. In Ireland, hotels have been open since June 2nd, and from analysing our own data, bookings are strong for the summer months – many hotels are thriving. Unsurprisingly, most hotel bookings have been domestic and some of those travelers are booking longer stays because they're missing the international holiday they'd normally take. Other trends have seen cancellation rates and queries rise, understandably, and shorter booking lead times.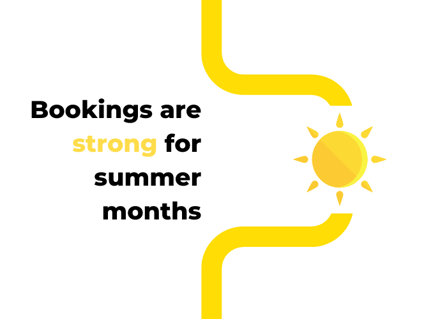 It looks as though the success of vaccine programmes are very interlinked with the future of international travel and currently, Ireland now have one of the fastest vaccination rates in the world.
Elsewhere, Portugal was one of the first among several other countries in Europe to drop their quarantine requirements for UK travelers and open their borders to US guests. For the first time since the pandemic began, there were more international than domestic hotel guests recorded there in July (62% international). According to Siteminder, that % will grow to 94% in by January 2022.
Quick, ongoing changes impact people's decisions
The news surrounding Covid restrictions still changes rapidly and is in a state of flux for many countries. Pre-summer, it looked as though Irish domestic holiday makers were holding off booking staycations for August in case restrictions on international travel lifted.
The non-essential international travel ban in Ireland officially lifted on July 19th, when our government adopted the EU digital COVID-19 certificate and removed quarantine requirements for US and UK travelers. Confidence seems to be growing around the topic of international travel with articles like these popping up, encouraging people to start ticking off countries on their bucket lists again after 15 months plus of on again/off again lockdowns. The Guardian reported a long-haul booking 'surge' last month, with evidence of UK travelers booking once in a lifetime getaways to the likes of South America, Kenya and Tanzania. They also noted people booking these types of holidays were booking their trips for longer – with the average trip increasing from 15 days to 23.
What about international business travel? The Global Business Travel Association reported results recently from their latest poll that half (52%) of respondents reported that their 'government policies and restrictions relating to international business travel continued to impact their companies' ability to conduct important business functions such as networking, business prospecting, planning and sales meetings'. This seems to be a frustration point, because Suzanne Neufang, CEO GBTA, says: "There is clearly an appetite to resume non-essential business travel and in-person meetings to promote collaboration, networking and business opportunities. And interestingly, it doesn't appear that cost savings are necessarily a key driver in waiting to get travelers back out on the road." They found that 77% of GBTA members and stakeholders feel their employees are currently 'willing' or 'very willing' to travel for business.
Between January and May of this year, global international tourist arrivals were 85% below 2019 levels. While international travel is now certainly happening again, it's unlikely this year that it will soar back to anything like we would've seen pre-pandemic. Uplift will continue but it will be gradual as we wade through the still-muggy waters of recovery. (This is why it's important to keep domestic travelers engaged for the rest of year!)
What's on the cards for international travel in 2022?
According to a global survey of tourism experts undertaken by the World Tourism Organisation, 14% think international tourism will return to pre-pandemic levels in 2022. 36% said they think it won't be until 2023, and 49% said it will be 2024 or later.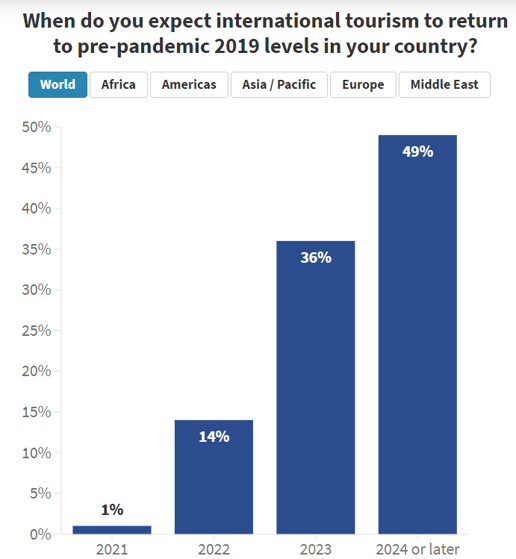 While it's impossible to make a perfect prediction, the numbers are going the right way, and the way things are playing out, it seems the more progress and control we have over vaccinations and variants, the more consumer confidence will grow – and the more comfortable we will all be to travel internationally again. We will be keeping a close eye on its development here at Net Affinity.
Here's what some of our experts think at this moment in time
Hollie McHugh, Marketing Director says: "The hotel industry has been through its toughest years in recent history. While we are seeing some very positive trends in relation to travel, it's still hard to tell how that will translate in terms of international travel, and when consumer confidence will be fully restored. At present, we are not seeing any significant trends for 2022, however we are monitoring traffic, search and booking trends very closely. It does make planning difficult – for marketing budgets and activity, rateplans and packages – however, it's important that hoteliers remain aware that international business will return, it's just a matter of when. For now, hotels are making the most of the staycation business and thriving as a result!"
Helena Rowe Bradley, eCommerce Services Manager says: "I'm expecting a mixed bag for 2022 – I think international travel will pick up compared to 2020 / 2021 levels, but I don't think we will see it get back to 2019 levels until at least 2023. Corporate travel will be changed for good following the pandemic, so we will see large international conferences again and the rooms that go with them, but smaller, ad hoc meetings will happen over video calls. Covid has helped focus people's minds, so hopefully we will see 'bucket list' travel and a good number of people coming to Ireland for this type of holiday, especially if they have family from here. Who knows what other trends we will see, for example with the likes of digital nomads – people travelling while working "from home" – that we can gain opportunities from."
Sign up to our blog for more on the latest hotel trends, patterns and insights.